Time to Convert to a Limo Lifestyle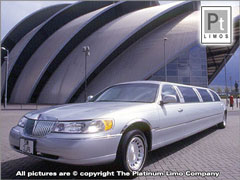 The Platinum Limo Company, established five years ago by lifelong motoring enthusiast Jackie Farrell and his wife Margaret, operates at the top end of this burgeoning market. With seven cars now on the road and customer demand for the limo experience showing no signs of abating, Glasgow based Farrell is seeking to franchise four areas - Falkirk/Stirling, Ayrshire, Glasgow North and Glasgow South.
Farrell, managing director of the company, has already successfully franchised - Edinburgh, Aberdeen,Inverness, Falkirk, and Stirling - and wants to talk to driven individuals who share his attitude to business. "By that, I'm stressing that you have to be extremely self motivated, he explains. "It's not a nine-to-five job and it's definitely not suitable for you if you view it purely as a means of earning some extra money while doing another job. Physically, you need to be quite fit and in good health, and prepared to do hires at short notice. This can be a fickle business with lots of peaks and troughs but it's extremely rewarding if you enjoy meeting people and are prepared to work hard."
For further information on opportunities available, contact Jackie Farrell on 0141 891 4999 or email franchise@platinumlimo.co.uk