Day in the life of a Gas Elec franchisee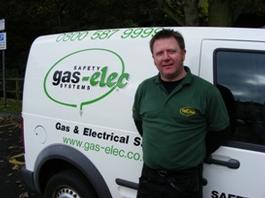 Like a lot of gas-elec engineers, Colin Smith's background was not as a gas engineer. Instead he was a truck and bus mechanic, working his way up to the position of depot manager. It was this engineering background that gave him a great base to qualify in 2007 as a Corgi-registered (now known as Gas Safe Register) gas engineer.
"The experience of being a depot manager meant that I already had customer care skills, as well as experience in running a business," adds Colin.
Colin read about gas-elec in a national daily newspaper and decided to find out more about the franchise by attending a road show that gas-elec were bringing to Edinburgh. He liked the idea that he could meet the managing director, franchise director, as well as the local regional manager.
"They made the attendees feel very comfortable and gave us the opportunity to ask our questions. They were also open to disclose financial forecasts and predictions, as well as the intricacies of the business."
Once Colin had made the decision to take the next step, he underwent a skills pre-assessment in gas-elec's training centre and a one-on-one interview with the franchise director to finalise the last remaining details like agreeing his area and scheduling him onto a training course. He then made the final decision to go ahead. Colin also took the time to speak to a few engineers in Scotland and then it was all systems go.
"I was looking for a challenging job and one where I would benefit from the fruits of my labour. I was fed up taking the grief for other people's errors and this provided the solution. Then there was the security of owning your own company and being backed by the franchisor – all of this was offered by gas-elec," said Colin.
So in January 2007 Colin joined gas-elec as a franchisee and started his training in gas-elec's CITB and City & Guilds approved training and assessment centre. Throughout the training, franchisees build up a portfolio that includes on-site experience. Once Colin officially qualified, it was all systems go and he started working in his area.
As a franchisee, Colin's day starts the night before. "After 6pm each night I download my work for the next day. I check locations and see whether there is any information on the system that shows the history of the client/ property and the appliances that need inspecting. The regional manager's office organises the general work order for the day, but things change all the time and it's important that you're flexible with the needs of the client."
In the morning he heads off for his first job, which may also include collecting the keys for the properties from agents in the high street. "While this can be time consuming, it lets me build up a relationship with the agents and they in turn can reassure their tenants that I am honest, reliable and trustworthy. After visiting tenants a few times you even get to build up a relationship with them too," adds Colin.
"I've managed to build up such a good relationship with our clients that in some cases they won't let anyone else do the work for them. There was a case a year or so back with one of my customers that wouldn't let anyone else work on his boiler and went for two days without heating until I could get there!"
Having been in the business for almost four years now, Colin admits that there are huge advantages to being a gas-elec franchisee. He states that not only is the work performed during normal business hours: Monday to Friday, 9am to 5pm, but it is relatively clean work and on top of that you get to meet some interesting people.
"And, if you're prepared to put in the effort, the rewards can certainly be worthwhile."
Colin went on to say that one of the huge advantages of buying a gas-elec franchise is that fact that the franchisor and regional manager does the sales, job booking and accounting on your behalf and "you don't have to spend your time debt collecting". The franchisees also get a lot of support from the franchisor in the form of marketing, training and IT support.
Colin does however warn that you do also get to meet some untidy people in some very untidy homes!