From dodging the bullets to a berth with Baguette Express franchise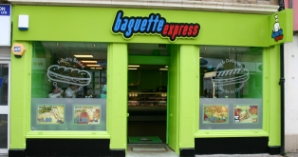 Successful Baguette Express franchisee Mandy Rothon has always had a sense of adventure – at one stage in her life she braved the streets of gun crime capital Johannesburg in South Africa on a daily basis as a contract driver.
"Yes, it was dangerous and, yes, there were times when I was scared," she said. "But it was an experience which made me much more able to cope with any challenges life might throw at me."
Mandy, a 42-year-old mother of three, has now taken on a new project which, though considerably less fraught, is just as challenging. She is the franchisee in the Haddington, East Lothian, branch of Baguette Express, the national sandwich chain which is snapping at the heels of the UK majors.
She took on the busy shop right in the centre of the bustling Scottish market town after encouragement and motivation from Baguette Express owners Robin and Billy Stenhouse, who spotted Mandy's potential when she was working for them as a relief manager.
Mandy said: "I know a lot of franchisees have always harboured ambitions to set up in business for themselves but, by contrast, I rather fell into it accidentally. But I have to say that, since I started, I have not had a single day that I regretted."
Mandy explained that she had married a South African and, as a result, spent seven years in Johannesburg, where she had her first son. She had a variety of jobs, including working for a well-known South African dress designer, before taking on the driving job for a major player in the financial sector.
"The level of crime out there was quite frightening," she said. "When I returned to the UK, I looked at the local paper and saw that the biggest crime that week had been a stolen pig. I thought: that's more like it."
Mandy worked as a manager in a number of Baguette Express outlets, including Dalkeith in Midlothian, before being persuaded by Robin and Billy that she had exactly the right stuff to take on a franchise of her own.
She set up in Haddington three years ago, funding her business with personal loans and a small inheritance. Being a manager had familiarised her with the money side of the business and she set out to learn the ins and outs of administration, health and hygiene and stock control.
She said: "I really enjoyed learning on the job. Every day was different. But at the same time, I had constant support from Robin and Billy, who were always at the end of a phone if there was anything I needed."
The Haddington shop is now the training shop for all new franchisees and Mandy is now working on a plan to take over a second franchise in Berwick, just 45 minutes away. Her ambition is to eventually run a string of at least five Baguette Express franchises and make them as successful as the Haddington outlet.
"Then," she said, "I think I'll be about ready to retire."