Working Together with Pizza Hut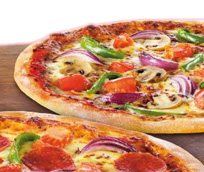 Andy, 34 and Brian, 30, have been Pizza Hut franchisees for over 3 years. Together they own Ultra Catering which runs four Pizza Hut Delivery units in Aberdeen and Dundee, employing approximately 110 staff across their businesses. Together they plan to open a further Delivery Unit towards the end of 2007.
Brian has worked for Pizza Hut for over 11 years and was previously a General Manager of a restaurant in Edinburgh.
Andy has previously opened successful pubs on behalf of Thistle Inns and his last employer was Saltire Taverns. This experience together with Andy's wish to embark on a new career challenge led to the brothers putting in an application for a Pizza Hut franchise.
Andy says: "Brian and I are very alike in terms of our hands-on attitude to running a business. We differ slightly in our operational approach but we see these differences as complementary. Brian's experience with Pizza Hut has instilled in him very high brand standards and operational skills whereas my knowledge of new businesses has provided me with an eye for the development of our existing sites and exploring opportunities to create new ones."
A day in the Life of Pizza Hut Franchisees
In order to ensure consistency, Brian and Andy have divided up their responsibilities so that Andy primarily looks after Dundee and Brian takes care of Aberdeen. Both however communicate on the phone regularly throughout the day to ensure that the Unit Managers can report in to either of them at any given time.
Generally, Brian takes care of all staff training and onsite brand standards; Andy is primary liaison with Pizza Hut Head Office with a focus on developing sites and financial side of the business.
"We spend a lot of time comparing our stores operationally in order to gauge what measures work and identify the ones that don't so that we can make the teams as successful as possible. We have at least one business breakfast together per week. We really enjoy working together. Some people say that you should never work with friends or family but I think that we are living proof that this adage can be wrong."
"The days can be long and you do have to be focused in this business but it is so varied that we never have the same day twice. We go to great lengths to make sure that the workplace is a supportive and motivating place to work in. We believe it is important to forge personal relationships with the people that we work with which is why we both like to maintain a hands-on approach to running the business. It's hard work but great fun!"
On motivating their staff, Brian Pollard said: "We have a bonus system in place for all managers which is based on sales, service, labor, food costs and profit. Employees can also win holiday vouchers, which encourages them to plan ahead and try to get a free holiday a year. All our staff are involved in managers meetings every month where they are asked to provide a presentation on what plans they have for their own team."
On what personal skills he feels a franchisee requires to be successful Brian said: "To be a successful franchisee, you have to plan ahead and never just deal with the current situations. We are always looking for opportunities and keep a very close eye on our competitors for current offers and the service they provide.
You should also get involved in the day to day running off your restaurant which builds a bond between your team and yourself and a belief that you are their to help. Try to make your company a fun place to be, your team are the most important people in the business, when they are happy so are customers."
Working together with Pizza Hut
The application process is rigorous and thorough but start-up support from Pizza Hut head office is available throughout and extends into the ongoing franchisee/ franchisor partnership.
Brian says: "The start-up support from Pizza Hut is excellent. Additionally, Pizza Hut head office remains very hands-on throughout the partnership and, although it is not involved in the day-to-day running of the business, it is very accessible and approachable. No call goes unanswered and so with this level of communication, you soon develop a close working relationship with people. Pizza Hut also encourages a strong support network between different franchisees in the area – it's a real team effort."
Andy considers having the Pizza Hut name 'above the door' to be one of the main benefits to running a Pizza Hut franchise.
"We didn't consider setting up the business for any other brand. The Pizza Hut brand is one of the most recognisable in country. The customers know that standards are high and that quality remains consistent. Our staff also benefit from Pizza Huts company guidelines – they have absolute confidence in the system and its processes."
Success at Pizza Hut
Andy and Brian have been awarded the Multiple Site Operators prize at the Pizza Hut Franchisee of the Year annual awards in 2005 and again in 2006. Ultra Catering was also short listed along with larger franchisee companies such as the SME Group. Ultra Catering won the awards for its consistently high standards, including excellent customer service and high sales performance.
Andy says: "The combination of drive and experience has led to our businesses' success. Brian and I pooled our knowledge and resources and applied them to our enterprise."
"What is vital in this business is a sound understanding of the brand, its values, its customer base, the work ethic and processes. Brian's job at Pizza Hut gave us the confidence to set up a Pizza Hut franchise while my own experience in setting up pubs and restaurants has equipped me with the business acumen helpful when starting your own business."
On a personal level, whilst being Pizza Hut's best franchisee, Brian and Andy Pollard are huge Scottish football fans – they haven't missed a single game in the last 7 years!
Andrew Pollard said: "It's a motivational factor; if the Scotland team win a match, I'm motivated to work harder. I firmly believe in working hard and playing hard."