Mail Boxes Etc. franchisees share ownership and multiple stores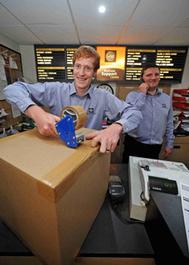 Four young men in Edinburgh are a great example of how sharing business responsibilities and rewards is an efficient way to run a successful franchise.
They own and run three stores - in Morningside, South Bridge and The West End – aided by a staff of seven other people. The business was started originally by franchisee John Docherty some 15 years ago and grew very quickly in the early stages. When John bought his first store he was soon joined by business graduate Michael Smith, who was offered a partnership after three years as an employee.
John was keen to invest in talented people to help him develop the business. He recognised he could not offer an employee the kind of salary that they might command elsewhere but believed that offering a share of the business instead was a very attractive proposition.
When John and Michael opened a second store, they recruited another business graduate straight from university, David Hastings. He too proved to be a big asset and was later offered a partnership after being an employee for about five years. "While I was doing my business management course I always knew I wanted my own business," David said. "I joined John originally as a part-timer but gained experience and became a full time employee. I was delighted to be offered a partnership.
More recently, in the last four years, brothers Dag and John-Eirik Docherty have joined the business as partners. All four get on extremely well and work effectively as a team, holding regular weekly management and planning meetings that involve them all.
The day to day running of the stores is shared and each partner assumes responsibilities for different areas of the business. Dag is based at South Bridge, the store which handles a large share of the packing and shipping business. Mike and John-Eirik are at Morningside and also concentrate on business development, sales and marketing, working more "on" the business than "in" it. David, based at West End, looks after finance and administration.
The biggest part of the business is shipping, mainly art and antiques serving six major auction houses in Edinburgh and the surrounding area. In fact, there are two employees who work exclusively on shipping and are responsible for collecting, packing and dispatching items. As well as the antiques trade, they serve hotel guests and students by shipping luggage, souvenirs and other possessions. In all, shipping accounts for some 65 per cent of total turnover.
Now, the partnership is turning its attention towards expanding the print and copy side of the business, as well as reviewing and consolidating other areas and their internal systems. The plan is to grow the business from its existing bases and not to seek additional premises at this stage.
The partners all enjoy being franchisees and value the support and comradeship they have. They appreciate the many benefits of franchising, particularly applied to multiple outlets, for example being able to bounce ideas off each other and also other franchisees. "It is very helpful to be able to discuss things in-house as well as ask advice from others in Mail Boxes Etc.'s extensive UK network. Similarly, seeking views from franchisees in other networks to learn from their experience can offer ideas we've never thought of ourselves," David commented.
"A partnership of four has to be dynamic and hard-working to drive the business forward and to succeed, so we are always looking for new services to introduce and other ways to add new income streams in our stores," David added.
Image: Mail Boxes Etc. Edinburgh franchisee partners Mike Smith (left) and David Hastings (right) at work. Mike and David operate three stores in Edinburgh with two other partners.