robertson technologies appoints franchisee in London's West End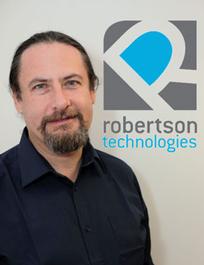 Fast-growing IT support business,
robertson technologies
, has made its move on the heart of the Capital with the appointment of Ray Lewis as its London West End franchise partner.
Ray, an IT industry veteran who previously ran his own IT support business in London before selling it, had been exploring various commercial enterprises – including starting-up a coffee shop chain. Ray is now delighted to be back in the frame offering IT support to SMEs.
"I was determined to re-join the IT support sector and spent a bit of time examining the franchising opportunities available. It seemed to me that the offering from robertson technologies to its franchise partners, especially in terms of ongoing sales support, was by far the most attractive and I'm very pleased to be working with Hamish Robertson and his team", he said.
The London West End franchise is the eighth the company has so far awarded. Other franchises are in Reading, Thames Valley East, Heathrow, Stafford, Shropshire, Fife and Stirling and, Glasgow North. Each is supported by the company's flagship operation in Edinburgh.
Founder Hamish Robertson said: "Ray is exactly the type of experienced and business-minded individual we are looking for to become one of our franchise community and I am delighted we are now working together. London's West End is a fantastic territory and I am sure he will make a huge success of it."
Ray, whose business will operate out of premises in Wigmore Street W1, said: "It's true that the West End has a great many IT support businesses within it, but I am confident that my many years of operating in the territory will bring in both former customers and lots of new business.
"The great thing about a robertson technologies franchise is that it doesn't ask the franchise partner to be a techie, but looks instead for people who relish getting out and about meeting people and winning business. Head Office have already built a team of engineers in my area who'll be doing the technical work.
"My role, and it's one I love, is to get out there and target business owners and managers who need the high-quality IT support service we're offering."
Established by Hamish Robertson in 2005 while he was still at university, robertson technologies group now turns over in excess of £750,000 and is on course to award a tenth franchise by the end of the year.
He said: "SMEs are at the heart of the British economy and they are looking for straightforward, no-nonsense support which is relevant to their day-to-day business. That is the simple strategy which is underpinning our continuing expansion."