---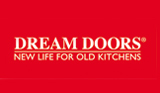 Dream Doors (franchise for sale in Bolton)
Location(s): Bolton
Selling price:£50,000 Furniture / Fixtures and Inventory / Stock included

National kitchen makeover franchise in Bolton for sale

This is a rare opportunity for you to purchase a trading and profitable franchise of the UK's largest kitchen face lift retailer. Dream Doors Bolton is now on the market as the owners wish to retire. And it's priced at just £50,000, including the franchise fee, to encourage a quick sale.

Dream Doors Bolton was established eight years ago. Since then it has built a fantastic local reputation, trading within the BL postcode area. In fact, the business has almost 300 customer testimonials on the consumer monitoring website, with average scores of 9.74 out of 10.

There is plenty of scope to expand, and other Dream Doors franchisees achieve four-times as much turnover and profit in similar sized areas.

The brand, Dream Doors, is the UK's biggest name in kitchen makeovers, starting out in Hampshire back in 1999. There are now more than 70 Dream Doors showrooms around the country, each run by local business owners.

Purchase Dream Doors Bolton and you'll immediately benefit from one of the best training programmes in the franchise industry. You'll also be joining one of the most decorated businesses around. That reputation, added to your own local knowledge, provides customers with a reassurance they can't find elsewhere. And that's why, within the Dream Doors network, 1 in 3 enquiries turns into a sale, and conversion rates from appointments are close to 50%.

So, what do you get for your £50,000 investment? As well as an award-winning training programme – and all of the support a new Dream Doors franchisee receives (download the franchise prospectus to find out more) – you'll also benefit from local brand awareness built up over the last eight years. In fact, the owners have invested almost £150,0000 in promoting the Dream Doors name in the BL postcode area.

What's more, you'll walk into a stunning showroom; fully fitted with six kitchen displays and a large storage area to the rear.

This is a total turnkey business, one in which you could realise a total return on your investment very quickly.

Contact the seller below for more information about this business for sale.