---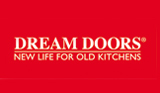 Dream Doors (franchise for sale in Lancashire)
Location(s): Lancashire
Selling price:£49,995

Dream Doors franchise for sale in Lancashire

Dream Doors Lancashire is located on a busy main road in the market town of Ramsbottom. Established in 2010 it has shown a steady growth and is now ready for the right person to take this business to the next level with the current owner looking to retire.

This business has seen a steady turnover increase year on year and continues to build with its £15,000 marketing spend and reputation, being part of the UKs number one specialist kitchen makeover brand.

With low over heads due to currently being a two-person head office operation and other staff being subcontracted, an existing client base, cash flow from day one, little direct competition, a healthy percentage of the market share and a large prosperous territory covering Bury and Bolton, this profitable business is an attractive proposition to anybody looking to run their own business.

The most distinctive feature of this franchise resale is the capability it has shown to grow, with further potential for full kitchen design and fitting, which is not currently being offered, allowing the business to diversify and expand.

Dream Doors Lancashire is available to offers in the region of £49,995, please be aware that this a franchise and there will be extra costs on top of the sale price.

Who are Dream Doors?

The Dream Doors Concept is based on improvement not replacement. Swapping existing kitchen doors, drawers, appliances, sinks or worktops provides totally flexible opportunities for the customers to achieve that new-look kitchen without the expense and upheaval of a full kitchen refit.

New appliances, sinks, worktops or cabinets can be incorporated into the overall design as well as upgrading the doors and drawers with made-to-measure replacements. The dramatic yet economical effects achieved by Dream Doors franchisees throughout the country has proven to be a winning formula. Dream Doors' nationwide success has produced record sales and dramatic growth – doubling its network sales in the last three years – by serving thousands of satisfied customers throughout the country.

There are more than 70 showrooms nationwide, giving them a solid base and great brand name, but with plenty of space for more outlets and further UK franchise opportunities.

Dream Doors are full members of the BFA.

If you are interested in this business, please fill in the form to receive more information. Please do not contact the franchisee directly about the sale of this business as the staff may not be aware that the business is for sale.