---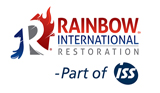 Rainbow International (franchise for sale in North West London)
Location(s): North West London
Selling price:£148,000
Established: 2001

This Rainbow International franchised business trading in north west London has been trading under the same franchise owner since 2001 and enjoys a turnover of £400,000 and a substantial operating profit

It is a business that has an excellent local reputation in providing a high level of customer service with clients that have been retained for many years, both commercial and domestic, in addition to national accounts, primarily with the leading insurance companies.

The business is primed for another period of expansion and growth and requires owners with the right enthusiasm, passion and drive to continue the momentum and take the business to the next level.

Established and Highly Reputed Brand

Rainbow International is the UK's leading supplier of Disaster Recovery and Specialist Cleaning Services to a wide range of commercial and industrial organisations, as well as to property and home owners.

The Dwyer Group opened its doors in 1981 with only one brand, Rainbow International, and has grown to eleven service-based franchise organisations all under the same umbrella. Together, these brands provide a diverse array of speciality services through more than 2,100 franchisees in 10 countries.

Rainbow International is not just associated with one global brand, it's connected to two! The ISS Group has been operating since 1901 and is now one of the world's largest facility service providers providing organisations of all types, shapes and sizes with every facility service they might require.

The ISS Group employs over 40,000 people in the UK alone and almost 500,000 globally so, with Rainbow international, you can be confident of a professional local service supported by strong international organisations.

This opportunity to purchase this Rainbow International franchise is available and will accept offers in the region of £148,000.

A Prospectus of Sale is available with supporting accounts following the signing of a non-disclosure agreement.