Last Updated: 19-December-2018
Papa John's franchisees on the benefits of buying a resale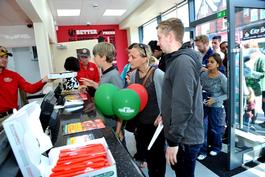 The majority of new Papa John's franchisees (around 90%) buy the licence to run a brand-new pizza outlet, opening up in a new area. However, as Papa John's continues to expand, there is an increasing opportunity to purchase a re-sale store
Re-sales become available for a variety of reasons from personal circumstances to franchisees looking at releasing their initial investment to purchase more stores and grow their portfolio of outlets. Re-sales can offer a number of advantages including: speed of purchase and an established customer base. Potentially there can be more flexibility on location as it is possible to purchase a re-sale anywhere if one was for sale while on the other hand locations are limited for brand new store openings.
Nazim Vadiwala has recently taken over the Leith Walk Papa John's store in Edinburgh. Nazim who worked for a rival pizza firm for 10 years now manages Leith Walk with the help of operations director: Syed Salman and a team of local staff.
Nazim explains: "There are certainly pros and cons with buying a re-sale store compared with a brand new outlet. I feel it very much depends on the store itself and its location. Like with any new business venture you need to do your research! We chose to purchase the Leith Walk store as a re-sale recently, as we felt it had a lot of potential. It is an area with a large student population nearby, plus new flats are also being built which will grow our prospective customer base. We also felt our experience and drive to provide an even better product and service would 'go down well' with the local community.
"With the re-sale store we have not needed to recruit a new team. However, we have worked with the existing staff to make improvements to processes and so it has been necessary to undertake additional training and more training will follow. All the staff are happy with the developments we have made. It is important our team is motivated and happy to provide the excellent customer service Papa John's is known for and so we are pleased that everyone has stayed with us through the change of management.
"With a new store opening marketing needs to be done from scratch. This can help generate excitement that 'a new Papa John's is coming'. On the other hand, with a re-sale, we need to continue to target the existing customer base, tempt back old customers, plus encourage new people to try our top-quality pizza. The injection of fresh enthusiasm a new management team brings a different challenge to present in marketing terms but word soon gets around!"
Phil Gaffer QFP, franchise sales and business development Manager explains: "With a re-sale, there is a real chance for a new franchisee to add value to an existing store. Access to existing financial accounts means it is straightforward to assess just how well the franchised store for sale is doing and where improvements could be made.
"There is already an existing customer base and we often see a 'bounce effect' where an injection of fresh enthusiasm boosts sales. New franchisees often bring a wealth of attributes to identify opportunities and grow the business.
Phil Gaffer continues: "It is important to note: candidates who are approved to buy a re-sales store are assessed just as thoroughly as those purchasing new outlets. They still need to do their research and put a business plan together and secure the funding. However, a further advantage of buying a re-sale store can be the speed of set up.
"From the time a Papa John's franchisee is approved to join our valued team it can take between six and nine months to get the keys for their brand-new store and for it to open. Our team needs to source and secure suitable premises in a great location, negotiate a favourable lease and manage the store fit-out correctly before handing over the keys. One of the most time-consuming aspects of opening a new store can be gaining the right planning permission. Although we manage the whole process on behalf of franchisees, taking on an existing store, which is already up and running, can result in a much speedier take-over by the new franchisee."
Nazim continues: "We believed Papa John's great product combined with our industry experience plus our dedication and enthusiasm meant we had all the right ingredients to run our own successful pizza delivery store. We were delighted earlier this year, when we gained funding from RBS following the submission of a detailed business plan to buy a Papa John's franchise. The Leith Walk re-sale store was perfect for us and soon we will be looking at expanding and opening more Papa John's!"
Papa John's welcomes applications from enthusiastic franchisees who are looking to develop and grow a business. In return, our experienced team provide all the support needed to get your successful Papa John's up and running. As one of the largest pizza companies in the world, Papa John's has opportunities for franchisees throughout the UK. Help is provided with location selection and full turn-key opening of stores.
Last Updated: 19-December-2018
Buy into a brand that partners with one of the leading confectionery brands in the world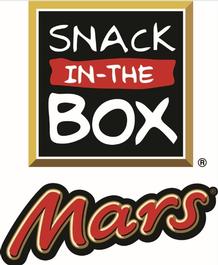 Name: Kevin & Rose Hooper
Location: Plymouth & Cornwall
Franchise: Snack in the Box
Date launched the franchise: June 2007
Tell us a bit about yourself and what you were doing prior to buying your Snack in the Box franchise?
We had a newsagent, confectioners and tobacconist for 16 years and we sold that and moved into a smaller house which we worked on for twelve months and then started to look around for a small business for us both to work in.
Why did you go down the franchise route initially? And why did you choose a Snack in the Box franchise?
It was a ready-made business which we could walk into and it was dealing with all the products we were used to as well as dealing with the public which is again what we are used to.
Why have you decided to sell your business?
Unfortunately, Mrs Hooper is now unable to work due to ill-health and can not leave the house on her own so needs constant care.
What's the key selling points of your business?
Instant cash return from day one.
All well known brands of confectionery and snacks.
What support should the new franchisee expect to receive?
Snack in the Box will always be at the end of the phone be it a technical problem with a vending machine or just any general inquiry. There is an area manager who gives you full support.
What are the other benefits of buying a resale?
The business is already up and running to just walk into and have instant return
And you can make it into what you want it to be.
What is a typical day for you as a franchisee?
I usually leave about 7.15 and visit about 25 customers; they are a mixture of box vending, slimline and large vending machines. Check the stock in them all and refill clean and empty the cash from each machine. Returning home between 2 & 3 pm. On returning spend an hour preparing my van for the next day.
Has becoming a franchisee changed your life, if so how?
It has given us plenty of flexibility so we can arrange our day and working week to suit us.
What is the most invaluable piece of advice you could give someone looking to buy their first franchise?
Embrace the freedom and make it work for you.
In your opinion, what makes a successful franchisee?
To be able to work on your own and to enjoy the freedom it gives you.
Find out more on the Snack in the Box Cornwall franchise for sale