Finding the right chemistry in a franchise partnership
Article by David Spackman
Newton Fallowell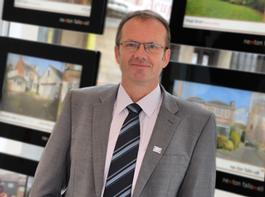 In this exclusive article for whichfranchise, David Spackman, Director of Franchising at Newton Fallowell, discusses how, as a potential franchisee, you need to make a match with the right franchisor... rather like trying to find your perfect romantic partner.
There must be shared interests, shared values, shared aspirations and a strong desire and determination to make it work, even through the bad times. And there's got to be honesty and integrity at the heart of the relationship, with shared expectations as to how the other will behave.
And just like looking for love, if you go into it with stars in your eyes, determined to see only the good things, then you're likely to be disappointed.
As franchising director, it's my job to meet and talk to all our would-be franchisees, and contrary to what many imagine, I don't have a contract ready for anyone who can raise the money, and often have to say "I'm sorry, but I don't think we'll make a good match…"
So why would I turn away the potential investment and how can you take the initiative in finding the right match to make your franchise dreams come true?
The relationship:
First and foremost, you should view a prospective franchisor in the same way as any potential business partner. And certainly, that's the way they should be viewing you.
You are buying into a franchise because you want a business-in-a-box opportunity, with set systems, set processes and a proven track record. And so it doesn't make sense to buy the box and then say goodbye to the franchisor, as the real value lies in how you grow the relationship between the two of you.
If you are fully committed and follow the systems, adding your personality and flair, and the franchisor acts in true partnership with you, they will give you more added value through the association than you will ever pay them.
Ask the franchisor how they will work with you, both now and in the future, to help you make a success of the business
The skills:
Look honestly at your skillset before choosing your franchise opportunity. Do a SWOT on yourself and see how each franchise model matches up. And recognise that it's not enough to have a personal interest in a topic, you need the skills to sell and grow a business in that sector.
Too often, people tell me they are interested in our property franchise because they like interior decorating or enjoy watching Kirsty and Phil on Location-Location. Honestly, that's not enough, nor even a starting point. What counts in property is a killer instinct and nerves of steel, and ideally a background in the sector, or in sales.
Ask your franchisor to describe a successful franchisee for their brand, and when you speak with their existing franchisees ask about their background and what skills were most valuable in starting out.
The support:
Having done that skills analysis, it may become obvious that you will need a lot of support to fulfil your potential – perhaps you have no experience in the sector, or are lacking in the vital sales skills.
If you look to join a very early stage franchisor, you may be accepted because the brand is hungry for growth, but then find yourself left to stand or fall on your own. Similarly, at the other end of the spectrum, there may be a huge franchisor who adopts an attitude of some will, some won't to franchisee success. In between those extremes, you'll find many franchisors who will honestly tell you whether or not they can help you build on your skills to achieve results.
Ask yourself, where will I struggle and then ask your franchisor, how will you help me overcome these problems?
The hunger:
If you're looking for a lifestyle business, or a part-time commitment, then it's asking for trouble to go into partnership with a franchisor who is looking for go-getters who are thinking about their business 24-7 and responding to their customers 365 days a year.
Equally, it's no good picking a franchise that is specifically intended for lifestyle when you're needing to earn a substantial, full-time income.
Ask your franchisor, what sort of commitment do you expect of me in this business, what's the average that other franchisees are working?
So, before you leap into bed with that franchisor, think about how well you fit with each other; ask the questions and weigh up the answers.
Good matches are what help franchisee start-ups to demonstrate strong success rates.
So, making the decision is a really big deal, but the biggest risk is not taking the risk at all.
For more information on Newton Fallowell or to ask David more about the issues discussed above, view the Newton Fallowell profile here and fill out the enquiry form at the bottom of page for more details.
Last Updated: 25-April-2016