29-November-2010
Raring2go franchise on the high street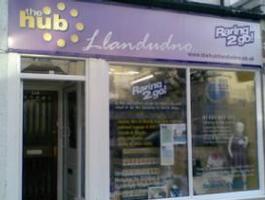 A brand new family friendly centre is taking off in a big way thanks to local support. The Llandudno Raring2go! Hub opened its doors in October 2010 and is already seeing the need for its services rapidly expanding. The hub is the brainchild of Nicola Attewell who came up with the idea after firsthand experience showed the need for family and child friendly services in the local area.
Nicola says:
"As a parent of two young boys I know only too well the stress that going shopping with them can cause. Their idea of a fun day out is not traipsing around the shops with mum, but sometimes there's no choice.
"I'm the editor of the Raring2go! North Wales Coast magazine and come into contact with lots of parents. It was after speaking to them, and realising they also had the same frustrations as I did, that I came up with the idea of the Raring2go! Hub. It's a dedicated space that is created specifically with children and parents in mind.
"The main aim is that it's somewhere where parents can come and relax with a cup of coffee while their children have fun in the allocated play area full of toys and books as well as computers with internet access, DVD's and games. We also sell quality used children's clothing and books, which is proving very popular. "
"The Hub started off with one or two ideas and has grown from there. The response I've had so far from parents and businesses alike is really encouraging and I'm now planning to stock children's books from local author Ann Cowap-Redhead who'll also be coming into The Hub to read her stories to the children."
The Raring2go! Hub in Llandudno is also a recognised as a dropping off point for Superkids North Wales Christmas Toybox Appeal. Simply take a new, unused and unwrapped present along to The Hub and it will be collected on your behalf and distributed to local disadvantaged children.