High Investment Franchising News Archive
---
Curry Up Now to open in Southern California - 20-January-2020
Curry Up Now will celebrate the grand opening of its first Southern California restaurant in Irvine at 922 Spectrum Center Drive on Wednesday, January 29 at 11 a.m. The restaurant, which is best known for its iconic Tikka Masala Burritos, Deconstructed Samosas, Sexy Fries, Naughty Naan, Indian street food and more, will celebrate the opening by offering a free burrito or bowl to the first 100 guests in line.
"We've been anticipating this grand opening for months, so we're thrilled to finally share Curry Up Now's innovative Indian dishes like Tikka Masala Burritos and Sexy Fries with the greater Orange County and Irvine communities," say Vishal Chopra and Manpreet Behl, two of Curry Up Now's Southern California franchisees. "Irvine's diverse food scene is a perfect match for Curry Up Now's innovative menu, so we're hopeful that this new addition to the Irvine Spectrum will bring in a new crowd and spike interest for Indian cuisine."
Curry Up Now began as a food truck in 2009, founded by husband and wife duo, Akash and Rana Kapoor, and ably supported by co-founder and Senior VP of Operations, Amir Hosseini. Since day one, Curry Up Now has been on a mission to serve Indian flavors and ingredients in a way that is approachable for the everyday American consumer by utilizing formats that are more recognizable to the mainstream. Their signature dishes include burritos, bowls, tacos, Naughty Naan, and more, as well as a wide variety of Indian street food snacks and traditional dishes like Thali Platters, Kathi Rolls, and Bhel Puri. Ingredients are clean and sourced from local vendors whenever possible, and the menu is designed to support vegan, gluten-free, and Halal diets in an effort to accommodate all guests, no matter their dietary preferences.
In the last 10 years, the Kapoors have expanded the Curry Up Now empire to include three food trucks, eight brick-and-mortar restaurants spanning coast to coast, and a globally-inspired craft cocktail bar concept, Mortar & Pestle, that is housed within select Curry Up Now restaurants. Curry Up Now currently has over 50 franchise and corporate locations in varying stages of development across the United States, with openings coming soon in Sacramento, Calif., Hoboken, N.J., and Fort Union, Utah. In 2020, Curry Up Now anticipates opening 12 additional locations across the country.
"As a San Francisco-based company, we've had our eyes on Southern California expansion for quite some time, so we're very excited to introduce our imaginative, playful, and innovative menu to the people of Orange County and Irvine," says Akash Kapoor. "We've found great partners in Vishal, Manpreet, and the rest of the franchise group and know they have the drive and vision to expand Curry Up Now throughout all of Southern California."
The concept is partnered with Fransmart, the industry-leading franchise development company behind the explosive growth of brands like Five Guys Burgers and Fries, The Halal Guys and Qdoba Mexican Grill, as its exclusive franchise development partner. Curry Up Now is currently looking for experienced multi-unit foodservice operators to develop additional franchises in major markets across the country.
---
Xponential to open 50 female-only studios in Saudi Arabia - 11-December-2019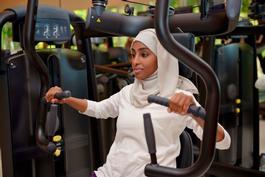 Xponential Fitness is to open more than 50 female-only studios in Saudi Arabia over the next three years. Expansion to begin with five brand flagship location in Riyadh in October
In what is the US-based company's first ever multi-brand international agreement, brands will include Club Pilates, Pure Barre, CycleBar, YogaSix and AKT.
The development will be led by Sultan and Mohammed Alhokair, owners of the newly-established First Agility Company.
"This is an ambitious and unprecedented fitness project for the Middle East, and we believe the Alhokair family and their team will be outstanding partners for Xponential Fitness," said John Kersh, chief international development officer for Xponential Fitness. "The Saudi Arabian fitness market is poised for significant growth in the coming years, and we are excited for Xponential Fitness and our brands to play an influential role in its development."
The Xponential Fitness expansion will begin with a five-brand flagship location in Riyadh, expected to open in October.
---
Xponential to take Club Pilates to South Korea - 11-December-2019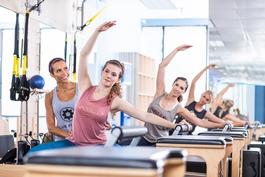 Xponential Fitness has signed a master franchise deal to open 100 Club Pilates studios in South Korea over the next five years.
The deal will see Steven Lee, the former CEO of Pizza Hut Korea, become the master franchisee of Club Pilates in the country through his company XFactor Fitness.
XFactor will open a pilot studio in the capital city Seoul by January 2020 and will launch franchising efforts shortly thereafter.
After the Club Pilates debut, XFactor is slated to bring other Xponential Fitness brands to the country, beginning in late 2020.
The signing of the deal comes hot on the heals of Xponential securing a similar deal in Japan, which will result in up to 165 Club Pilates opening in the country.
"South Koreans are early adopters of global fitness trends," said John Kersh, chief international development officer for Xponential Fitness.
"We believe Club Pilates and other Xponential Fitness brands will quickly become market leaders as Korean consumers experience our wide variety of classes, welcome environment and outstanding instructors."
Xponential acquired the Club Pilates brand in 2015.
The fitness behemoth's other brands are premium indoor cycling franchise CycleBar; group stretching chain StretchLab; indoor rowing brand Row House; dance-based cardio studio operator AKT; yoga franchise YogaSix; ballet barre chain Pure Barre and STRIDE, a treadmill-based cardio and strength studio operator.
---
Xponential Fitness enters German and Austrian markets - 11-December-2019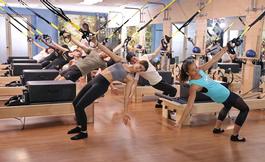 Xponential Fitness has revealed plans to take its portfolio of boutique fitness brands onto the German and Austrian markets.
The US-based boutique giant has signed a master franchise agreement with LifeFit Group, which is expected to bring more than 150 studios to the two countries over the next five years.
Initial brands included in the agreement are Club Pilates and Pure Barre, with additional brands expected to be launched in the future.
LifeFit Group was set up earlier this year to acquire and operate a diverse selection of fitness operators in order to cater for different segments in the booming German market. It is majority owned by Oaktree Capital and is headed by CEO Martin Seibold, a long-time Fitness First executive.
LifeFit's existing six brands in the two markets include Fitness First Germany and Barry's Bootcamp.
"As we expand into Germany and Austria we are excited to partner with the LifeFit Group who are the leading national premium fitness provider in the market," said John Kersh, chief international development officer for Xponential Fitness.
"We see significant whitespace in Austria and Germany, the largest fitness market in Europe, and look forward to introducing Xponential Fitness and our brands to future members."
Martin Seibold, CEO of Lifefit, added: "Club Pilates and Pure Barre are very different boutique fitness brands from our existing portfolio, which increases our appeal.
"This collaboration with Xponential Fitness allows us to expand and strengthen our portfolio to better meet customer needs for healthier, more active lifestyles in a customized and convenient setting. We are also looking for great talent joining us in our expansion."
Xponential has so far opened 1,325 studios across its eight verticals and has sold a total of 3,082 licenses globally.
Its portfolio of brands includes Club Pilates, CycleBar, StretchLab, Row House, AKT, YogaSix, Pure Barre, and Stride.
The company is undergoing an ambitious global expansion push and recently signed largescale, multi-band master franchise agreements in Saudi Arabia, Japan and South Korea.
---
German Doner Kebab Announces Saudi Expansion Plans - 15-April-2019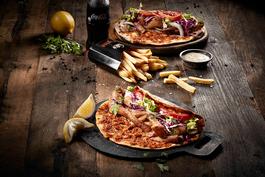 Scottish headquartered German Doner Kebab (GDK) has announced plans to expand into Saudi Arabia.
The gourmet doner kebab chain has signed-up The Ajlan Company as the master franchisee for the oil-rich kingdom.
The Ajlan Company are one of the richest groups in Saudi Arabia and have worked with some of the biggest brands in world in growing their presence in the Middle East.
Plans are now in place to open 100 outlets over the next ten years, with the first store scheduled to open its doors in Riyadh by August this year.
The expansion into Saudi Arabia further strengthens German Doner Kebab's presence in the Middle East, where it already has 19 stores across United Arab Emirates, Bahrain, and Oman. GDK also has stores in the UK and Sweden.
German Doner Kebab is part of the Hero Brands fast-food portfolio and is owned by the Glasgow-based Sarwar family.
Global CEO, Imran Sayeed, said: "We are very excited to be announcing our ambitions for Saudi Arabia as our growth plans for the Middle East gather further momentum.
"Our idea of bringing a gourmet kebab that is healthy and nutritionally balanced has truly resonated with consumers in the region, disrupting and opening-up a new area of the fast-food market place.
"The Ajlan Company shares our vision and offers great synergies for German Doner Kebab in Saudi Arabia, bringing an experienced infrastructure and a commitment to rapid growth.
"We are very much looking forward to our first opening in the middle part of this year and working with them to relentlessly expand the German Doner Kebab footprint over the next decade."
A spokesperson from the Ajlan Company welcomed the announcement with:
"We very much welcome the growth of German Doner Kebab and we are excited to bring this brand into Saudi Arabia and beyond. We have ambitious growth plans for the restaurant chain and are glad to be working with the Hero Brands team to achieve this."
The Ajlan Company has interests in retail, manufacturing, real estate, tourism and transport.
German Doner Kebab will join some of the world's most iconic brands in Ajlan's Saudi portfolio, in developing their growth plan across the Middle East and beyond.
---
Tim Hortons opens first franchise in the UK - 12-November-2018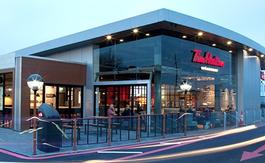 Tim Hortons®, the iconic Canadian coffee chain has announced today its first franchisee in the U.K. & Ireland. Graeme & Lisa Tobias of West Scotland will become the first partners to operate the brand and will open their first Drive-Thru restaurant in Stenhousemuir, Scotland by the end of the year. The Stenhousemuir location will be the first of a number of Tim Hortons® Drive Thru Restaurants to open in Scotland and operated by Graeme & Lisa.
The first Tim Hortons® in the U.K. opened its doors in Argyle Street, Glasgow in June 2017 to huge fanfare, with fans travelling from across the country and queuing overnight to sample the Brand's famed coffee and baked goods. Tim Hortons is now serving guests in and around Glasgow, Cardiff, Belfast and Manchester, with excitement levels showing no signs of dropping.
The Tim Hortons® brand was founded by its namesake, a top professional ice hockey player, who wanted to create a space where everyone would feel at home. Fast forward to 2018 and Tim Hortons® serves Canada's Favourite Coffee* in over 4,700 Restaurants in Canada and around the world.
Kevin Hydes, Chief Finance & Commercial Officer of the Tim Hortons® franchise in the U.K. said: "When we opened our first restaurant in Glasgow last year, we were completely blown away by the excitement for the brand. We have seen great demand from many businesses interested in becoming franchise partners and after a thorough selection process, we are delighted to welcome Graeme & Lisa Tobias and their team to the Tim Hortons® family. Graeme and Lisa are experienced, successful operators and we believe they will deliver the Tim Hortons® brand in Stenhousemuir and in other locations in the future to excellent effect. We're really looking forward to growing the business together. We will continue to seek great partnerships and anybody interested should initially make contact through our website www.timhortons.co.uk"
Graeme Tobias said: "We are thrilled to be working with Tim Hortons® and are very excited about the opportunity to open our first drive thru restaurant for the people of Stenhousemuir. We have initial plans to open a cluster of sites in the next 12 months and work with the Tim Hortons® U.K. team for many years to come."
---
Slim Chickens to debut in Wales - 21-October-2018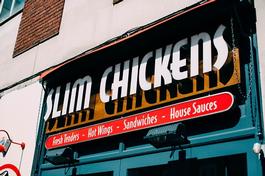 Popular US brand, Slim Chickens, has chosen Cardiff for its second restaurant opening in the UK, following a successful launch of its flagship London restaurant.
Boparan Restaurant Group (BRG), who partnered with Slim Chickens USA earlier this year, has signed a lease for a restaurant in St David's shopping centre, Cardiff. Scheduled to open before Christmas, the 2,400 sq ft Slim Chickens will offer seating for 92 diners and will create 40 new jobs in the area.
With over 80 outlets in the US, Slim Chickens UK opened its first restaurant off Oxford Street just six months ago and it has been trading ahead of expectations. BRG now has its sights on Cardiff, before rolling out the fast-casual restaurant concept to other cities across the UK and Ireland.
Signature menu items include fresh, buttermilk marinated, hand-breaded chicken tenders, chicken sandwiches, chicken wings and a range of Southern US sides such as Texas toast, fried pickles and mac & cheese, as well as a choice of 13 house dipping sauces. Those with a sweet tooth will be able to enjoy the new milkshake range as well as fruit pies and jar desserts
The brand's focus is on delivering authentic Southern US hospitality, along with fresh, high quality, great value chicken. The Cardiff restaurant will take speed of service and ease of customer journey to the next level with ordering kiosks and a refillable drinks station. The site will also offer delivery and a click and collect service.
On the decision to open its first regional restaurant, Tom Crowley, CEO of BRG said:
"We are delighted to be introducing Slim Chickens to St David's. Cardiff is a lively city with a fantastic student population and booming food scene. It was the obvious choice for us to open our first regional restaurant outside of London.
There is something totally unique about Slims with its freshly cooked chicken, house sauces, modern blues music and Southern US hospitality. We always knew this brand was a good fit for the UK and Ireland and we are pleased with the speed at which Slim's has already established itself. We're looking forward to opening in Wales and extending the Slims base into more sites next year."
Boparan Restaurant Group, which employs 2,500 people is one of the UK's fastest growing companies. The brand's portfolio includes various restaurant concepts including Harry Ramsden, Giraffe Restaurants, Burgers & Cocktails, FishWorks and Ed's Easy Diner.
---
Giraffe & Ed's Easy Diner enter first retail partnership - 21-September-2018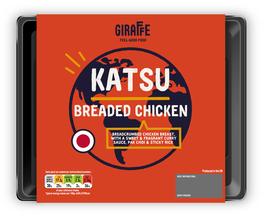 Boparan Restaurant Group (BRG) confirms it has entered into partnership with leading retailer Tesco for the launch of the debut retail ranges from two of its popular brands.
A variety of big flavour, world dishes from Giraffe and tasty US inspired desserts from Ed's Easy Diner are now available for purchase in over 300 Tesco stores nationwide, as well as online at www.tesco.com.
Tesco Buyer Sonia Morland notes; "We're delighted to be launch partners with Giraffe and Ed's, and to have the opportunity to introduce the debut retail ranges of two well established and popular brands into our stores. It is also especially pleasing that Tesco shoppers will be the first to enjoy these new ranges, particularly since they offer the ideal solution for customers looking to treat themselves and their families to something more adventurous at mealtimes."
Tom Crowley, CEO of BRG comments; "As we continue to develop our Giraffe and Ed's Easy Diner brands, it is great to be entering the retail arena with an experienced and market-leading partner like Tesco. In the case of Giraffe, we are launching some brilliant new dishes representing the brand's strength in classic and emerging flavours from across the globe, whilst our dessert choices from Ed's Easy Diner are true American classics. This is great news for Giraffe and Ed's loyal customer base, who will now be able to access our brands through a new channel."
Crowley also confirms that, in partnership with Tesco, decisions on future additional store locations and dish range expansion will be reviewed later this year.
---
Taylor Made for Franchisee Success - 10-September-2018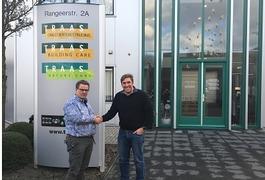 There's something special happening in rural Dorset, and the clue is in the name: Taylor Made Franchising has expanded again, creating nationwide business opportunities backed by economies of scale and the kind of infrastructure advantages that can only be found in a multi-brand franchise operation.
Founder Darren Taylor has launched Traas, a new pest control brand from the Netherlands, into the UK to complement his existing networks, Wilkins Chimney Sweep and StumpBusters, the country's leading tree stump removal business.
Turning pests into profits
Traas is a national pest control brand in the Netherlands, and its business model and bespoke systems are set to offer something different from the established names in the UK market.
"The back-office system is second to none, I've never seen anything like it," says Darren. "You've got complete oversight on all your customers and prospective clients through interactive maps. You can report back to customers on what's been caught, when and where at the touch of a screen. Invoicing and communications are seamless and automatic. It's absolutely superb and lets franchisees really concentrate on growing their profits without wasting time on the paperwork."
As for winning new business? "The key is a focus on local, local, local," he says. "Building a client base of local restaurants and companies, getting them on board, is what differentiates Traas from the big boys in this sector. The established players are so big that it's all about national contracts and large organisations to them. We're taking the opposite approach.
"There's a real gap in the market here for franchisees who want to focus on exceptional quality and service in their local communities. From restaurants to industrial estates, there's an enormous potential to build something that completely dominates the market in your local area."
Traas franchisees are expected to quickly grow their business into a multi-van management franchise, with staff completing the work while they focus on business development and growth. Without the time-consuming administrative aspects of running the business to worry about thanks to the technology involved, lucrative opportunities await.
"The market is enormous," explains Darren. "Restaurants and commercial companies will commonly spend around several thousands of pounds a year on pest control, so you don't need many clients to build up a strong and highly profitable business. Fifty clients paying £5,000 per year gives you a quarter of a million pounds turnover, and that's just the beginning of what's possible."
Where there's muck there's brass
For those looking for a more hands-on approach, latest developments at Wilkins Chimney Sweep include a highly successful award-winning franchisee moving into an operations manager role after selling his business – to a friend.
Richard Bryan was named Microbusiness Franchisee of the Year winner in 2016 thanks to his impressive business performance, and who better to oversee the launch and growth of newcomers to the network?!
"Richard's simply excellent," Darren says. "He's a great guy, he's been hugely successful and the fact that he sold his business to a friend shows his confidence and commitment in the brand and its franchisees.
"He's got the experience and knowhow to help new guys and current franchisees right across the board. He knows the systems and operations inside out and from a franchisee's perspective, not just that of someone at head office. He's a great asset."
Wilkins franchisees are owner-operators but some have also taken on staff thanks to customer demand. With legal requirements for landlords including proper chimney safety and maintenance, the network is booming.
There's also a bolt-on business available, Wilkins PowerClean, which provides year-round income for those looking for an active business where people skills are paramount. Wilkins has become one of the most trusted names in its sector, with exceptional reviews on Trustpilot, and, having been in operation since 1895, it also lays claim to one of the most impressive heritages in franchising!
Taking the grind out of business ownership
The third company in the Taylor Made Franchising stable is where it all began, and if you're a fan of machines then this is the one for you! Darren, a four-territory franchisee at the time, bought the StumpBusters network in 2013 and has taken it to a completely new level in the last five years.
The business works with local customers and tree surgeons as well as holding major national contracts with the likes of the National Trust. Franchisees can grind and remove any tree stump no matter how large or inaccessible, thanks to an impressive array of modern machinery, some of which is designed by StumpBusters itself.
Like Richard at Wilkins, Darren's personal understanding of the business is an incredible asset for incoming franchisees. "I've been there myself, I know exactly what they're facing," says Darren. "Whatever challenges franchisees come across, me and the team have the answers."
With a fixed-fee royalty model, the potential is outstanding for franchisees to grow substantial profits: the more they grow their business, the more money they keep for themselves. Simple to operate thanks to an established and proven business model, the only disadvantage for prospective franchisees is availability – there are only a few territories remaining across the country.
"We're the No1 company in the sector by some distance," says Darren. "We're nationwide but retain a real local focus, and there's no real national competition."
Three into One
Whichever Taylor Made franchise you're considering, having the three brands under one roof is already providing benefits to franchisees.
"Along with the credibility, it's the economies of scale that are really helping," explains Darren. "On things like accountancy, insurance and so on, we're able to drive better deals for our franchisees because of the scope of the networks combined.
"There's also a highly experienced group of people looking after things centrally, including specialists within each business. We understand that people are different, and we tailor our support accordingly."
Asked why he's driven strong expansion to become the owner of three different brands, Darren's answer showcases everything prospective franchisees need to know about business and the Taylor Made culture.
"I've always been ambitious and looked forward to new opportunities. Opportunities have come to me and I'm a believer that you have to grab those opportunities when they're there."
---
Giraffe Restaurant to launch in Spain - 24-August-2018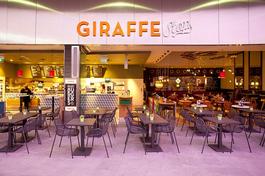 Boparan Restaurant Group (BRG) announces it has entered a new franchise partnership with leading global group Lagardère Travel Retail to open its Giraffe Restaurant concept in Spanish airports, with the first outlets scheduled to open later this year in Malaga Airport.
With 9 million annual departures, Malaga is now the one of the largest airports in Spain. Its busy Terminal 3 will be the location for both a full-service Giraffe Restaurant & Bar and a Giraffe Stop!, the brand's "grab & go" format.
Judd Williams, International Development Director at BRG said: "Already a favourite with air travellers in the UK and Dubai, we are delighted to be bringing Giraffe to new customers in Malaga Airport. This will be our first operation in Spain and is an exciting next step for the brand in line with our strategy to grow our presence in international airports. We welcome Lagardere Travel Retail to our partnership family and we look forward to opening more new sites with them"
Lagardère Travel Retail's Spain and Portugal Managing Director Javier Cagigal Labadie notes: "The development of our food and beverage presence represents a significant step in the growth of our activity in Spain, so we are naturally delighted to be opening Giraffe and Giraffe Stop! at Malaga Airport."
Williams adds; "Our all-day menus boast big flavourful dishes from across the world including straight up classics and new, on-trend flavours, all served in a relaxed and vibrant environment makes Giraffe the ideal choice for the millions of international travellers who use Malaga Airport annually. Opening both our full-service Giraffe restaurant and bar, as well as our grab and go Giraffe Stop! format allows us to meet the needs of both dine in and grab & go customers."
---
Carl's Jr franchise continues Australian expansion - 20-August-2018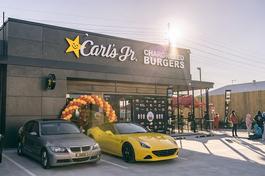 Carl's Jr, one of the world's most popular and largest quick service burger franchises, is continuing its international expansion plans with new store openings in Australia.
Carl's Jr is continuing its rapid expansion in Australia with the opening of its third drive thru restaurant in Queensland this year, with three more due to open before Christmas.
Family-owned retailer, the Bansal Group, bought the rights to develop Carl's Jr in Queensland in 2016; they plan to open 20 stores in the state of Queensland. They successfully launched Redbank Plains in January and Pimpama in July, with Rothwell, Eagleby, and Hope Island expected to open before Christmas.
"It's a fast-growing and increasingly dynamic area so we're excited to bring Carl's Jr. to the people of West Ipswich, and our burgers will very quickly speak for themselves," said Bansal Group General Manager, Shawn Kerr.
As well as Queensland, Carl's Jr also has presence in South Australia and New South Wales, with franchise opportunities available across other Australian states.
Carl's Jr is famous for its premium quality burgers made from the finest of ingredients.
Carl's Jr currently has around 4000 stores in 46 countries across the globe. As well as Australasia, they are making significant inroads in the European marketing, opening recently in France and Spain, and expanding their footprint in existing countries such as Denmark, Russia, Turkey and Belarus.
Carl's Jr are also currently looking to enter the UK market and are seeking candidates with experience in multi-unit UK restaurant/retail operations and the capabilities to facilitate the launch of a multi-unit operation.
If you are interested in finding out more about Carl's Jr UK investment opportunities, click here
---
Is Chick-fil-A franchise ready for the UK market? - 10-August-2018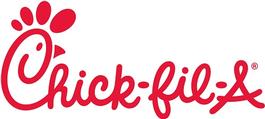 Chick-fil-A, one the US's largest chicken sandwich franchises, recently announced it will be stepping out of its' comfort zone of the US into Canada. It plans to open its' first international franchise in Toronto in 2019 with plans to open at least 15 restaurants in the Greater Toronto area, creating a whopping 50-75 jobs per location.
Chick-fil-A currently has over 2000 stores in the US, and with the decision to take the brand international, could the UK be a key future market for Chick-fil-A?
We know that they have already been testing the water in the UK over the past 3 years by opening pop-up Chick-Fil-A restaurant in key UK cities including Edinburgh in 2018, and if the success of these pop-ups is anything to go by, we hopefully should be seeing Chick-fil-A franchises in the UK in the very near future.
The UK market is a popular market for US and Canadian franchise brands. In recent years alone, we have seen the likes of Tim Hortons, Five Guys, Krispy Kreme and Denny's all successfully launch themselves in the UK. And we don't need reminding of how popular McDonald's has been in the UK since launching its first restaurant in the early 1970s. It has since grown from a store in North London to over 1270 restaurants across the UK. Could Chick-fil-A franchise follow suit, only time will tell, but what we do know that it is much respected and popular brand that is already creating hype over its much-anticipated arrival on these shores.
whichfranchise will keep you up-to-date with what's happening with Chick-fil-A franchise and its (hopefully) imminent launch in the UK.
Other international franchises looking to enter UK market
UK food franchise opportunities
---
Why IHOP's rebranding publicity stunt worked - 09-August-2018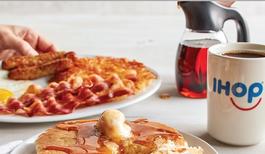 When the rebranding of IHOP to IHOb was announced in June, social media went into meltdown with people struggling to understand why the popular pancake house would do something so drastic to such an iconic brand. Simply, it wouldn't, but it did for a short time, and it worked!
The premise was simple, to remind people that IHOP (International House of Pancakes) sold more than just pancakes. IHob (International House of Burgers – flipping the "p" on its' side) came about after research into what consumers would like to see on the menu in addition to their signature breakfast options, universally flagged up burgers as the number one option. Though burgers were already on the menu, they decided to revamp the burger options…and the company branding at the same time.
So instead of everyone talking about IHOP's famous pancake breakfasts, what everyone was then talking about was burgers! Gently reminding everyone that IHOP has options for breakfast, lunch and dinner; this resulted in IHOP recording record sales for the last period for burger sales and overall footfall.
What has now been revealed as a publicity stunt, has helped IHOP reposition their offering as a restaurant that can be enjoyed by customers throughout the day. And so, whilst the core business remains focused on breakfast, the buzz generated from the temporary rebranding will help them to tap further into the lunch and dinner markets. Which could set them up nicely for when they look to enter international markets such as the UK with their franchise offering.
Established over 60 years ago, and with over 1800 restaurants across 19 countries, IHOP franchise is a leader in the international casual dining market. The company is 100% franchise-owned and operated.
Committed to international growth, the UK is a key target market for the IHOP franchise. They are interested in hearing from investors with experience in developing multi-unit restaurant businesses and with access to the funds required to develop the band throughout the UK. If you are interested in finding out more, please email suzanne@whichfranchise.com
---
American Diner franchise Denny's set to open Glasgow restaurant - 08-August-2018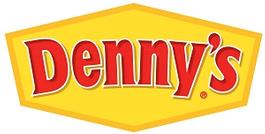 Since arriving in the UK from the US at the end of 2017, Denny's, American diner famous for its' hearty breakfasts and all-day service, has been creating a social media frenzy over where they plan to open their next stores.
Beating of competition from the likes of Edinburgh, Glasgow will follow Swansea as the next city to enjoy the American Diner experience.
Established over 60 years ago in California, Denny's is America's favourite diner, with all day affordable menus attracting customers of all ages. With over 2100 restaurants across 13 countries including Japan, Mexico, Canada, Middle East and Trinidad, Denny's is keen to continue building the brand outside of the US, with the UK being a key market for them.
The master franchise rights for the UK was bought in 2017 by Denny's Magic Diners UK led by Leon Esfahani. Leon and his team plan to open 10 restaurants over the next few years across the UK.
Denny's is just one of many successful international franchise brands to open in Glasgow in recent years, following on from the likes of Krispy Kreme, Tim Hortons and Taco Bell.
Whichfranchise currently has a number of international franchises looking for investors in the UK. Visit our High Investment and Master Franchising directory for new opportunities in the UK.
---
Bartercard Announce Master Franchisee for Bartercard UK - 30-March-2018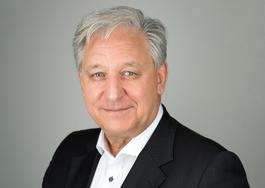 Bartercard are pleased to announce the recruitment of a Master Franchisee for Bartercard UK, with effect from 1 April 2018.
Greg Harrand and Chris Kirby will run Bartercard UK in partnership and will place strong focus on growing the hospitality and property sectors of the business.
Philip Ciniglio, CEO of Bartercard UK and General Manager at BPS Europe, commented: "Bartercard has been operational for 26 years. There is a great future ahead for everyone involved in the original Bartercard brand and for the new Master Franchisee holders. We wish Greg and Chris every success with the growth of Bartercard UK."
The appointment of a Master Franchisee for Bartercard UK is in line with the strategic development of Bartercard throughout Europe. Chris Kirby has more than five years of experience as a Bartercard franchisee based in York and will be running the day-to-day operations of the business. Greg Harrand owns a popular family-run boutique hotel in York and has numerous property interests, alongside substantial business connections within the hospitality industry. Greg will own the majority share of the company and is looking forward to growing the existing Bartercard business and igniting membership growth.
The Master Franchisee operation will oversee the administration of the UK business and manage the Trade Exchange.
Bartercard is owned by BPS Technology Ltd, which is a publicly listed company on the Australian Securities Exchange and holds three successful brands within transactional platform management systems.
Bartercard provides a barter-trading system for businesses to exchange goods and services within a global community. Bartercard is the world's largest trade exchange and acts as a third party record keeper to enable SMEs to purchase goods and services by using Trade Pounds across the global network.
Bartercard members can access over 50,000 global cardholders, an interest-free line of credit which allows immediate business purchases across the global trading platform portal, free networking events and the use of the Bartercard mobile app for trading and payments.
Bartercard operates in a number of different countries, including Australia, United Kingdom, New Zealand, USA, Thailand, South Africa, Israel, and France.
---
Denny's announces plans to enter the UK by the end of the year - 24-October-2017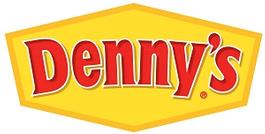 American diner chain Denny's has announced that it plans to enter the UK by the end of the year.
The chain, famous for its all-day breakfasts featuring US favourites such as pancakes and hash
browns, is set to open its first British location in Swansea, South Wales, shortly after Christmas.
A further nine stores will open throughout the UK over the next several years.
Denny's UK expansion will take place via a franchise agreement with Denny's Magic Diners U.K, led by Leon Esfahani, a franchise executive with extensive experience in leading global restaurant brands.
Mr Esfahani said: "I have long been a fan of the Denny's brand and am honoured to bring what I view as a truly unique concept to the United Kingdom."
CEO and President of Denny's, John Miller, said: "We believe there is considerable opportunity to grow the brand internationally, and are confident that Leon Esfahani and his team's experience with leading restaurant brands makes him the right partner to introduce the Denny's experience to the United Kingdom, and more broadly Europe, for the first time."
Denny's is one of the largest US full-service restaurant franchises by number of restaurants.
The chain currently has over 1,700 stores in countries across the globe, including Canada, Mexico, New Zealand and the Philippines.
---
Signal 88 announces first European master franchisee in UK - 18-April-2017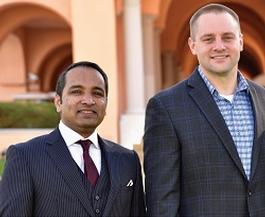 Signal 88 Security Franchise Group is pleased to announce its first European partnership with the sale of a master franchise territory in the United Kingdom in February 2017. Signal 88 has partnered with Erskine Dorrell Ltd, a company backed by experienced entrepreneurs and franchise professionals to develop a security business in the Southeast region of the UK. The Southeast territory is one of eight regional master franchise opportunities in the UK offered by Signal 88 and available to suitable candidates.
Other territories include: Northern Ireland, Scotland, Yorkshire & Humber, Wales & the West Midland, Eastern, Southwest and London.
The Signal 88 brand focuses on a local ownership model of franchising and technology which provides organizations with high-quality and efficient security services.
The Signal 88 Franchise Group is the world's largest and fastest-growing security franchise business with more than 350 local franchises. It based in the U.S. with international operations in the Canada, Australia and, now, the UK.
Through its local franchises Signal 88 provides customized security services to individuals, businesses, neighborhoods and communities.
Speaking of the increasing worldwide need for security services, Signal 88 founder and CEO Reed Nyffeler said, "We believe that the rapidly increasing global instability will challenge the capacity of current public infrastructure to provide for the security of its citizens. As a result, we are seeing an increased demand for high quality private-pay security services which Signal 88 is ideally situated to provide."
Speaking about Signal 88, Ashwin Antony, a Director of the UK Master Franchisee said, "I was impressed by Reed Nyffeler, CEO for the Signal 88 Franchise Group. What he has already achieved and his vision for the potential for the service in the USA and around the world are impressive. My research confirmed that the potential market for Signal 88 is huge and that there are very few operators offering the patrol service model which is core to Signal 88's business."
"I was convinced of the huge potential and my colleagues and I enthusiastically decided to proceed," he continued. "We have received great initial training and launch support. And, we are confident that we have a winner on our hands. We are looking forward to building Signal 88 South East regional franchise network."
Signal 88 seeks to enter new markets through Master Franchise Partnerships with local in-country entrepreneurs. As a result, Signal 88 is seeking future partners who are ambitious leaders interested in securing franchise rights within a specific country. When identified, Signal 88 will provide expert assistance and innovative technology system in developing security operations, staffing, marketing and business management through a proven support program. Once a profitable model operations is established, Signal 88 professionals will assist its master franchisees to develop network of sub-franchises.
---