Exclusive Interview with Tracy Vardy, multi-brand franchisee for Costa Coffee and Pita Pit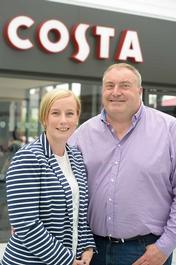 Name: Tracy Vardy, co-founder of Sim Trava
Location: Altrincham
Franchise: Costa Coffee & Pita Pit
Tell us a bit about yourself and what you were doing prior to buying your franchise businesses
My background before starting Sim Trava is in the housing sector, mostly working with local authorities and a major housing association. I worked in that sector for more than eight years. It was a great foundation for developing staff management and team-building skills, which have been invaluable as a business owner.
Why did you go down the franchise route? What made you choose your industry? And why did you choose Costa Coffee and Pita Pit franchises?
There are a lot of benefits to opening a franchise rather than starting from the ground up, mostly that you are in charge of your own business but have an established brand behind you.
It wasn't something we decided on straight away though and we probably spent months trying to decide on the kind of business we would both want to build and be involved in. Because we'd never started a business before it was a really difficult decision, but when Whitbread announced in 2004 that it was opening the Costa Coffee brand to franchising we knew that was the business we wanted to build. It helped that we were both loyal Costa customers already.
How did you raise the finance?
The majority of our funding came from the bank. Because we'd spent so long thinking about what business to start we were well armed with a profitable, working business plan so we could demonstrate achievable goals and that made it much easier to secure the right funding that worked for our business.
Over the years, we've had a great relationship with the bank and they've been very supportive in helping us meet our ambitious and aggressive growth targets. We've recently completed a £3m re-finance deal to kick start our next phase of expansion.
What training and support did you receive initially and ongoing?
The initial support was around how to set up and operate the franchise, what things were expected and how to go about running a business. Whenever we needed support on anything it was always available.
How would you describe your role as a franchisee?
I imagine it's the same as any other person who owns and runs a business, which is to create a sustainable and profitable company that invests back into itself, looks after the people involved and adds something to the community they operate in.
We have always approached this as our business, it might have Costa's and Pita Pit brand, but it's our business and it's our responsibility to grow it and make it sustainable.
What is a typical day for you as a franchisee?
I don't think there is a typical day as a franchisee, certainly no two days are the same. On the whole, my days are based around juggling and looking after my family and the business. Every day, has a new set of demands and needs so things tend to change throughout the day but I'm fortunate enough to have some flexibility and very often my family and the business blend and mix into making up my day.
What challenges have you faced?
Starting the business is probably the biggest challenge we've faced as neither me nor Simon had experience of running our own business before this. Even with a franchise, and having that established brand in place, there is still a lot of hard work needed to build your customer base and cement yourself in the community. We have invested a lot of time in this business to make it successful and sustainable.
Another big challenge has been making sure we meet our ambitious targets. Even when we were working out of our house, with one franchise, we had bigger plans and making sure we hit those targets has been very challenging, but rewarding.
After taking on two Pita Pit franchises more recently we've also got the challenge of balancing two different kinds of business and making sure every part of the Sim Trava umbrella is operating efficiently.
Has becoming a franchisee changed your life, if so how?
It has certainly changed our focus, but that could be said of anyone who takes the risk of starting a business. The pace is so much faster when you own a company and there are so many different aspects of the business - from sustaining what is already there, to keeping an eye on potential new opportunities, to avoiding pitfalls – so your life can become consumed by it. So, from a professional point, it absolutely has.
From a personal point though, we put so much of our own beliefs about family and how we want people to act – and that runs throughout the business – that it hasn't really changed that aspect. If anything, it's enhanced it because we want people to buy into the Sim Trava message and that starts with us.
What is the most invaluable piece of advice you could give someone looking to buy their first franchise?
When we started our business, we had three steps to increase our chances of success:
Secure the most appropriate funding – be confident when you approach investors and have a workable business plan in place, and don't just accept the first deal that falls at your feet, shop around and make sure you are making the right decision for your business.
Invest directly in your people – being a family business is a core principle we operate under at Sim Trava and we take pride in investing back in the team's development. This will also help you save money on staff turnover and improve your business' stability.
Create a sustainable business model – as with any business, be ambitious with your goals but be realistic, just because you have an established brand over the door doesn't guarantee success, you have to be prepared to put the work in and make sure you can reach the goals you set for yourself
What are your plans for the future?
We are currently going through an exciting period of growth for the business. Most recently we have opened three new stores in Fulwood and Buckshaw Village in Lancashire and Monton in Greater Manchester, creating 25 new jobs.
Added to this we have ambitious plans to open a number of other stories to take our total number to 34 by the end of the year and increase the business' turnover to £20m by 2018.
Would you do it again?
Absolutely.
We always had in the back of our minds that we wanted to start our own business, and while it's been a long and sometimes hard journey we've enjoyed every step of it. Looking back now from that first franchise, nearly 13 years on we're on track to have 34 stores and a £20m turnover at the end of next year.
That's not bad for a husband and wife team who started a business from the family kitchen.
Click here for further information on the Pita Pit master franchise opportunity