Denny's announces plans to enter the UK by the end of the year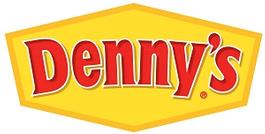 American diner chain Denny's has announced that it plans to enter the UK by the end of the year.
The chain, famous for its all-day breakfasts featuring US favourites such as pancakes and hash
browns, is set to open its first British location in Swansea, South Wales, shortly after Christmas.
A further nine stores will open throughout the UK over the next several years.
Denny's UK expansion will take place via a franchise agreement with Denny's Magic Diners U.K, led by Leon Esfahani, a franchise executive with extensive experience in leading global restaurant brands.
Mr Esfahani said: "I have long been a fan of the Denny's brand and am honoured to bring what I view as a truly unique concept to the United Kingdom."
CEO and President of Denny's, John Miller, said: "We believe there is considerable opportunity to grow the brand internationally, and are confident that Leon Esfahani and his team's experience with leading restaurant brands makes him the right partner to introduce the Denny's experience to the United Kingdom, and more broadly Europe, for the first time."
Denny's is one of the largest US full-service restaurant franchises by number of restaurants.
The chain currently has over 1,700 stores in countries across the globe, including Canada, Mexico, New Zealand and the Philippines.