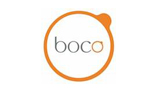 Boco UK Master Franchise
Download our prospectus and/or Ask us a question
---
Boco…Michelin star food at every day prices
The 'Boco' offer is unique! Customers can enjoy high-quality food served eat-in or take-away in a Parisian-style bistro.
The average price of a 2 course meal with a drink, is just £12 – and the food is ready to eat in minutes as already prepared in preserving jars.
Boco business concept
Each recipe has been created by one of 15 renowned chefs and pastry cooks.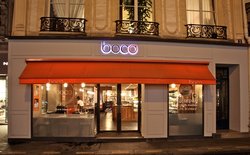 Their creations use seasonal, organic or free-range ingredients. The dishes are served in traditional 'Kilner style' preserving jars (which are called Bocaux in French!). No cooking is required on the premises.
Boco restaurants attract an ABC1 clientele, and are situated in the heart of a city's business district, as well as close to tourist areas. They also deliver to residential customers.
Each restaurant serves occupies around 100 sq.m and serves between 150-300 covers daily, which generates €700K-2M in annual revenues; 70% of revenue is generated from eat-in customers, and the balance is take-away & delivery.
This business is very scalable – operating processes are very simple and don't require highly qualified staff. There is no cooking on the premises, and so no extraction is required. The concept is designed to be modular, and can be adapte for footprints as small as 50 sq.m or as large as 200 sq.m
Boco franchise opportunity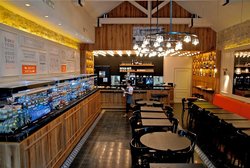 Boco is seeking partners who will either taken on the Master Franchise for a country, or will open several units. Typical investment is €180-300K per restaurant.
Restaurant location is a key success driver
BOCO restaurants are situated in high traffic districts of Paris (Opéra, Bercy Village, La Défense) with a potential for major customer flows.
BOCO restaurants are above all set up in the heart of business districts with the potential for lunch-time traffic, but can equally be situated near tourist attractions depending on the town or residential areas for evening and take-away sales.
The different day-parts attract a different clientele for the restaurants:
For breakfast, office workers
For lunch, mainly office workers
Afternoons and weekends, leisure traffic (families, tourists)
Evenings in the week, office outings, pre and post theatre dining, local residents as well as take-away sales
The numbers
Restaurant size is flexible 50-200 sq.m, but typically 100 sq.m
Average annual revenue: 700-2,000K euros
Average customer ticket: 14-18 euros
To receive further information on this master opportunity, please fill in the form below or if you have a question to ask, click here to send us an email