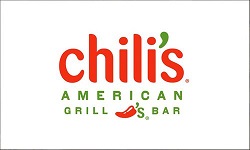 Chili's Grill & Bar UK Master Franchise
Request our prospectus and/or Ask us a question
---
Interested in a multi-unit restaurant development?
Chili's® Grill & Bar, part of the successful Brinker International group, is looking to bring a flavour of America to the UK. They are looking for a franchise partner to launch and grow their Chili's® Grill & Bar franchise brand throughout the UK market; adding to their 1600 restaurants worldwide.

Chili's® Grill & Bar, a recognised leader in casual dining in the US, offers diners a relaxed, but fun and energetic atmosphere. Their menu is Southwestern-inspired, providing patrons with the choice of American classics such as burgers, ribs, fajitas and more.
Chili's® Grill & Bar offers a flexible business model that allows restaurants to be located on a main/high-street in a stand-alone building that is next to retail, residential and commercial/office centres, as well as non-traditional environments within upscale shopping malls, international airports and universities.
To be considered as a potential Chili's® Grill & Bar international franchise candidate, you must meet the following criteria:
Track record of proven hospitality experience within UK (experience within food service - quick service, casual dining or fast casual restaurants is preferred).
Desire to grow the brand via a multiple restaurant development plan of at least 5 restaurants or more.
Demonstrate proof of financial liquidity of $1 million USD per restaurant to be developed.
Evidence of an existing business infrastructure that could support the development of Chili's® Grill & Bar, as well as local knowledge, relationships and expertise in the areas of real estate, government regulations, labour and distribution.
If you would like to find out more about the Chili's franchising opportunity, please fill out the short form below or email our UK representative johnny@whichfranchise.com with any questions you may have.