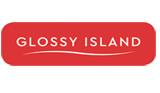 Glossy Island UK Master Franchise
Download our prospectus and/or Ask us a question
---

Be part of an untapped lucrative market with a Glossy Island Master Franchise
The Glossy Island franchise is an exclusive and unique business opportunity which offers hand and nail care treatments in prime retail locations.
Glossy Island wish to appoint regional master franchisees in the UK; currently there are no national service providers, and so the potential income opportunity for both master franchisee, and unit franchisees is very considerable.
Established brand name
In investing in a Glossy Island Master Franchise, you would be part of an established and respected name.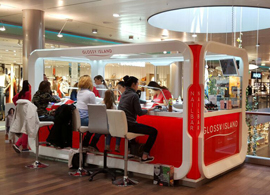 The brand is part of the Wilde Group, headquartered in Germany, and with a 100+ year pedigree reputation. Today, its products are sold in over 70 countries worldwide, and it has very high brand recognition – due in part to major partnerships with quality brands such as Mercedes-Benz, and licencing deals with celebrities and major entertainment groups such as Disney.
A leader in the market
One reason for our success is that the Glossy Island business not only identifies current trends in the market but we also spots gaps in the market and responds to them.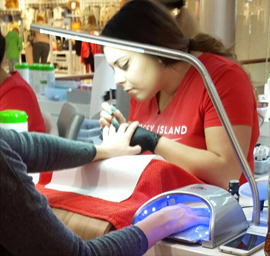 Market trends include a focus on male grooming, greater health awareness, increased spending on health & beauty products and services, and a demand for high levels of personal service; the Glossy Island service picks up on all of these..
Additionally, we ensure a very high quality standard of service and product, not to mention a robust ethical policy. For example, there is no testing of new products on animals. Despite this self-imposed restriction, we are able to offer our customers a full range of unique cosmetic products.
A Unique Opportunity
Most manicurists are found in retail outlets (normally high street), hotels & spas, hairdressers, and mobile units. By contrast, Glossy Island is focused on securing high footfall locations such as shopping malls and airports.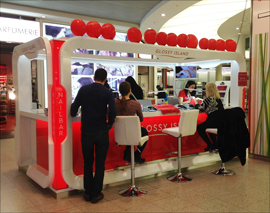 The beauty of this, is that the unit can generate additional rental income for the landlord, it only requires electricity to operate, it can be relocated easily (to ensure best location), and of course, advertising can be minimal, since the customers are passing all the time. The system operates with either 3 or 6 work-stations, and customers don't need to book appointments.

What do I get for my investment?
As a master franchisee, you will receive full training and support from the company in all aspects of running the business.
You will have good commercial and sales experience, and if you have a background in the health & beauty sector, that would be beneficial – but not essential
To receive a copy of our brochure, please fill in the form below or if you have a question to ask, click here to send us an email