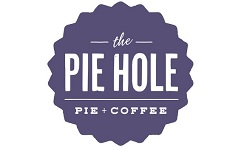 The Pie Hole Franchise UK
Request our prospectus and/or Ask us a question
---

At a Glance
Sector: Fast-Casual/QSR Established: 2011
Number of Units: 36 units open and in development across United States and Internationally
Sales: from $1,681,000 (USD) (1,200 sq.ft.) to $673,590 (USD) (400 sq.ft.)*
Figures represents the financial performance range of 3 affiliate owned The Pie Hole restaurants that were in operation continually during fiscal year 2017. Related costs can vary due to several factors. Please refer to our Franchise Disclosure Document for a complete breakdown of costs.
Average Size: 400 square feet - 1,200 square feet
The Pie Hole takes generations-old family recipes and serves up happiness with fresh-baked, made from scratch, sweet and savory pies - in addition to their renowned organic specialty coffee beverages.
Expanding footprint into Europe and Asia with a special focus on the UK market
Unique concept means minimal competition & large customer draw to the locations
Offering delicious & unique sweet & savory creations made with premium ingredients - available for breakfast, lunch, dinner & late night
Prime for inexpensive conversions of tired brands, prime real estate & flexible store options from 400-1,200+ sq.ft.
Ideal Partner
$1 million net worth
$500k liquid capital available to investment
Ready to develop at least a 5-unit territory in a major UK market
Seeking: Area Developers and multi-unit franchisees