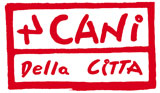 4Cani UK Master Franchise
Request our prospectus and/or Ask us a question
---
4Cani…Fresh Food Italian Style® coming to the UK
For over 20 years this outstanding Italian casual dining concept has had a reputation for innovative dishes and uncompromising freshness.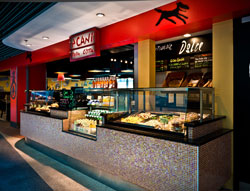 The 4Cani stands apart from other casual dining restaurants because of its distinctive strategy: Italian fresh cuisine mixed with crossover ingredients from Asian cuisine, carefully prepared with high-quality daily fresh ingredients. The culinary freshness blends perfectly with the 4Cani 'lifestyle' atmosphere which has resulted in it becoming a rendezvous for its demanding clientele.
The 4Cani represents the successful combination of a modern Italian café - Caffèe Pane® - and a restaurant with a special ambiance. The 4Cani is urban, modern, fresh, light and of course Italian. A successful mixture of design, urban chic and Italian esprit: 4Cani - Fresh Food Italian Style®
Unlike many competitors 4Cani is a pizza/pasta concept which has a menu offering geared towards every part of the day.
Airport businesses
We have continued this success story in our franchised restaurants at Düsseldorf International Airport and Köln/Bonn Airport with exceptional and sustained above-average performances. Our franchise partner at the airports is the Stockheim Group.
For 60 years the Stockheim Group has been the leading restaurant operator in the airports, train stations and exhibition halls of the cities of Düsseldorf and Cologne. Having been a classic high street operator, we have benefited from their decades of experience and have tailored our F&B proposition to the processes and needs of an airport-based restaurant.
Our unique selling points
Our formula was to base our menu offers on the best sellers in our city-centre flagship store, selecting those that could fulfil two crucial criteria:
quick to produce ( à la minute près)
favourable cost of goods
As we strove to further evolve and improve our offering to match airport customers' changing requirements, we developed Caffè e Pane®.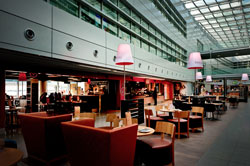 Caffè e Pane® is an artisanal bakery Italian style, which demonstrates uncompromising freshness, and is integrated into a 4Cani restaurant.
We produce freshly baked, hand-shaped breads from traditional Italian recipes; produced on site, just-in-time, every day. Resulting in our major point of difference from coffee shops and sandwich chains, where goods are usually centrally delivered and pre-produced.
Photographic cutouts provide links to Italian landmarks. Red lampshades give the restaurant a warm light. Ease and authenticity add to the atmosphere.
From the pedestrian arcades, the 4Cani looks as though it's on a piazza. The warm wood tones and brown leather give a classy impression, and the restaurant itself radiates tranquillity and quality.
Business developments
We are happy to announce that in our third year since opening, the performance of the 4Cani has been outstanding. Between the first and the second year, turnover went up by 15% after a very good start. In the first half 2012 the turnover improved by 19% and in 2013 by a further 4.5%. These impressive numbers are even more significant, when you consider that the airport was facing a decrease in passenger numbers of 1.7 %.
In February of 2012, the Stockheim Group opened its second 4Cani franchise at Köln/Bonn Airport. Establishing a 4Cani at the airport was specifically requested by the airport operator, who even provided financial support.
4Cani doubled the turnover of the previously operated concept immediately and its growth is continuing in line with the airport's operating numbers.
With 20 years of breakfast, lunchtime and dinner expertise, the 4Cani delivers strong performance by providing consistently high standards of quality and service with outstanding value-for-money offerings and plenty of choice across the various price points.
And we are anticipating a bright future ahead of us!  Want to be part of our success?
To find out more about this exciting opportunity, please fill in the request further information form.