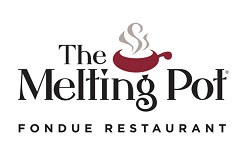 The Melting Pot Franchise UK
Request our prospectus and/or Ask us a question
---

Leading fondue restaurant looking to open in UK
The Melting Pot has been the USA's leading fondue restaurant for more than 40 years and we are now looking to continue this success in the UK market.
Since its humble beginnings in Florida in 1975, The Melting Pot has become an international presence. There are over 120 restaurants in 35 US states, Canada, Mexico, Saudi Arabia, and the United Arab Emirates, with multiple stores in development across the world.
The Melting Pot was named the #1 Casual Dining Restaurant in the United States by consumers in the 2015 Consumer Picks survey conducted by Nation's Restaurant News. The reasons for our success are simple: we provide customers with the best in 'polished casual' dining with our exceptional service, one-of-a-kind customisable menu, and a unique and fun interactive dining experience where guests prepare food at their table.
We are currently looking for investors to develop our award-winning brand in the UK and be a part of our exciting future. Read on to see if The Melting Pot may be right for you.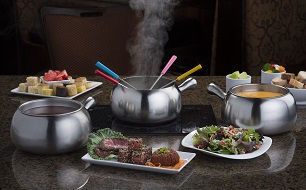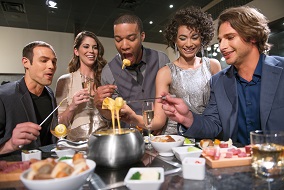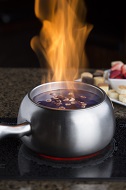 Why choose The Melting Pot?
With over 40 years of proven success and steady expansion, franchisees can be confident that they are joining a strong and thriving company. As we are a brand that owes our impressive expansion to the franchise model, as well as being a top-ranking franchise with a Franchise Grade® overall grade of an "A" rating, franchisees can rest assured that they will benefit from being part of a company with extensive experience and expertise in the world of franchising.
We do everything in our power to help our franchisees succeed. Many of our franchisees comment on the relative simplicity of franchising with The Melting Pot. Why? Because of the extensive support we provide, the limited level of direct competition, as well as the operations being less complex than traditional restaurants given that our customers prepare food at their own table. The support we provide covers many areas, such as:
Marketing: including access to an International Marketing Consultant, marketing materials and an email marketing system
Technical and Operational: including access to an International Franchise Business Manager and Manager of International Operations and Support, quarterly business planning meetings and multiple visits per year with support for quarterly operational audits
Construction and logistics: list of all materials and items needed to build store and liaison on behalf of franchisee with contractor and construction team to ensure store is built on time and to specification.
We understand every owner and the area they operate in will have different tastes and requirements. For this reason, we allow our franchisees a level of flexibility in the areas of restaurant layout and design, and menu and beverage options to account for dietary and cultural needs.
In addition to these benefits, there are many other unique advantages that franchising with The Melting Pot can offer. To find out more, please fill in the enquiry form at the bottom of the page.
Is The Melting Pot right for you?
Every new International Melting Pot franchisee is asked to sign an Area Development Agreement, as part of which they agree to open a specific number of stores (minimum of 3) within their area over a required amount of time. This area will exclusively belong to the franchisee for the duration of the development timeline outlined in the Area Development Agreement. Note - we do not offer Master Franchises as we feel this would distance us from our franchisees as well as our guests.
Although becoming a franchisee with The Melting Pot is undoubtedly an exciting business opportunity, to help ensure success the ideal franchisee candidate must meet certain requirements. These include:
Previous restaurant or hospitality experience is essential and experience in multi-unit operations is desirable
A minimum of 1 million USD in liquid assets (this may be combined among partners)
Access to a minimum of 3 million USD in capital (this may be combined among partners)
At least one owner must speak English fluently
Be able to efficiently operate several units and successfully develop the brand within their area
Willing to be an owner/operator of their units or hire the correct management to oversee the day-to-day operations of the business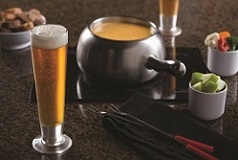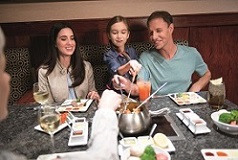 Financial information
The costs involved with becoming a franchisee with The Melting pot include the following:
An initial franchise fee of between $45,000 and $60,000 per store
A one-time training fee of $50,000
6% of net sales monthly in royalties
Contribution to Brand Marketing Fund (Maximum 1.83% of net sales)
Requirement to spend a minimum percent of net sales on local approved marketing (Up to 6%, currently at 2.5%)
Construction and development cost per store (currently approx. 1MM – 1.5MM USD)
Want to find out more?
If you are interested in finding out more about this opportunity, please fill in the form below to request our prospectus or email our UK representativejohnny@whichfranchise.com