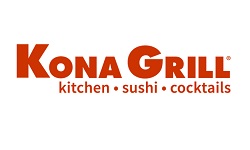 Kona Grill Franchise UK
Download our prospectus and/or Ask us a question
---
Upscale casual dining franchise looking to launch in UK
Founded in 1998 with the first store opened in Scottsdale, Kona Grill, Inc. now owns and operates 42 restaurants in 22 states across the US and in Puerto Rico.
We are currently seeking groups or individuals to develop and operate our Kona Grill brand in selected international markets, including the UK, under the umbrella of the franchise business model.
Our future franchise partners must possess:
Passion and experience in the restaurant, entertainment, hospitality, or retail industry
Knowledge of labor, taxation, importation, and franchise laws in the local market or region
Resources to secure relevant real estate
An existing infrastructure to develop and support the operation of Kona Grill restaurants
The financial means to develop a minimum of 3 restaurants in 4 years (typical investment is US$3-4M)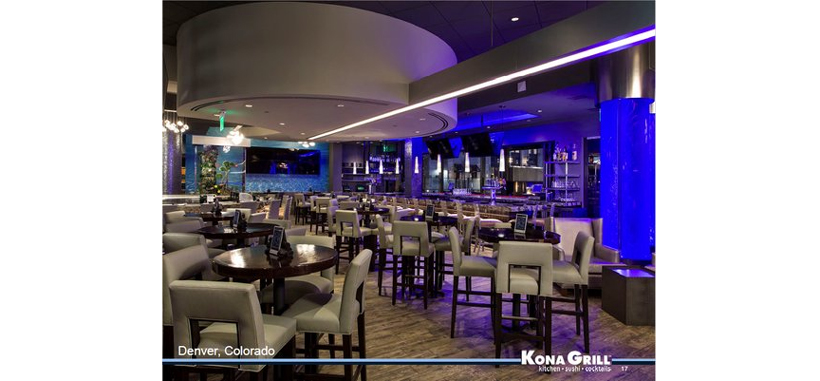 About Kona Grill
Kona Grill restaurants offer freshly prepared food, attentive service, and an upscale contemporary ambiance that generates an exceptional, affordable dining experience under the umbrella of the Upscale Casual Dining segment.
Our high-volume restaurants feature a diverse selection of modern American entrees, appetizers, an extensive selection of award-winning sushi, and multiple menu choices for health-conscious guests. Our exhibition style kitchen delivers menu items prepared from scratch at each restaurant and incorporate over 40 signature sauces and dressings.
The diverse menu is complemented by a full service bar offering a broad assortment of wines, speciality cocktails, and beers, voted "best happy hour" in multiple markets.
All Kona Grill restaurants are uniquely designed to reflect the local culture, people and surrounding environment to create a familiar atmosphere, comprised of multiple dining areas with modern design elements and a notch above setting that reinforces our high standards of food and service.
We locate our restaurants in high-activity areas such as retail centers, shopping malls, urban entertainment districts, and lifestyle centers that are situated near commercial office space and residential housing to attract customers throughout the day.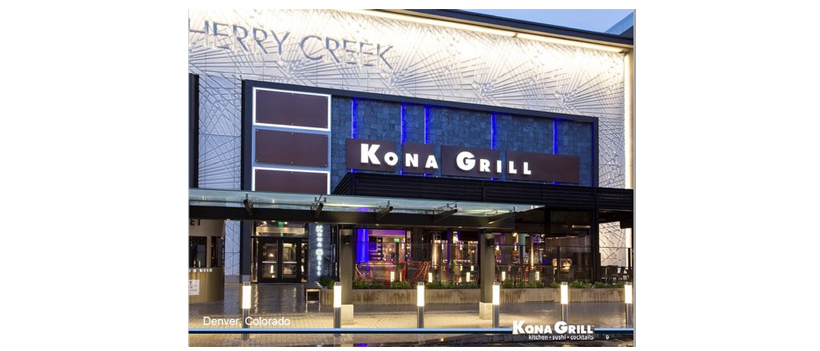 Benefits of a Kona Grill franchise
A publicly traded premium American brand
Fastest growing upscale casual dining in USA
Unique 4-day part model with 3 distinct businesses
An outstanding menu with local culture flexibility
Proven business format with limited competition
Seasoned franchise support team
Sophisticated brand attractive to landlords
High insider ownership
Compelling unit economics – typical investment US$3-4M; typical annual revenues US$4-5M with a 20% EBITDA
To receive a copy of our brochure, please fill in the form below or if you have a question to ask, click here to send us an email