Papa John's franchise owner talks about being a successful multi-unit franchisee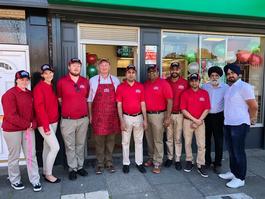 Franchisee name: Sukhbir Gill and his business partner Lakhwinder Singh
Location: Sunderland
Franchise: Papa John's
Please tell us about your Papa John's franchise
Sukhbir Gill explains: "I am the franchisee for Papa John's Sunderland store and I also run four other franchised Papa John's including Skegness. I run the stores with my business partner Lakhwinder Singh (Lucky). We plan to open a further Papa John's in April 2019. I look after the financial operations of the business while Lucky manages the day-to-day operation of the stores.
What is your business background?
Sukhbir Gill explains: "I joined Papa John's from a rival pizza firm where I worked for eight years. I felt at the time, I had achieved all that I could and that I could not progress any higher. I had always wanted to run my own business and with Papa John's actively looking for franchisees it was the perfect fit.
My experience over the years, has been particularly helpful as the fast food industry lends itself to opening multi-units. Having a background in the sector allowed us to see what was possible but also what could be done even better and we have brought these lessons with us to link-up with Papa John's hugely successful business model and have never looked back."
Why did you choose the fast food franchise industry and a Papa John's franchise?
Sukhbir explains: The Papa John's franchise is attractive because it is growing so rapidly and so there are many opportunities for expansion. In addition, there is no-question that the product is the best on the market. The pizzas are made with only freshest ingredients for a better flavour which tops the competition. The Company's concept of: "BETTER INGREDIENTS. BETTER PIZZA." always keeps customers coming back for more! Feedback is always excellent!"
What are the benefits of being a multi-unit franchisee?
Operations director Lakhwinder Singh (Lucky) explains: "There are a number of benefits – as a multi-unit franchise we have been able to take advantage of Papa John's special new store opening incentive scheme. Deals on equipment, franchisee royalties and assistance with marketing have all been helpful as we open more outlets.
Papa John's also offers a new store opening construction loan which is key as the cash generated from one opening provides the funding for the next. Papa John's strategy is to have franchisees with multi unit operations and it was a win-win for us.
"Each time you open a new store the process becomes easier because it is more familiar.
When it comes to staff, recruitment becomes more straightforward plus, training can be hands-on in an existing store, ensuring staff are up to speed quickly as they learn better in a real-world environment."
What training and support did you receive initially and ongoing?
Lucky continues: "Papa John's training is very thorough. Initially, even though we were experienced in the industry, it included three weeks at head office as well as three weeks in-store: six weeks in total. Now we have multiple Papa John's open, the ongoing training includes the head office training and support team joining us for new openings to help staff during the first week. There are also regional training workshops and train the trainer programmes we have attended, and our staff have been able to take advantage of too. There have been some new senior staff joining Papa John's at head office recently and this has already started to strengthen the training and support programmes even further for the benefit of franchisees."
How would you describe your role as a multi-unit franchisee? What is your management style/method?
Lucky explains: "As operations director I am responsible for most of the day-to-day running of the stores. I have a hands-on approach and am fully across the different outlets we run. I like to have a motivated team and listen to feedback. I have an open-door policy with regular monthly meetings with senior managers and we always try to promote internally too. This helps to keep staff motivated and engaged."
What are some of the challenges you have faced being a multi-unit franchisee, and how did you overcome them?
Sukhbir Gill explains: "The distance between our stores has been one challenge we have faced. To overcome this, we are now focused on opening 'clusters' of stores. Travelling between outlets then becomes easy. Staff can move between stores if necessary or if they want to and joint regional marketing is more straightforward."
What is the most invaluable piece of advice you could give someone looking to become a multi-unit franchisee?
Sukhbir continues: "My advice is to look at how running clusters of stores can be beneficial. Grouping outlets can really improve marketing reach and staff recruitment and training is certainly more efficient too."
What are the company's plans for developing the business and your own personal plans for your business?
Sukhbir explains: "We are expanding in line with the development agreement with Papa John's so everyone knows where they stand and we have secured territories resulting in a planned store opening strategy over the next couple of years. We have a new Papa John's store opening up in April 2019.
What advice can you give someone who dreams of becoming a successful multi-unit franchisee?
Lucky explains: "The fast food industry is a fast-paced environment! You need to be prepared to work hard and be hands-on. Learn everything about the business, what works and what doesn't – live it, breath it, even eat it and this all-consuming approach will bring you success!"