Exclusive interview with Domino's Pizza and Tim Horton's franchisees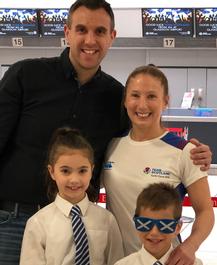 Name: Graeme & Lisa Tobias
Location: Glasgow, Ayrshire & Northern Ireland
Franchise: Domino's Pizza & Tim Hortons
Please tell us about your franchise(s):
Domino's only use fresh, never frozen dough and have very high standards of product and service, which is what really attracted us to franchising with the brand. We knew that if we followed the model, worked hard to achieve great service, customer service and produced a great product, we could succeed.
With many years' experience in Domino's, the opportunity arose to broaden our business interests with Tim Hortons, which had arrived in the UK&I in the summer of 2017. Another fantastic brand, hugely popular in Canada and growing worldwide, we were excited with the great products on offer (including our own favourite the French Vanilla!), excellent value for money and the attraction that the brand had from the outset.
What is your business background?
Lisa had previous experience as a Store Manager with Domino's in one of their Glasgow stores, winning the prestigious award of 'UK&I Manager of the Year' back in 2002, whilst Graeme completed an Honours Degree in Maths, Statistics and Accounting at Strathclyde University and worked as a Licensee for pub chain Mitchells & Butlers.
Why did you choose the industry and franchises you did – Domino's and Tim Hortons?
With Lisa having worked in Domino's, we already had a lot of insight into the brand. We stepped back to consider our options, convinced that franchising was right for us. Although there were many great franchises on the market, Domino's was innovative, had a fantastic product, great marketing ideas (who doesn't remember our sponsorship of the Simpsons?!) therefore we quickly knew we wanted to franchise with the brand.
Tim Hortons is relatively new to the UK but has been established in Canada for over 54 years. In Canada they dominate the market with their famous French Vanilla, Double-Double and Timbits. We, along with our 2 children Naomi and Jared, were both hugely excited when the first UK&I store opened up in Argyle Street, Glasgow, visiting the store in its opening week. As a family we have enjoyed the products ever since and were extremely keen to look into franchising with Tim Hortons UK&I when approached earlier this year.
What are the benefits of being a multi-unit franchisee?
The main benefits are being able to share knowledge and experience across multiple sites, as many scenarios that arise, you'll have seen before in another site, or if not, you can then share across the group, good or bad. We have many fantastic Managers and Team Members that come up with great ideas, perform to a high standard, or get great feedback from customers that we can then share across the group for others to see and take on board.
Another benefit has been that we've been able to grow our teams and promote from within which is something we always encourage our team members to consider. All of our Trainee Managers, Managers and Area Managers have started as either a Delivery Driver or In-store Team Member with us, progressing through the ranks in the same way we did. Not only does this provide great opportunities, but it also encourages others to do the same and shows a great potential career path available to all who work with us.
What training and support did you receive initially and ongoing?
Support and training initially from Domino's was excellent, they really did cover all aspects of owning and running your own stores. They provided management training, local marketing support, IT support, really anything you can think of there was someone in Domino's Head Office that could help you. Nowadays with a bigger team ourselves, we have developed our own Training Team and have a Head Office team including our own Accounts Department, Office Admin and Marketing Consultant but there is still always that support from the Franchisor when needed.
In Tim Hortons, we're seeing exactly the same support we had with Domino's all those years ago. There is a person or team assigned to all aspects of running a store which means for a new franchisee without the setup we might have, you can contact someone from a quick phone call or e-mail that can help with any aspect of building or running a store.
How would you describe your role as a multi-unit franchisee? What is your management style/method?
Our role now is more about organising, training and developing the Management Team including Head Office team, Operations Manager and Area Managers to make sure they are on top of their teams. We always want to maintain very high standards across our group of stores, which means when passing tasks down the line, we must make sure they are aiming for the same very high standards at all times, as they are representing us and our company every day, with every customer's order.
The most important job for us now is to identify key people, ensure that they are on board with our way of thinking, demonstrating every day that they are aligned with the brand and making sure they develop their teams below them to do the same. It's also great to get their ideas, be able to include them in the decision making, so that we develop as a group with the fantastic people we have and not just dictate to them how we want it done.
What are some of the challenges you have faced being a multi-unit franchisee, and how did you overcome them?
The first steps were the most difficult, not to say that it is 'easy' now but opening our 15th Domino's store was our best ever opening to date. We had a great training team developing great people in the run up to opening, albeit a lot of new staff, our trainers did a great job preparing the team for opening, marketing was perfectly organised and operations ran smoothly from opening. That's not to say we didn't make mistakes, unfortunately those do sometimes happen, but the vast majority of customers were 'Wowed' by their first experience of Domino's in the new territory and we did our very best to make it up to any customer who didn't.
Staffing initially was more difficult too. When you have 1 or 2 sites you can't carry a lot of people, in fact we had just 6 team members when we first started (now close to 600) but now that we are bigger in size, we've developed great teams, are always looking to promote team members to Trainee Managers and beyond, providing opportunities for hard working team members to grow with us and our 2 brands.
What is the most invaluable piece of advice you could give someone looking to become a multi-unit franchisee?
Start from the bottom, learn everything. If you haven't cleaned every piece of equipment in your store/business, worked every station or job, seen first-hand what can go well and go wrong on a shift, then you can't give advice of help your team when they need you.
If you do, you'll be able to help when someone asks you in-store how something works or know what to do when someone calls for advice, but also appreciate it more when you do get it right and the store succeeds. Whether that's a record sales night or you've hit the best service stats, it makes it all that bit sweeter when you've helped out, know you can do each of those jobs and get stuck in yourself.
What are the company's plans for developing the business and your own personal plans for your business?
Imminently we are about to launch our first Tim Hortons Drive Thru in Stenhousemuir, which is hugely exciting. Training is going well and we're loving every aspect of this new brand.
In 2019 we have 2 more Tim Hortons Drive Thru's to open in the West of Scotland and 2 more Domino's stores due too. That will be a very big year for us as a group, but we won't rest there, we are looking at development plans beyond 2019, continuing to bolster our great teams with even more talented people who want to learn, work with our 2 great brands and develop their own journeys.
What advice can you give someone who dreams of becoming a successful multi-unit franchisee?
Definitely do dream but know that you must work hard to make it a success. Don't expect to turn a key in a business from day 1 and make money, as it doesn't often happen that easily. The very best operators we've seen and are lucky enough to work alongside within Domino's and now Tim Hortons, work hard every day, they've learned every aspect of the job, continue to develop with the brand and genuinely want to work hard within their own franchise as well as with the brand, to make a success of their business. That is what is key to franchising for us, when you get the right brand, a real gem, the people within it not only want to do well for themselves, but also for the brand as a whole, which makes all the difference.