American Diner franchise Denny's set to open Glasgow restaurant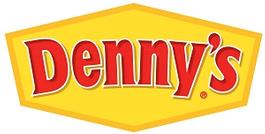 Since arriving in the UK from the US at the end of 2017, Denny's, American diner famous for its' hearty breakfasts and all-day service, has been creating a social media frenzy over where they plan to open their next stores.
Beating of competition from the likes of Edinburgh, Glasgow will follow Swansea as the next city to enjoy the American Diner experience.
Established over 60 years ago in California, Denny's is America's favourite diner, with all day affordable menus attracting customers of all ages. With over 2100 restaurants across 13 countries including Japan, Mexico, Canada, Middle East and Trinidad, Denny's is keen to continue building the brand outside of the US, with the UK being a key market for them.
The master franchise rights for the UK was bought in 2017 by Denny's Magic Diners UK led by Leon Esfahani. Leon and his team plan to open 10 restaurants over the next few years across the UK.
Denny's is just one of many successful international franchise brands to open in Glasgow in recent years, following on from the likes of Krispy Kreme, Tim Hortons and Taco Bell.
Whichfranchise currently has a number of international franchises looking for investors in the UK. Visit our High Investment and Master Franchising directory for new opportunities in the UK.