Exclusive interview with Aslam Bakkali, Belgium master franchisee for Business Doctors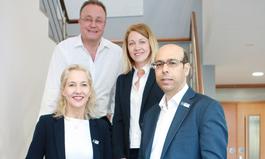 Name: Aslam Bakkali
Location: Brussels - Belgium
Franchise: Business Doctors
Please tell us about your Business Doctors franchise:
Business Doctors is primarily a British support network dedicated to helping small and medium sized businesses achieve their full potential.
What is your business background?
I hold a Master Degree in Accountancy & Finance and have over 30 years of experience in Finance and Sales Management gained from subsidiaries of world-class multinationals such as Colgate-Palmolive, Orangina Schweppes, ACNielsen, Sun Microsystems and Occidental Petroleum.
Why did you go down the franchise route and what made you opt for a master franchise?
I initially thought of starting from scratch and launching my own business until I discovered Business Doctors franchise that provides similar products and services offerings dedicated to SME. BD brings together a strong network of high calibre business consultants and years proven experience, methodologies, tools and success making my venture faster to develop and less risky. I was very interested in a master franchise because it's a unique opportunity to make a major difference in the market place and build something valuable both for my clients and myself. Something I could be proud of.
Why did you choose the business consultancy industry and ultimately Business Doctors?
I am passionate about SME's and eager to tap into my 30 year-experience in business performance management, finance, sales and marketing strategy to serve them and contribute wholeheartedly to their well-being and legitimate growth aspirations. The consultancy industry was no brainer and when I met Business Doctors it became crystal clear they were the best fit possible.
What research did you undertake?
I did my homework and tried to understand the market (size, competition, customers, challenges, etc…), read a load of books around consultancy and franchising without mentioning weeks of web research. Afterwards, I talked with a number of professional consultants I knew and attended a number of events including the Franchise Exhibition held in Brussels. I had also long discussions with a French Franchisor along with his Belgium Franchisee and Business Doctors along with a couple of UK Franchisees. I worked out my business plan to ensure the chosen option was doable financially. Last but not least, I discussed thoroughly and openly the franchise option with my wife to get her support before making my final call.
How did you raise the finance?
My business plan and own credentials were solid. They were discussed with a Belgian bank that accepted to finance 100% of the franchise entry-fee at a very competitive interest rate and with no collateral.
What are some of the challenges you have faced when buying your Business Doctors master franchise, and how did you overcome them?
The language barrier and the lack of brand equity in Belgium are probably the biggest challenges. Belgium consists mainly of 2 strong communities: Flemings who speak Dutch and Walloons who speak French. All existing BD communication, all documents including website and digital tools are in English. Furthermore, even though support from BD UK is contractually foreseen, it is not that easy to organise as a result of the language issue. Priority is given to French and translations are on track. Regarding support, Head-Office is doing a great job while one of Business Doctors very experienced consultant has volunteered to help me out in the initial phase. Next to him, there is of course, the whole network I can always tap into for advices. Finally, in order to make Business Doctors brand known in Belgium, a marketing campaign is being designed with the support of Head-Office for implementation in the coming weeks.
What training and support did you receive initially and ongoing?
I did receive 8 days intensive training (and a load of binders with precious information) in order to understand and practice Business Doctors operating model, tools, systems as well as the consultative selling approach. Next to this, 6-days hands-on support in Belgium are foreseen to consolidate my knowledge and lead me to mastery. I also know I can count on Business Doctors head-office continuous training, support, coaching and mentoring whenever I need it.
How would you describe your role as a master franchisee?
Build Business Doctors brand equity in Belgium & Luxemburg and expand its business footprint across this geography.
How have you gone about developing your franchise and establishing it in your country?
First step is to make "my" franchise successful before hiring franchisees starting in 2018. PR, networking, referrals, partnerships and seminars are critical paths to build a trusted name in the market place and down the road generate contracts.
How do you select the right franchisees for your business?
The right franchisee is a very experienced business person with a solid business acumen. Somebody who as the right hard skills and competencies but that's not enough. A critical success factor is also to possess the right behaviour and attitude.
What USPs has your franchise got over others in your industry?
Business Doctors is very structured and experienced with over 10,000 SME's helped under its belt. Its collaborative network is robust and its approach, tools and systems are second to none. It's unique in the way it engages its clients. Business Doctors listen actively to their clients to understand their concerns and challenges and hence help them the best way possible. Business Doctors is jargon-free hands-on pragmatic, humble consultants, far away from traditional "know-it-all" consultants who focus on concepts and theories and not on execution.
What is the most invaluable piece of advice you could give someone looking to buy a master franchise?
Full alignment with your Master Franchisor's vision and goals is critical to avoid disconnects that would adversely impact your success.
What are the company's plans for the future and your own personal plans for your business?
In my capacity as Master Franchisee for Belux, I will be developing, supporting and motivating BeLux network as well as continuing to strengthen Business Doctors presence and brand image. About 8 franchisees will be hired within 5 years, each with dedicated territories. In parallel, there are exciting plans to start a Master Franchise in France and in the Netherlands. But that's another story. Let's focus on BeLux first.
Click here to find out more about Business Doctors and to enquire about UK and international franchise opportunities