Repeat business prospects for pet services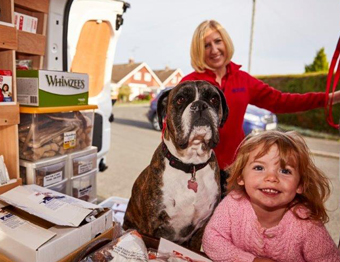 Statistics provided by the Pet Food Manufacturers' Association confirm that there are 8.5 million dogs and 7.5 million cats in the UK, with approximately 0.75 million other domestic animals. This equates to around 50% of households owning a pet.
The UK's love of pets and, subsequently, the ongoing demand for pet food creates a thriving, growing market. At OSCAR, we recognised the need for premium, locally sourced pet food and began to offer this to clients and their beloved pets. We quickly grew into a leading pet service in the UK and expanded into franchising so that others could share in our success. In this exclusive article, we offer you an inside view of this industry and why franchising in it can reward you both financially and professionally.
The importance of knowing what to feed...
You will have heard, 'You are what you eat'. This applies equally to pets. In an industry that focuses on a variation of feeding options, the market is overwhelmed with choice; such choice varies in quality and selection.
Pet food labelling is sometimes confusing and, as such, educating pet owners on the benefits of good nutrition is very important. There is a difference between real ingredients and supplements, against by-products or derivatives; consumers need help to identify what keeps a pet healthy.
When looking a pet franchise opportunities, check that the franchisor and their brand are ethical on all accounts. Check that their products and services are second-to-none and they don't cut corners in terms of quality for a quick buck. This will tell you something about the ethos of the franchise brand itself.
Reaping the rewards of quality...
While consumers have a greater level of health consciousness, it's reassuring when words such as 'high quality', 'fresh' or 'locally sourced' are listed in pet food ingredients.
However, advice on 'what to feed' and 'how to feed' needs to be clearly explained. Do the other pet franchises you are looking at offer this? For example, at OSCAR nutritional advisors are trained to provide clients with a better understanding. Their own brand of foods' with its unique honest label policy shows the nutritional ingredients adding up to 100%.
Keeping ahead of developments...
A reliable franchisor will ensure it keeps abreast of the industry, providing a good range of products to cater for customer demand. Nutritional expertise in animal feed – creating diets for many different life-stages and conditions – is as complex as human feed.
OSCAR ensures that it keeps up to date with trends and developments by reviewing, researching and introducing new products to invigorate its comprehensive range. We advise that you ensure that you ask franchisors about their aims for development and how this impacts their service/product.
Training and support hold the key...
A reputable franchisor will have a tried and tested system backed with a strong training and support package. For example, as the first and only franchise to introduce an official certification; Certcan (QCF Level 3)* designates recognition in the national education system for OSCAR franchisees.
Embracing such educational excellence in the nutrition of dogs and cats gives our franchisees something to be really proud of, and is proving enormously helpful in advising customers about their pets, which in turn helps cement long-lasting brand loyalty. *Level 3 Certificate in Companion Animal Nutrition QCF
Home is where the heart is!
Home delivery has seen a massive growth in recent years, and everyone is benefiting from the convenience of direct-to-the-door delivery of products and services. It is predicted that before long the majority of all purchases will be made at home and the OSCAR system is thriving on this fact.
In addition, OSCAR franchisees not only deliver to clients' homes but also, they can work from home. This makes overheads low and gives the added benefit of working flexibly to suit their family or personal needs.
When doing your research, be sure to ask the franchisors about the finer details of your working life, as you want to make sure there aren't any surprises. As a FULL accredited member of the British Franchise Association, our franchise system and business model has been heavily vetted. Ensure that you also do your homework and check out bfa members specifically.
About the author
Oscar Pet Foods specialize in delivering highly nutritious pet food and accessories, as well as free expert advice in behaviour, nutrition and veterinary matters. To find out more about their franchise opportunity, please click here.
To have a look at other mobile franchises available in the UK, click here. Alternatively, have a look at other home-based opportunities here.
---