Franchising in a recession-resistant industry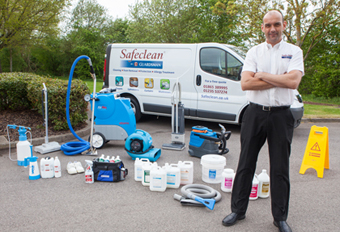 Challenge: By the time you've read this article, try and think of a building that doesn't contain flooring or upholstery. In the meantime, Safeclean, an expert carpet and upholstery cleaning franchise, will share why this particular industry is not just successful…but thriving.
Primarily, when you think about it, society has become a little contradictory. On one hand, we are a 'throw away' nation, discarding and replacing items without a second through, yet, on the other, we are cost savers and DIY lovers. The question is, what happens when your items are too valuable to rip up and replace, but a DIY job just doesn't cut it? You call in the experts.
Market demand
As a successful franchise, we have seen that carpet and upholstery care is a growing industry. In 2015 alone, the UK spent £98 million on carpet and upholstery cleaning services*.
At first glance, carpet and upholstery cleaning may not sound complex, but take a closer look and there is much more to it than meets the eye. The process of cleaning a carpet or upholstery has many components requiring knowledge of chemistry, techniques and a vast array of products. But what is you don't have prior experience in this sector or of these technical methods? That is when franchising comes into its own….
The benefits of franchising in this sector
In simple terms, a highly-established, ethical franchise, like Safeclean, have a tried-and-tested business model for franchisees to follow. An in-depth training programme enables those who have never had any exposure or experience to become fully trained and qualified as carpet and upholstery technicians.
Within the induction programme, franchisees learn how to identify individual fibres, setting them alight and then analysing the scents and appearances they take on. For example, franchisees would learn the chemistry behind stain removal, what products contain the right chemistry to target and break down.
Marketing and customer support
Anyone who is looking to start their own franchise will know that building a successful business is much more than just learning your trade. It's having a strong customer base and a demand for your service or product.
A franchise not only brings the training and equipment, but also the business support. Our research found that 46% of customers asked a friend or family member for a referral before choosing their service provider, showing just how important it is to get your marketing pitch right.
A recession-proof franchise
From our experience, carpet and upholstery cleaning seems pretty recession proof – many of our franchisees who testify to this have 30+ years of experience, so are in the know! When times are tough, customers aren't in a position to replace their items, so being traditional Brits, they look to make do and mend.
That means that when their carpet, sofa or curtains are looking a bit tired, they're looking to bring them back to life, not just replace them. That's where a Safeclean technician comes in - they can do a thorough and professional job to achieve the desired results. And when times aren't so tough? Customers are buying new furniture, and having it protected or they have the spare cash to just spruce up their furnishings.
Offering customers a cost-effective price
Techniques within the carpet and upholstery care industry are getting smarter and it's reflected in the pricing. In 2015 the average value of each job was over £100. Testing and development is showing that materials we once thought were untouchable can now be regularly cleaned – think suedes and antique rugs.
We're even able to provide our services to organisations such as the National Trust, caring for rugs and wall hangings – centuries old, carefully restoring them to their former glory.
Knowing the pros and cons
Whilst it is a trade that can be taught, it's worth bearing in mind that it's a physical job that requires a certain level of brute strength, determination and commitment to work hard.
With this in mind, to succeed as a franchisee, we highly recommend that you do your due-diligence before investing in a franchise and ensure you are a good fit for what the franchise demands of you.
Summary
At the start of this article we challenged you to think of a building which doesn't have flooring or upholstery and we bet you couldn't think of one.
Whether it's a domestic customer or a commercial client, their property will contain at least one type of flooring or upholstery. That means that every single building is a potential customer and with an ever-increasing housing market the demand is only going to grow.
*Source: Guardsman Furniture Repair Market Research 2015
To find out more about Safeclean's established franchise business, please click here. To look at other franchise within the 'Cleaning' sector, please click here; alternatively, to consider 'Property Maintenance and DIY' franchise opportunities, click here
---