Franchising at the Heart of your Community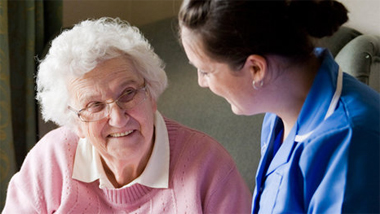 Pick up a newspaper or turn on the TV and you are likely to hear stories about the care sector – how demand for care is outstripping supply, the need for integration and more joined-up thinking between the NHS and the private sector for the delivery of social care in the UK.
Bluebird Care has responded to this demand and, in this exclusive article, we share our insights into this thriving industry and explains what it takes to be an industry leader.
The Care Industry: A Lucrative Market
In a market experiencing incredible growth (which is set to continue) and technology revolutionising how businesses operate, good franchisors are rolling out exciting innovations to ensure that they stay ahead of the game.
Consider what investments are being made by franchisors you are looking at. For example, one such invest investment we are making at Bluebird Care is our marketing materials. By refreshing them, we have helped franchise owners recruit the very best care assistants… which, in turn, facilitate the growth of their businesses.
Franchising: A replicated business model
The biggest challenge in any business is replicating the passion and dedication of the original business owner through the franchise growth journey. It is essential to remember that a good, ethical franchisor will have successfully & safely grown the business in this demanding sector.
Make sure you do your due-diligence and ensure that your investment enables you the best possible training and help at every stage of your franchise journey.
You should expect a high level of support from regionally based Business Development Managers and Quality Managers, like we do at Bluebird Care. This ensures that you can develop the business at a strategic level, whilst relying on your teams of dedicated staff to deliver exceptional care through following the carefully regulated businesses processes and procedures.
Find a franchise with values that match your own
Recruiting 'community-focussed entrepreneurs', who are a good match for the values of our franchise, is at the heart of our success and you should ensure that, when you are researching franchisors, that you consider what values they hold dear. Do they match your own principles?
It has been our experience that franchisees who share the same values as their franchisor, will recruit care assistants who similarly share these values and, subsequently, offer the "By Your Side" care you want for each and every family they help. It is a win-win situation.
Characteristics you will need to thrive in this industry
Key characteristics which we see time and time again across the network, which makes a success of this particular business, are communication, leadership, ability to empower teams, and the desire to succeed. Do you have these qualities?
An ethical franchise like ours is a very scalable business, it is important that business owners enjoy recruiting teams of people-focussed carers. Consider if you would enjoy managing others? Are you a people-person? Do you have what it takes to be a leader to your staff?
Striving to be a leader in the sector
Good franchisors, like Bluebird Care, work hard to change the perception of working in care. By striving to become an employer of choice in each area, through providing award winning training programmes and ensuring staff feel a valued member of the team, has made a difference for many business owners in this competitive market.
From our experience, care franchises that immerse themselves in their local communities ensure their brand is very visible and enables the business to deliver care to a diverse customer-base. At Bluebird Care we offer top-quality care to older people and also customers with physical or learning disabilities, or maybe recovering from a stroke or head injury.
Summary
With an aging population of 65+ set to increase 48% over the next 20 years and an estimated market value of £20 billion per annum, investing in an ethical care franchise has never been more attractive.
To find out more about Bluebird Care's values-driven, caring franchise, please click here. To look at other franchise with the Care and Healthcare sector, please click here.
---