Franchisee support is the bedrock of gas-elec's 20 successful years
gas-elec was first established in 1996 when Managing Director, John Davidson saw the huge potential for a lucrative market in gas and electrical safety in the residential sector.
gas-elec engineers provide a top-notch combined service where combine gas and electrical inspections, and remedial works are completed in one visit.
It's a highly successful two-tier franchise, comprising sales and marketing regional managers who get the work, and local engineers who do the work. Business has grown by 48% since the current 'recession' began!
If you want to be part of our success, click here to request our free and non-obligatory franchise prospectus.
The Franchise Opportunity
The gas-elec family have currently over 100 franchisees who carry out more than 100,000 inspections in the rental and homeowner markets every year.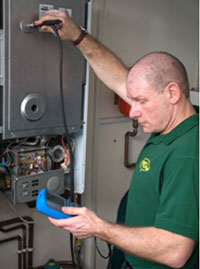 In addition, there are 15 regional management franchisees, based in 15 offices throughout the UK. With this strong franchise networkin mind, the bedrock of gas-elec's success is the unrivalled support it offers its franchisees.
All franchisees within our network receive ongoing product and service development offers franchisees opportunities to maximise their income.

If this sounds like the right route into business-ownership for you, why not click here to request our FREE and non-obligatory franchise prospectus to find out more.
What you receive for your investment
gas-elec franchisees have no selling, invoicing, credit control, advertising, debt collection, bookwork or VAT to do; it's all done for them.
Regional Managers, who are responsible for sales and marketing in their areas, have the strength of gas-elec's bespoke bureau and IT services to help them run their business. Click on the 'Latest news' and 'Hear from our franchisees' buttons above for more details on gas-elec's unrivalled support structure, which includes:
gas-elec Bureau facility that does all your paperwork
A web-based bespoke IT system
Web and e-mail marketing in-house
Technical support in-house and out in the field
Ongoing new product and services development
Regular franchisee meetings
gas-elec is a Full member of the British Franchise Association (BFA), is an ISO 9001 registered company, with Gas Safe Register and NAPIT accreditations. It is also an approved Green Deal installer and Provider.
Your investment…
The Safety Inspection Franchise
You need to have CCN1 core gas safety qualifications as a minimum requirement plus appliances. Some of our Safety Inspection Engineers are earning in excess of £70,000 p.a.
Franchise Fee: £16,500
Plant & equipment: £3,750 (£3,300 electrical)
Training fee: £1,500)
Working capital: Varies depending upon individual circumstances
The Management Franchise
There are no available regional management franchises currently. Complete the form below to express interest for any openings in the near future.