Request Free Info
Tubz Brands Vending Franchise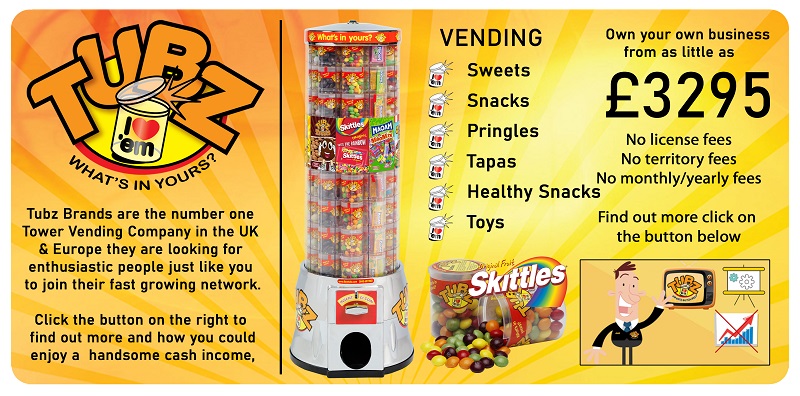 Tubz Brands is the leading tower vending franchise in the UK and Europe. Because of our proven business model Tubz now specialise in helping new franchises start-up their own vending businesses.
We have over 15 years of experience and success in the vending Industry and 300 franchisees all over the world including Australia, Canada, Europe and the USA...and we continue to grow each year!
By building a successful franchise business, we are also helping to raise money for our nominated charity, Starlight Children's Foundation. By donating a minimum of 10p from every sale made through our Starlight branded Tubz vending towers, we have raised an incredible £457,503 since 2013.
Tubz franchise opportunity
Our franchise opportunities suit people from all walks of life, whether you have been made redundant are approaching or already in retirement or are just looking for a new business venture to bring in some extra income. Our franchise is incredibly flexible and can be run on a full time or part time basis. It requires little storage space and can be run from your home. Your vending towers will be working for you twenty-four hours a day, seven days a week 365 day of the year. Even if you are unwell or on holiday!
Tubz have one of the most comprehensive vending franchise packages available. It will include stock from popular worldwide brands which spend hundreds of millions of pounds on marketing each year ensuring your customers will be coming back again and again. With Tubz Brands diverse range of products and vending towers including Pringles, interactive toys and healthy snacks, every person on the planet is a potential customer for your business!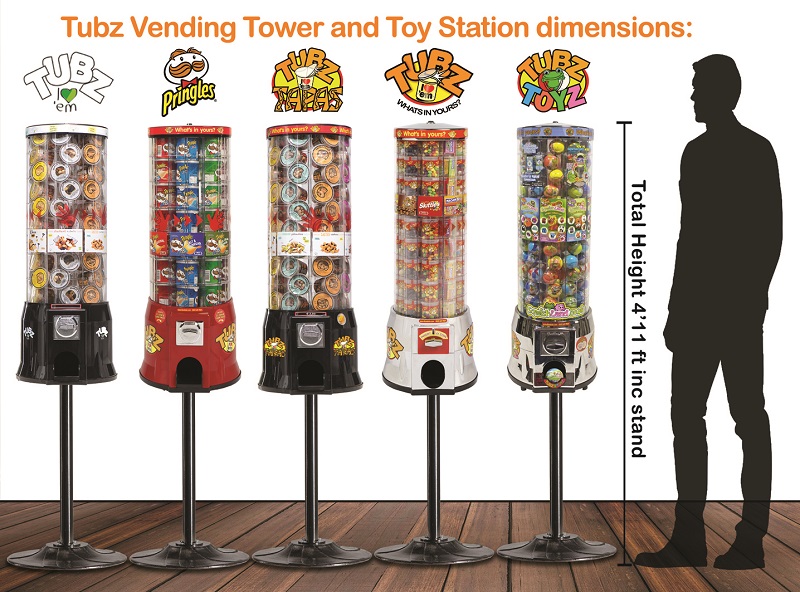 Why Choose Tubz Vending?
Our Tubz vending franchise business model is extremely versatile. It is cash rich from day one so there is no having to chase after your customers for payment, ensuring you will never have any bad debts. Tubz do not charge their franchisees any monthly licence or management fees ensuring that you will see ALL of the profits from your investment with a Tubz franchise.
If one of your location declines in popularity, you can easily collect your tower and move it to a more profitable location, ensuring little or no loss of income. Tubz Brands market leading reputation comes from our award-winning range of Tubz products and market leading Business Bundles which include everything you need to hit the ground running and start earning money as soon as your first towers are located.
The finances
How much does a Tubz franchise cost?
From as little as £3,295 + VAT you can become part of our sought after Tubz franchise network. The below diagram shows our packages: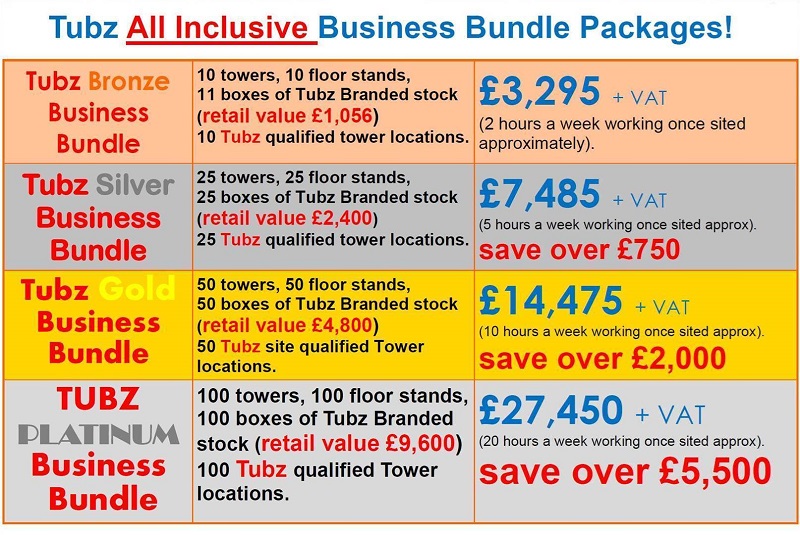 At 20 sales per unit per week (which is less than 3 sales per day) you would have a complete return on your Investment on any of these packages in under 12 months.
Gross profit breakdown example for Tubz Products

Tubz package turnover per annum (based on the above)

Tubz package gross profit per annum (based on the above)

These figures do not guarantee each franchisee's sales or profits, as it is the effort of the operator that directly affects average sales achieved (i.e. frequency of refilling vending towers, changing product lines, correct use of marketing etc).
Tubz franchise package
Our franchise package includes:
Dedicated customer manager
Vending towers and floor stands
Stock for your vending towers
Site locations for your towers
Branded product stickers & marketing
Corporate clothing for you and your employees
Full training package
Ongoing support and advice
24/7 engineer support and advice online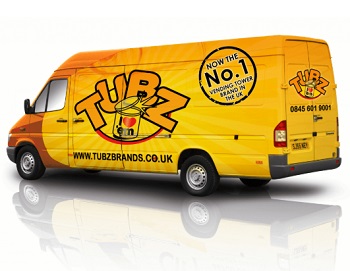 How we support you
Every Tubz Franchisee is assigned a dedicated customer service manager who is there to help provide additional support and advice as needed from the very start.
Tubz Brands are committed to securing the future of our vending machine franchisees. As such, we acquire site data for high profile locations, and are successful in finding hundreds of these new locations each month for our franchise network partners.
Tubz have a dedicated franchise operators website with 24/7 online support and stock ordering facility, ensuring you can run your new business around the hours that suit you. This infrastructure and on going support ensures that you will see a quick return from your Tubz business without having to wait months to build up a client base.
Hear from our franchisees

"I now really enjoy my lifestyle and working alongside the Tubz team. In January 2016, I invested in a further 50 units to build my business up, once again it was effortless. Everything arrived on time, the units were all sited and installed within weeks, and I knew I had made the right choice by joining the Tubz brand. My sites have become family now, with great communication between all and I have a lifestyle that suits me, working when I want." – Nigel Pearce
"It all started in March 2014 when I was looking for a second income. Being a single parent at the time it needed to be flexible and child friendly. I talked it over with my brother, who was also thinking about looking into finding a second income. We are all full-time taxi drivers, and we liked the Tubz business because we can build it in our spare time, alongside our existing jobs."

"We bought a bundle of 10 towers in March 2014, to try out the franchise and ensure Tubz was all it claimed to be. The 10 machines were quickly installed in local sites. My dad then decided to come on board too. We have bought 3 bundles this year so far and have 70 machines now. We're looking to buy another bundle of 50 very soon."
"We're looking forward to a future where Tubz will be our only source of income, while enjoying the challenge of building our business."– Angela Johnson and family

"The product choices available continually improve, with new product lines regularly becoming available, keeping my towers up to date with trends and ahead of the competition. Overall, we are delighted with how this works for us and have been well supported by the staff and our account manager at Tubz Brands." – Chris and James Batters