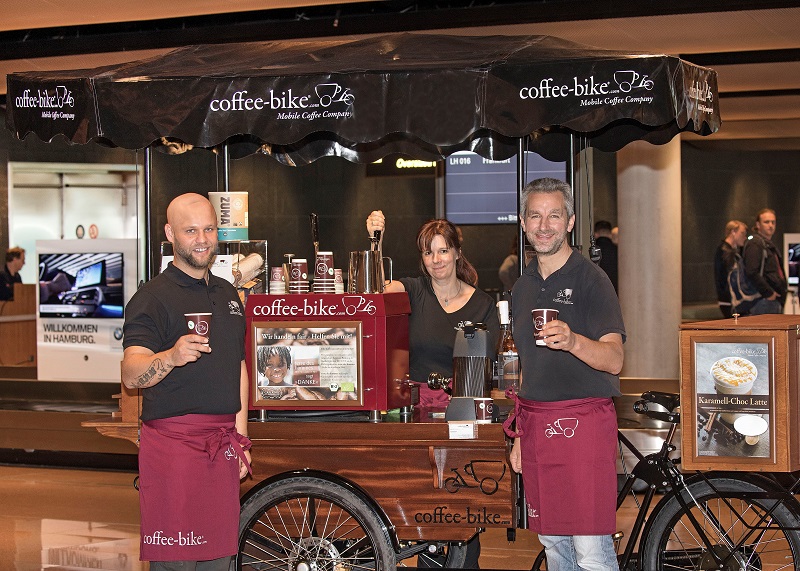 Ever dream of owning your own coffee shop business? Maybe the high investment costs have stopped you from doing so? If so, a Coffee-Bike franchise may be the opportunity you have been waiting for.
Coffee-Bike enables you to operate your own café on three wheels - without fixed costs and large initial investments.
Whether on the weekly market, at a street corner or especially booked for special occasions and events, the Coffee-Bike attracts peoples' attention.
The mobile coffee shops on three wheels have an extensive product portfolio. Alongside a multitude of coffee classics and coffee specialities, the Coffee-Bike also offers unique coffee cocktails, selected teas and freshly pressed orange juice, when in season, with small snacks such as brownies, cookies and other delicacies to complement your beverage.
Every mobile coffee shop is developed, designed and built in our own manufacturing facilities on location in Osnabrueck, Germany.
Coffee-Bike is now looking to expand its network throughout the UK and looking for likeminded individuals to join our ever-growing
The role of a Coffee-Bike franchisee
Coffee-Bike franchisees provide a mix of being out on the road with your own bike, making calls to acquire catering orders, and managing the growth of your own business with our support and guidance. Added to that you will also manage you stock and ordering levels and where appropriate, people.
You will be able to operate the hours that suit you instead of being restricted to store opening and closing times.
You are not a barista 24/7, but also responsible for developing entrepreneurial skills to become a successful Coffee-Biker and a multi-bike operation.
our ever-growing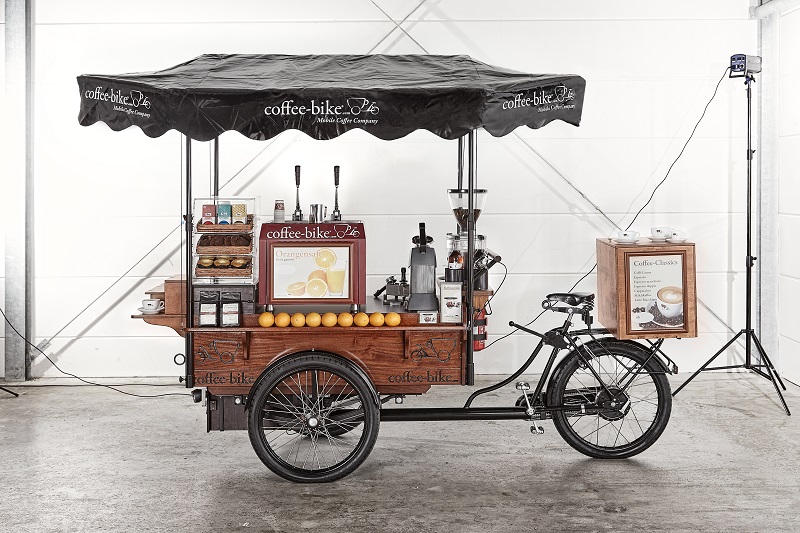 Coffee-Bike franchise advantages
No monthly fixed franchise fee - a franchise fee only accrues for the coffee specialities you actually sell - your success is our success!. No fees accrue for any additional beverages such as tea, hot chocolate and freshly pressed orange juice or any snacks sold at the Bike.
Low investment volume - here is no need for expensive shop fitting and the entrance fee is unbeatably low. With the Coffee-Bike franchise concept you can found your own business with low equity.
Renting instead of purchasing - Our renting model gives you the opportunity to become a franchisee without having to purchase a Coffee-Bike. Your initial investment will be much lower, and it will be much easier to launch your self-employment.
Mobility and flexibility - Our franchisees have many advantages from the Coffee-Bike's mobility. Customers are thrilled about the Coffee-Bike's flexibility and ability to offer a coffee shop's entire portfolio of products at the most unusual location of your choice. The Coffee-Bike is self-sufficient and can be operated almost everywhere.
Less paperwork - We help you organise all bureaucratic matters, procure events for you and support you while you organise your own business. This way, you can focus on making your way to success with your Coffee-Bike.
A strong brand - Benefit from the advantages of a comprehensive marketing concept: from your own business cards to internationally protected word marks.
Coffee-Bike Academy - A four-week interactive online course in our Online Academy will intensively prepare you for your business launch. Afterwards you will receive extensive barista and technical training at our Coffee-Bike Academy in Osnabrueck, Germany for several days.
Coffee-Bike network - The multitude of our franchisees supplies us with new insights daily. We utilise these findings to further develop our business and broaden our extensive network of knowledge about the Coffee-Bike.