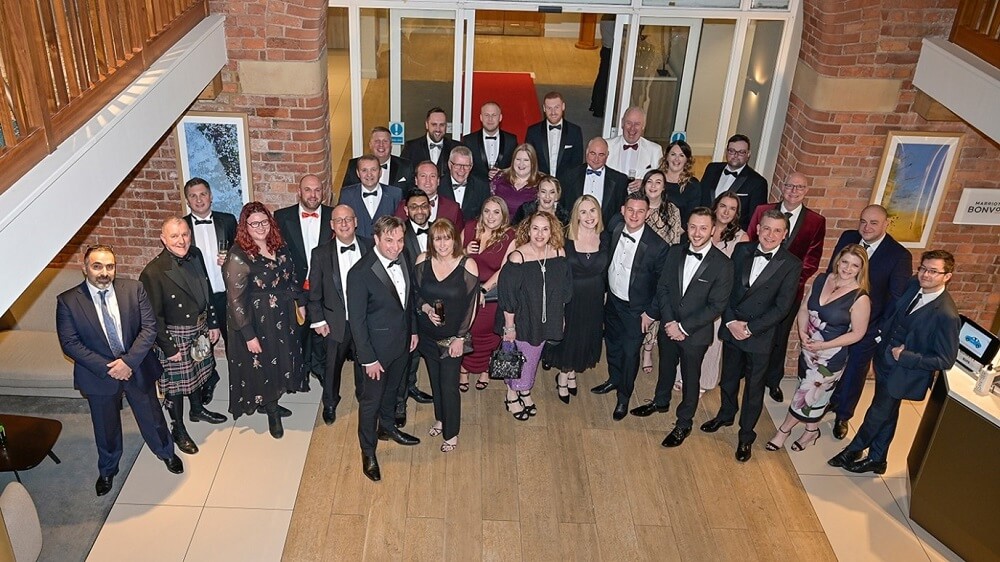 Enjoy the best of both worlds with an Aspray franchise...property damage loss assessing and the project management of the repairs
Established in 2005, Aspray offers a multi award-winning property damage claims management service that helps both residential and commercial policyholders throughout the UK make successful buildings damage insurance claims.
Aspray Appointed Representatives (Franchisees) negotiate a fair settlement for the policyholder and then project manage the repairs in order to reinstate the customer's home or business premises to its pre-loss condition as swiftly as possible.
Aspray's national network of loss assessing project managers enables Aspray to offer a personalised service, understanding the problems the policyholder will face at point of claim.
**Aspray a holding a Discovery Day in March for anyone interested in finding out more about our opportunity. Please indicate on the form if you wish to attend.**
The role of an Aspray franchisee
When making an insurance claim, the policyholder is entitled to appoint a representative to act on their behalf. This is where Aspray comes in.
Your main role as an Aspray franchisee would be to:
Assess the damage to the property and put together a schedule of works which is then submitted directly to the insurance company on behalf of policyholder.
Negotiate a fair settlement with the insurer, or their loss adjuster, to ensure a fair settlement is reached.
Instruct and oversee the repair works of vetted contractors who will complete the reinstatement works to make sure the property is reinstated to its pre-loss condition as swiftly as possible.

Franchisee Focus: Lindsey Joseph, Aspray (Manchester Central)
Starting her franchise with a "pen and a baptism of fire", Lindsey Joseph has grown her business into a real family affair. She has taken the training and support provided by Aspray head office and really put it into practice, providing excellent claims handling with exceptional customer service.
Her hard work was recognised at the 2022 Aspray National Conference where Lindsey won the TRUSTist award for the most customer reviews throughout 2021 whilst maintaining a 5 star rating.
"Professional and personable people to work with from start to finish. From representing your case with insurers to providing top notch contractors to complete the job well above most standards, these folks are outstanding. Highly recommended and thankful they resolved our case so expertly." Alan L, Oct 2021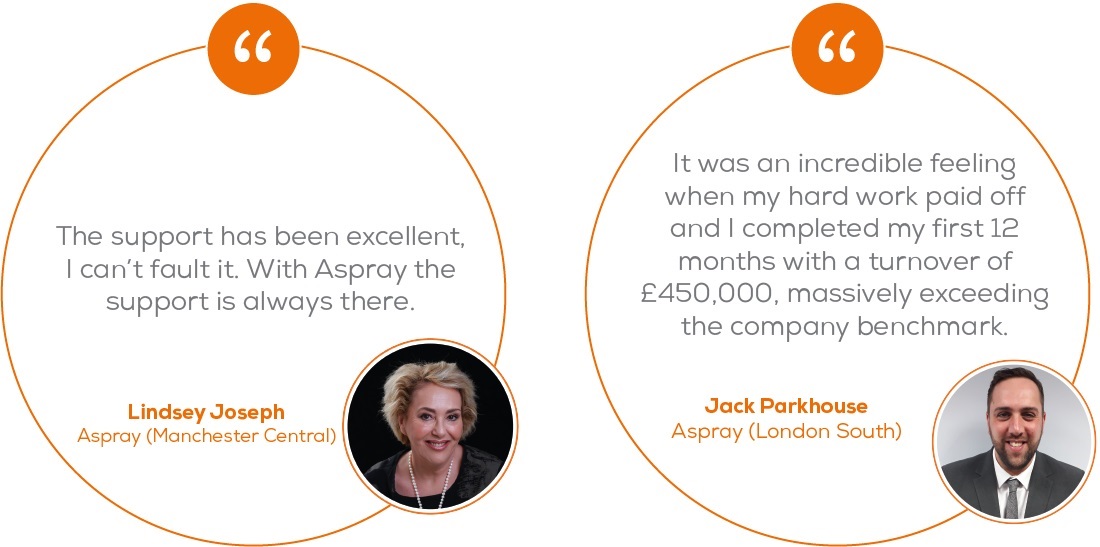 Your investment
Franchisee fee - £28,000 + VAT
Total investment - £43,000.
Franchisees who require funding will need to be able to demonstrate to lenders that they have a minimum of £15,000 liquid capital available to contribute to their start-up costs.
Specific banks like lending to franchisees. Aspray can guide you to banks who have offered loans to franchisees in the past.
Our training
Training and support are an important part of the culture at Aspray. Initial induction training takes place over 2 weeks and meets British Damage Management Association (BDMA) industry standards. But the training and support doesn't stop there!
Becoming a well rounded franchisee is important for business success. That is why Aspray offers training and support in all business areas, so you can be sure help is on hand when it is needed.
Loss Assessing
Understanding insurance is a fundamental part of the Aspray training, providing a base knowledge of the claims procedure, insurance policies and terminology. The Aspray claims team at head office are qualified to Cert CII and Cert CILA and provide not only training courses, but ongoing support with each claim.
Buildings and their structure
Buildings are what we do. Understanding the structure of a building and the ways damage can affect a property are important skills for our franchisees. Practical training in this area is provided and continued throughout your time with Aspray both in the field as well as in the classroom.
Accounts
Running a franchise comes with all the extras of being a business owner. The Aspray CRM systems comes with a built in accounting package to help you monitor your finances. Better than this is the Aspray finance department who are on hand to help with all your queries and questions.
Sales and Marketing
As a franchisee, it is important you also focus on building your business and becoming the go to person within your territory. The sales and marketing team provide support on all aspects of promotion from managing relationships with introducers, to digital marketing, print, social media and much more.
Franchisee Focus: John Strange, Aspray (Glasgow West)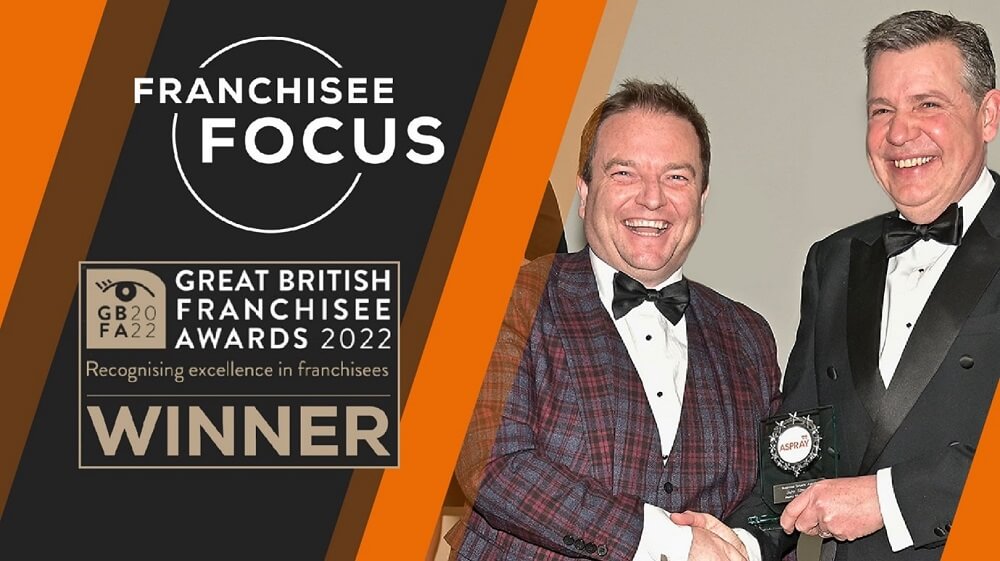 Franchisee, John Strange, joined Aspray in May 2016. Now going into his 7th year, John's business has gone from strength to strength. With a team of five behind him, John has taken the loss assessing world by storm around the Glasgow West area. His drive to help policyholders is second to none, and his team work tirelessly to provide outstanding service to each policyholder they deal with.
John's efforts were recognised this year when he was named one of Which Franchisees Great British Franchisees.
John said: "It was a huge award to win, and not just for me, but for the team, for everyone beside me and that works with me…. It is really the team and everyone behind me that allowed us to win it. So, it was massive and it was an honour, but also it was recognition for the hard work that we've all put in over the last five, six years."
Hear more from John in the video below.
Do you have the attributes of an Aspray Franchisee?
The ideal background of a franchisee will be either Project Management, Quantity Surveying, Financial Services, Building Maintenance or other Senior Management / Man Management experience. However, applicants from other background will also be considered provided they can demonstrate the minimum skill set required, as listed below:
Excellent communication and influential skills
Self-motivated
Professionalism
Active listening skills
Ability to problem solve
Assertiveness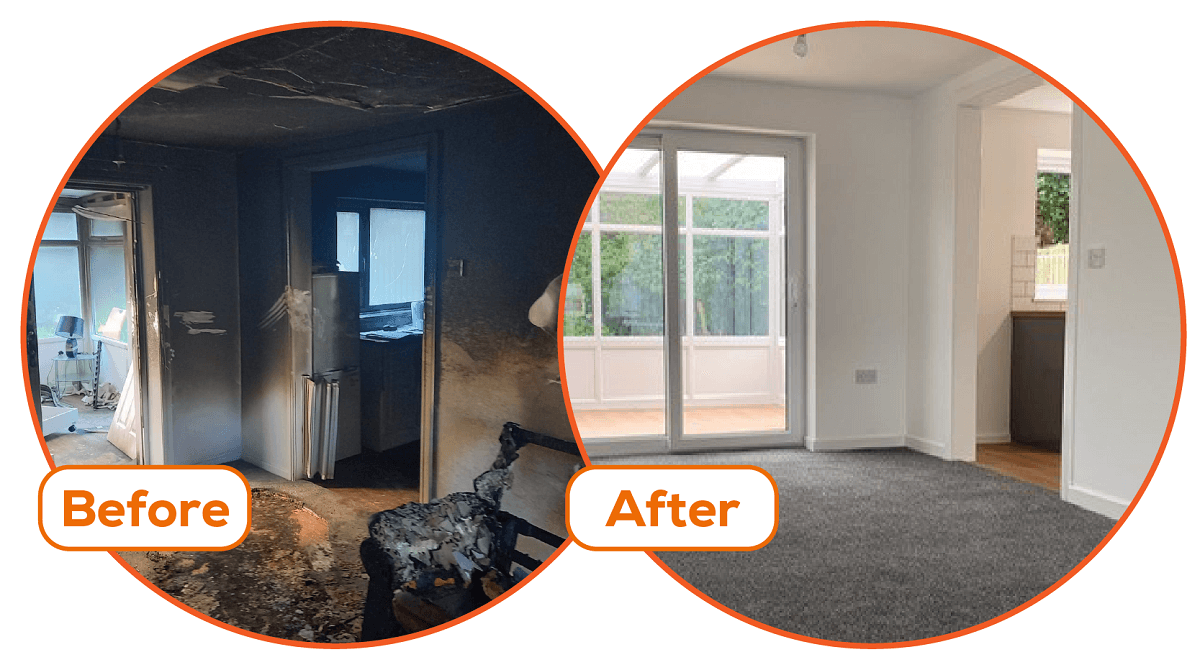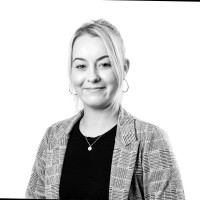 Interested in Aspray?
Contact Rebecca Croasdale
Business Development
---
Click on the link below to receive further information on our franchise opportunity. You can also connect directly with us to ask any questions.
Request more info > or connect with Rebecca :





This is FREE and non-obligatory; we never share or sell your personal information.