Mini Kicks Franchise

Mini Kicks are passionate about football and franchising
If you have a passion for positively impacting children, Mini Kicks offers you the chance to genuinely turn your passion into your career.
Mini Kicks uses football as a medium to maximize development in key areas of this formative age group of 2 years right through to 8 years of age. We accomplish this through a completely new, exciting and creative curriculum that works alongside the latest government initiatives to allow for the greatest development of your child.
Established in 2011, we now have hundreds of Mini Kicks classes running every week across a number of franchise territories. We are now rolling this opportunity out nationwide and so are looking for ambitious people who have that same desire to positively impact children in their town, who want the opportunity to join the Mini Kicks family and to fast track their own success.
The Mini Kicks franchise opportunity
There is a lot more to Mini Kicks than just running fantastic football academies. You will also be running a fantastic business. Our franchise model is unique and is a legitimate turn-key business allowing you to operate from day 1. To make your Mini Kicks journey as successful as it can be we will be with you to guide you every step of the way.
The role of the franchisee can be a hands-on role in which the franchisee coaches and is part of the academies or as a management role in which they run the franchise but do not take an active coaching role.
How much does a Mini Kicks franchise cost?
The cost of a mini Kicks franchise is £12,000.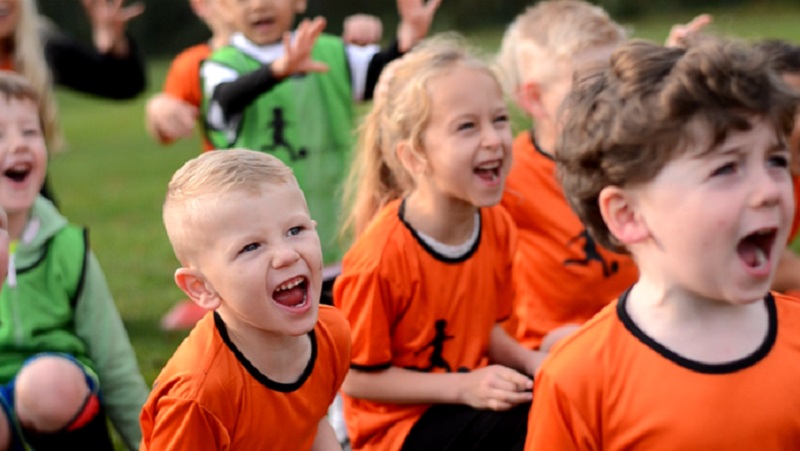 Our training and support
As part of your onboarding, we will provide you with a five-day intensive training programme. This will include looking at the logistics of running your academy, working with Ben Hunter on looking at your targets and advice on marketing, networking with other franchisee's, partnerships and venue hire.
A full day will be spent in our engine room so that you have a good understanding about what the admin team do including the booking process and looking at our customer service.
Finally, time will be spent at our academies so you can look at our methods and coaching styles.
As with any business, while growing your own business, you will find challenges that need to be overcome. This is where our first-class support system and extended franchise network will be there to come to the rescue!
Tailored business support
In the exciting event you have been awarded a Mini Kicks franchise you will receive one on one business support from our founder, Ben Hunter. We understand that all areas are different – and nobody knows your area like you, so Ben and the successful franchisee will create a bespoke business plan that will be specifically based on your area and key demographics.
You can also look forward to support from your very own Franchisee Consultant as soon as you start your Mini Kicks journey. They'll help you impact as many children as possible, while also aiding you as you look to optimise sales and profitability while keeping quality and service to the Mini Kicks standard.
Franchisee support
Being a Mini Kicks franchisee means you are part of the team. you will have the Mini Kicks Franchise Network at your disposal, people that have been on your journey and are a few miles ahead and have already smashed through the challenge you might be currently facing.
Franchisees are extremely valued in offering new ideas for growth and products. Because of the quality of our franchisees, input from them is helping shape us to be absolutely unstoppable in our industry!
World class systems
We have invested in the very best software that means you don't have to! From Customer Relationship Management, to Sales and Marketing, these will be ongoing. This will allow you to focus on what you do best – getting as many children active and having fun in your area as possible!

What we look for in a franchisee
Our franchisee's come from a variety of backgrounds including professional footballers, ex semi and professional footballers, experienced coaches and business people.
We are looking for individuals that are passionate about making a difference to the children that they work with.
Our company why is to inspire children to be healthy and active for a lifetime and genuinely feel part of the mini Kicks family.