Do you want to join an exciting creative business, offering consumers a personal and bespoke experience, resulting in happy customers and generating excellent earning potential?
Venture Studios is the UK's leading portrait photographers and offers a proven franchise model for driven individuals with a desire to run their own business; you do not need to have a background in photogtaphy.
Earning Potential
As a Venture Studios franchisee, you have the opportunity to make an average annual turnover of £440,000.
The Venture model is designed to generate earnings for our franchisees of 10 -15% of turnover, in addition to a salary of approximately £25,000. In fact, our top performing studios generate sales over £700 000.
Consequently, the earning potential of a Venture Studio is comparable with many much larger franchises on the market, However, with start-up costs starting at just £70,000, (compared to three times this number for other franchise opportunities) the potential return on investment with Venture studios is exceptional. And you would only need 50% of this figure as liquid cash.

How do we compare?
According to the BFA 2018 survey, the average turnover of franchises providing personal services was £345,000. But with the average Venture studio turning over £440,000, this puts the company in the top third of its sector.
Your earning potential is supported by our cost-effective franchise fee. The overall on going fee charged is 7.5% of turnover, broken down into 5% franchise fee and 2.5% marketing fee.
This is achieved by our franchisees benefiting from:
A well-known, established brand, synonymous with quality
Full training on the implementation of the Venture model
World class photography training
A centralised national marketing function, delivering multi-channel campaigns, including on line, off line and social media
Tailored local marketing plans
Access to retail finance for customers at preferential rates
National partnerships with world-wide brands
Large exclusive territories
On-going training provided by sales, photographic and marketing teams
Access to a range of framed art products that are unique to Venture
Training and support
Pre-opening support
Our Studio opening process follows a prescribed step by step time line model, and new franchisees are supported in each area – which includes:
Site location and lease negotiation – Venture works with new franchisees to find the right location for the studio, and assist in lease negotiation
Shop fit project management – Venture will assist in managing the shop fit on the new studio
Studio Equipment – based on experience of knowing what a studio requires to maximise efficiencies, a full list of recommended kit is provided, everything from camera and lighting to IT
Team Recruitment – Venture is on hand to help with the selection process for the studio team, based on knowing the qualities that are required in each job role
Pre-Opening Marketing – Venture works with all new franchisees on a local marketing plan prior to the studio opening, this is done to ensure that the required pipeline of customers is generated at the point that the studio opens
Studio Operation and Management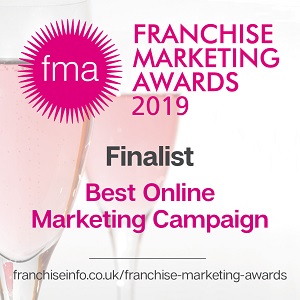 All new franchisees joining the Venture brand undergo a 6-8 week training period which is designed to ensure that they understand, can implement and ultimately deliver each stage of the Venture model and customer experience. In summary this covers marketing and customer acquisition, diary management, the photographic experience and finally the viewing stage.
There is a validation and sign off process for each stage of our training, ensuring that new franchisees are set up for success in running their studio at an operational level.
Once completed, on-going support is delivered through a comprehensive Quarterly Business Review, and regional meetings with fellow franchisees where best practice is shared, and new campaigns and initiatives are launched.
Photography training
All photographers that shoot in a Venture studio complete our rigorous photography training, regardless of their background. This is to ensure that they can deliver the quality and style of photography that is synonymous with the Venture brand.
On-going photographic development is delivered through a series of photographic workshops that are run 3 times a year by our photographic support team, to ensure that Ventures style is constantly evolving.
Sales Training
Job specific training is provided for other studio roles, such as telesales and preview sales, making sure that each person employed within the franchise has been trained on the Venture model in their relevant area of studio operations.

Are we right for each other?
Our network of franchisees come from a wide variety of professional backgrounds, and you do not have to be a photographer to run a successful Venture studio. Our application and approval process will ensure that you have the core skills that we know are required to run make your Venture studio a success.
The most important qualities that we look for are individuals who have an inner desire and determination to run their own business, have a hands-on approach, and are comfortable leading and managing a small team of people.
Vacant territories
Venture are currently recruiting for new franchisees across the country, with our key target areas listed below:
Belfast
Aberdeen
Newcastle
Watford
Cambridge
Oxford
Nottingham
Sheffield
Nottingham
Maidstone
York
Colchester/Ipswich
Brighton
Plymouth
London – within the M25

Request FREE info