Join a multi-award winning franchise network and give children within your community the chance to shine!
Multi-award winning organisation Footlights is opening it's doors to entrepreneurs who have a passion for the arts, a belief in arts education and are driven to succeed. Why not be part of our growing success?
We have been established for 12 years and are now a multi-award winning company with five successful franchisees in one city. You will be part of a network of franchisees who truly believe in what they are doing – and are making a great profit in the process!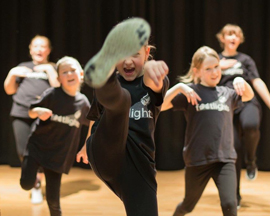 Our network is currently in Greater Manchester where we have seven franchises in operation and five company owned schools. We have been franchising for eight years but have spent the last four focussing on building a solid foundation for our core business; we have a great reputation across the performance and education sector including strong relationships with schools and head teachers.
We use leading software to map out territories so franchisees can be confident in their new investment and get a realistic picture of how their business can be successful.
To find out more, why not request our FREE and non-obligatory franchise prospectus here.
About the company
The business was founded by Jo Fisher who trained as an actress and teacher; Jo has a vast experience in arts and education, and leads all the training. In 2016 she also won Salford Business Awards 'Entrepreneur of the Year'.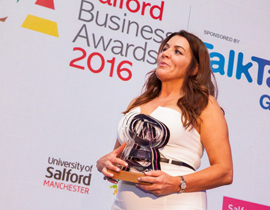 In 2005 we created affordable stage school training to children and young people aged 3yrs-18yrs. In 2009 we began a thriving franchise network and although successful, from 2013 -2016 we decided to concentrate on internal growth to further secure the future of the organisation, including investment in our own building and the creation of a purpose-built theatre.
When you invest in Footlights, you are investing in a high quality performing arts company, not only from a creative perspective but with a clear business focus.
The Franchise Opportunity
Your role as Franchisee will be the Manager of your own school and territory. You will have a creative flair, an eye for detail and a passion for marketing. You will engage and inspire the students who attend but also your teaching staff.
You will be responsible for the safeguarding of everyone who attends, including staff, but don't let this worry you; our training in this area is led by our own team of Child Protection Specialists. You will also undergo a first aid programme alongside thorough training on our business model.
Financial information
The cost of a Footlights Franchise is £13,250 plus VAT (UK wide) at present. This includes complete set up costs, advertising, marketing materials and operational resources as well as the unique training package.
We have a good relationship with financial institutions and can say that 100% of our franchisees have been successful in attaining funding.
Training & Support
What we offer:
An induction and initial training course at our Head Office in MediaCityUK, Greater Manchester.
The opportunity to talk to other franchisees either via skype, phone, email or in person.
A dedicated current franchisee to mentor you throughout your training, including the opportunity to work alongside them in real time.
10 day sales and marketing course including the opportunity to visit primary and high schools (which is where your clients are based).
The full A-Z of how to set up and run your business.
Training on how to use our bespoke Footlights APP!
A tailor-made training plan based on your existing skill set.
Social Media training with a specialist in that field.
First Aid and Safeguarding training – with a Nationally recognised certification.
To get the fuller details, request our non-obligatory franchise prospectus here.
Ongoing support
We know how important it is for franchisees to receive ongoing support; we provide you with either the same franchisee who mentored you initially, or a dedicated business support manager, whichever suits your needs more effectively.
We want you to be successful and, once up and running, we will provide assistance and advice to ensure your business runs as smoothly as possible.
We offer a range of advice services from staff training and copyright, to VAT, Law and safeguarding.