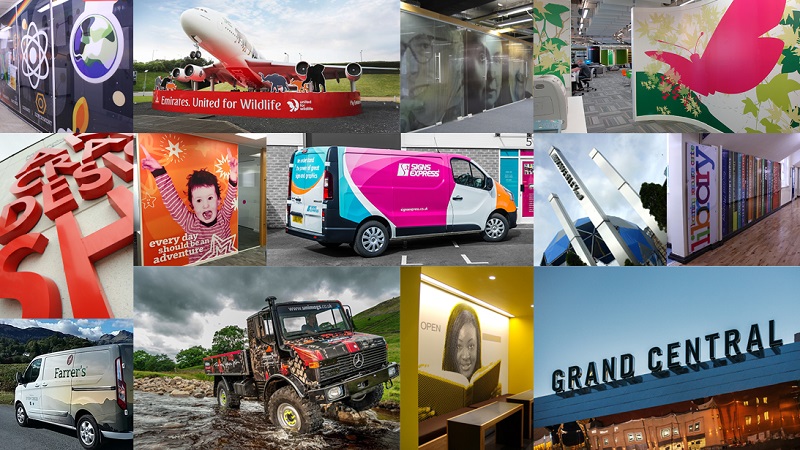 Need a sign that now is the time to be in business for yourself, but not by yourself…?
Look no further than Signs Express
If you are looking for a business opportunity with regular repeat business, high value orders, a stable marketplace and an established brand then Signs Express offers you all that and more...
With 25 years' experience in the signs and graphics market, Signs Express boasts multiple industry awards and a national reputation for excellence, making us the leading signs and graphics franchise business in the UK and Ireland.
There is no better time to join the Signs Express network as 2014/2015 saw the highest income it has ever experienced with some franchisees making over £1m. Following this impressive development, 2015 has witnessed Signs Express winning numerous awards across the network.
Lee Eaton, Owner of Signs Express (Manchester) - pictured below - not only won B2B Franchisee of the Year award, but also received the top award at the British Franchise Association (BFA) Franchisee of the Year awards 2015, winning against such well-known brands as McDonalds, Snap-on and Dyno.
We are immensely proud to have one of our own recognised as the very best franchisee in the country and for all that represents about Lee, his team and the support that we provide to him.
In addition to this accolade our centres in Sheffield and Northampton have also been recognised in the National Sign Industry Awards for specific projects that have set a new calibre of signage work across the industry.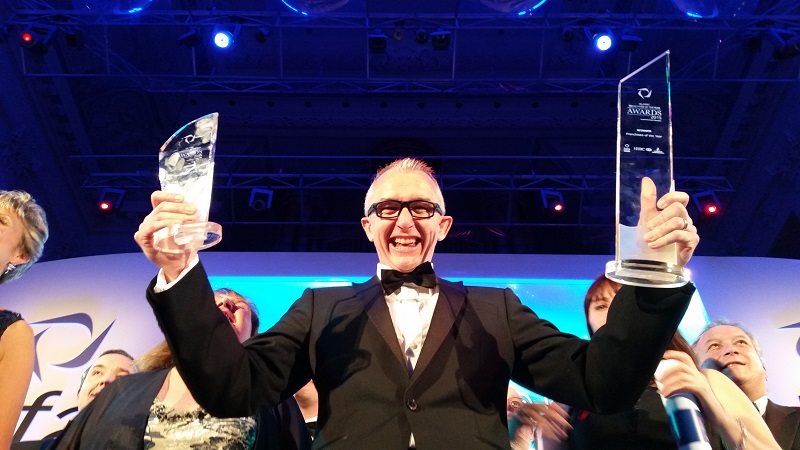 Strong franchise network
Encompassing our network, we have over 65 franchisees who are uniquely positioned to provide national clients, SME and public sector businesses with a wide range of top quality signs and graphics.
Due to continued and consistent demand for our products and services we are actively searching for new franchise owners who are interested in starting a new business, buying an existing franchise business or re-branding a sign company. Sound like you, get our FREE franchise prospectus here.
The profit potential
A number of our franchisees have invoiced over £5m since inception, with well-established franchisees turning over £1m a year.
Over the years we have found many of our franchisees expanding their business and some opting to buy their own premises as part of long term financial planning.
<
The franchise package
We have recently adjusted our offering, meaning we will not only invest our franchise fee of £20k into your business, we will also invest an extra £10k! A massive £30k saving on our previous offering.
This along with savings on equipment means that the start-up costs for establishing your own Signs Express are significantly more affordable.
Instead of £80k + working capital, you now require just £40k + working capital*.
*Major banks can fund up to 50-70% of the cost, dependent upon your financial history.
What do I get for my investment?
A challenging career with a management franchise
A comprehensive start-up package
3 week training programme
£30k invested in start-ups
Ongoing support from a team of experts at head office
Buying power as the leading signs and graphics company
Excellent relationship with all leading banks to help you secure finance
Access to national account customers
No industry experience required
Monthly benefits
Access to your share of over 1000 sign enquiries monthly
Dedicated UK Support team of 20
Access to national account clients such as McDonald's and Mercedes
Dedicated national promotional fund
Specially negotiated rates with suppliers
We're great but don't just take our word for it
"Starting in business from scratch really gave us a sense of achievement. When we started looking there wasn't much scope for buying an already established franchiseso we were lucky that our local area was still available. It was ideal and fitted well with our requirements" – Nick Baxter-Sibley, Franchisee, Exeter.
"Financial security is the main reward along with the freedom of being my own boss and the pleasure of seeing my business grow" – Nick Dawes, Franchisee, Ipswich.
"The business has allowed me to spend more time with my family and gives me the freedom to choose my working hours" – Jayesh Patel, Franchisee, Twickenham.
"We've doubled our turnover from £240k to £500k and we're still seeing steady growth" – Malcolm Lant, Franchisee, Gateshead.
Ready for a change?
Nothing beats the feeling of running your own business. However, it's also good to know there's support and guidance available when you need it.
As part of a Signs Express franchise you'll enjoy both. This is a franchise opportunity with a big difference. So if you're ready to receive some more information about how you can make an excellent income, create new prospects and have the lifestyle you want, we want to hear from you.