– The #1 Total Fryer Management service in the world
Established in 1995, FiltaFry is the original and most successful "total fryer management service" in the world, operating in over 20 countries to date. As the first company to introduce a micro-filtration service to the UK, we have long established ourselves as the industry leader both here and worldwide.
The FiltaFry franchise opportunity
Our clients are anyone who is involved in the preparation of food, as well as your typical fast food outlets and restaurants, customers can also include hotels and resorts, schools, sport venues, bars, airports, hospitals, convenience stores and many more.
Our franchisees typically visit their clients on a weekly basis offering micro filtration of cooking oil in deep fryers, vacuum-based cleaning of the fryers, and additional add-on services.
Our micro-filtration products and services help clients to reduce their frying costs, keep fryers hygienically clean, and improve food quality. With our top-quality service benefiting clients, it is no surprise that we are in high demand. Our franchise owners benefit from this and that fact that there is little or no competition.
We continue to secure contracts with high profile businesses locally, regionally, and at a corporate level. Therefore, franchisees seeking out new customers have the benefit of an established brand name with many excellent endorsements and testimonials.
FiltaFry franchisees can either own a single unit franchise or build their franchise into a multi-van business.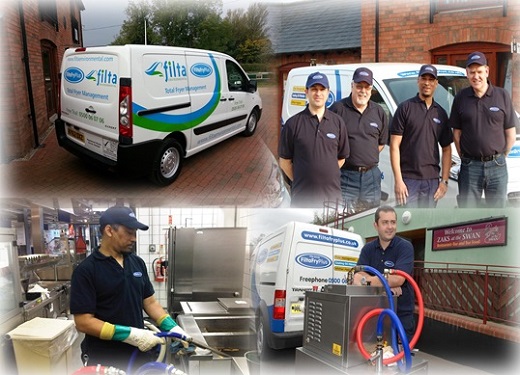 Benefits of the FiltaFry franchise
Build multiple vans offering all services
Weekly repeat service
Small customer base per van
Mobile, can be based from home
Comprehensive in-field & business training
Minimal overheads & stock
Exclusive territory(s)
Environmentally-friendly
Guaranteed initial support
On-going support & advice
And much more …
What do I get for my investment?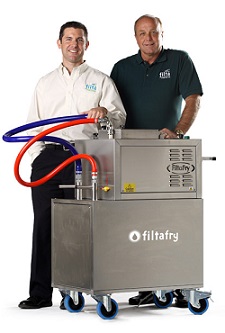 When you join FiltaFry you have the experience, training, and support of an entire network behind you. We provide you with everything you need to launch, manage and build up your business confidently.
You are also supplied with your equipment including the microfiltration machine, debris removal vacuum, tools, personal protective equipment & uniforms, business admin and stationery pack, filters, chemical stocks – infact everything you need to start your business and to start servicing customers from day1.
The only other thing required will be your van, these are either rented, purchased or lease purchased through FiltaFry's nominated vehicle supplier.
What do our franchisees say?
"After 3 years of being a FiltaFry franchisee I feel I made the right decision, not only in job satisfaction but as I have move from as desk job as a Care Home manager to a much more physical job as a FiltaFry franchisee my health has also benefited. As with all business being a franchisee has its ups and downs but the rewards are extensive, I work for myself, I have everything I need to be successful at my fingertips. I would have no hesitation in recommending a FiltaFry franchise to anyone who would like to work for themselves and has the drive and determination to succeed."
Fraser Robertson, Lanark
"During the critical start-up period, FiltaFry delivered the full package in terms of classroom and in-field training to enable me to operate my business successfully and start earning money from day one. I can honestly say that FiltaFry has delivered on every aspect of the support that they promised with the onus then on me to make a success of the venture. This is exactly what I was looking for in a franchise. For me the acid test of this franchise is whether I will sign up for a further five year license and the answer is a resounding yes!"
Graham Allen, East Sussex
Ideal franchisee profile
FiltaFry believe that if the training and systems are excellent then a good franchise should be able to take any driven individual and turn them into a success. And so while job titles, industry background and experience have little bearing on success as a FiltaFry Franchise owner, there are common denominators that we look for:
Determination and persistence
A service oriented person
Honesty
A quick learner
A customer-focused person
Confidence and good self-esteem
Does this sound like you? If yes, we would love to hear from you!