An exciting, recession-proof, Management Franchise model
Total Clean has operated in the commercial cleaning sector for over 25 years and enjoys a 95% client retention rate. This amazing longevity and success is based on an unrelenting commitment to service excellence and an obsessive attention to detail.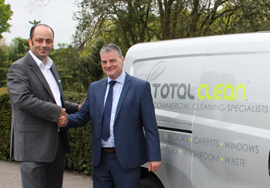 By employing a business model that enables Franchise Partners to operate a low overhead business with high revenue and profit potential, Total Clean has created one of the industry's premier management franchise opportunities.
Our franchise partners can launch their business from their own home, making it inexpensive to run. They are therefore able to maintain a high-value service without the burden of unnecessary operating costs leading naturally to higher profit margins.
If this sounds the right route into business ownership for you, then we would love to hear from you.
Why not request our free and non-obligatory franchise prospectus to find out more via this link.
Manage your business
This is a Management Franchise which means you operate as the Managing Director for your exclusive territory. You will be responsible for managing and developing the region as well as leading the cleaning operations teams that will deliver the contracted works.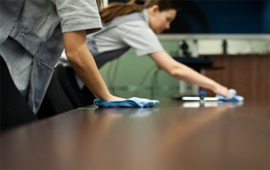 Compared to similar opportunities, Total Clean offers a much-improved Franchise Package. In return for your initial investment you will receive everything you require to hit the ground running and power your new business, using the considerable knowledge and experience of our Franchisor and Managing Director, Carlos Garcia to replicate the Total Clean model in your exclusive territory.
"I give you my pledge that with Total Clean, you will always have our fullest commitment to the highest levels of support in the development of your enterprise. By following our time-proven model, we will assist you to overcome the challenges that business ownership can bring." Carlos Garcia, Group Managing Director
A shining example in our marketplace:
We operate in a £multi-billion growth market
2 million businesses in the UK need a cleaning service
A £1m opportunity with high profit margins
The ability to operate from home with low overheads
A recession-proof opportunity
Significant income and profit potential
Our own range of eco-friendly products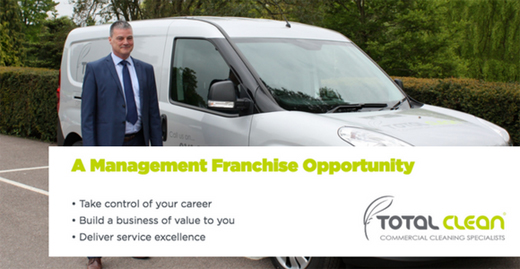 In 2015, the commercial cleaning sector was estimated to be worth around £5.6 billion and has proven itself more than capable of weathering tough economic conditions.
In fact, where many other business types have suffered, commercial cleaning has shown a trend for consistent growth due to the required nature of the service, rather than it being a luxury purchase by its clients. Total Clean is truly a recession-proof franchise opportunity.
What are you looking for?
We believe that our franchise package is second-to-none; a complete turnkey business opportunity.
Our 5-year renewable license includes the following:
Full pre-launch training programme
Launch marketing programme and supporting online and print collateral
Liveried vehicle, cleaning equipment and branded uniform
Laptop and software plus company business management system
Business set-up and accountancy support for first 12 months
Subscriptions to industry accreditations
Exclusive territory
Operations manual
Ongoing one-to-one mentoring
In-territory business development support
Full details can be found in our free franchise prospectus, why not request it here.
What are we looking for?
We are looking for Franchise Partners to grow our brand across the UK and maintain our great reputation for excellent service levels. If you are willing to learn and follow a proven system, then you too can replicate our success.
This is just not another job opportunity. This is an amazing chance for you to combine your existing skills with our vast experience and knowledge in order to benefit ultimately from the lifestyle rewards that profitable business ownership brings.
Cleaning up financially
Our franchise fee is £29,997 + VAT plus you will need working capital whilst building your franchise business.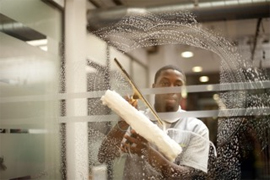 RBS and NatWest banks will offer 50% funding to those purchasing the Total Clean franchise, subject to status.
We also have an association with Franchise Finance, who are experts in helping franchisees find financing, so can assist potential partners in securing financing where necessary.
Total Clean Franchise Partners manage a team of locally-based cleaning operatives that increases in size as new contracts are won in their dedicated territories. Working from home, the low initial capital outlay could see franchise partners trade into an operating profit as soon as year one.
By the end of year five, and by diligently following the Total Clean methodologies, franchise partners can reasonably expect to have built a £1 million annual turnover business with profitability of approximately 24 per cent.
Looking towards a bright new future
We have a great team to support you through the Discovery and Selection process. Total Clean seeks to partner with people for the long term in order to create a UK-wide network of high-calibre, motivated, service-driven and entrepreneurial individuals who are committed to achieving financial freedom and a better quality of life.
Our structured approach to awarding franchises ensures not only that you are right for Total Clean, but also that you are certain our opportunity is the best choice for you.