Invest in a proven system and become your own Boss with etyres
As one of the UK's leading mobile tyre and battery fitting businesses, etyres offers an exciting franchise opportunity for those who are looking to start their own business under an established brand and with the full support of an experienced franchisor.
With 50+ franchises nationwide, we offer a UK-wide service to the 35 million + vehicles licenced for use in the UK; making etyres a recession proof investment.
We are currently searching for individuals who are keen to work in this thriving sector and who are determined to achieve success.
Sound like you? Request our FREE and non-obligatory franchise prospectus to get more information.
A tried-and-tested franchise opportunity
The etyres franchise offers you a proven business model which would allow you the reap the benefits and security of trading under a trusted name. You would also benefit from being part of a larger network of franchisee who share best practice and advice on business success.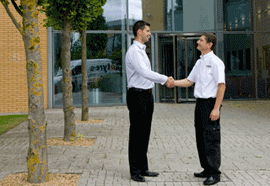 As a franchisee you provide customers with the most convenient way to replace their tyres and batteries by offering to come to a location that is suitable to the customers' needs. This can either be at work or home, therefore avoiding the need to take any time off work.
With the company's three core values in mind; honesty, reliability and professionalism, etyres are renowned for their customer service and convenience, gaining an excellent 9.6 out of 10 on independent review site Trustpilot.
Why buy an etyres franchise?
Exclusive territory – every new Franchise Owner is given an exclusive territory, ensuring all sales in your area that come in from our website, mobile website, telephone and well-known corporate partners, come to you, along with business from returning customers.
On-going support – from the moment you become part of the etyres team you enjoy the benefits of our total support and commitment to making your business a success, including help with securing funding from the leading high street banks and choosing a van and all the tools to kit it out.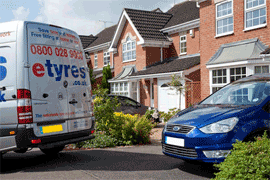 Sales – securing sales will be a key part of your success and while Head Office gather orders in a variety of ways; we will also equip you with the skills and tools to help you capture business for your branch locally.
Marketing – raising brand awareness in your area; driving customers to your own localised website; directly targeting potential customers and engaging with social media to enhance your reputation, these are just a handful of the business armoury skills the marketing team will help you develop.
To get the full details of our franchise offering, request our FREE and non-obligatory franchise prospectus here.
How much does an etyres franchise cost?
The cost of an etyres franchise starts at £24,000*
Banks look favourably on the company's business model and typically lend 70% of the cost depending upon your financial history.
Hear from other franchisees...
"An etyres franchise gives me the opportunity to continue working in an industry I enjoy, but with the benefits of a team of experts in all field supporting me" - Rahim, etyres Croydon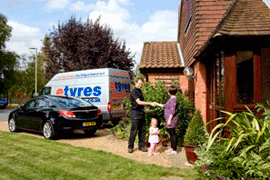 "When you are just starting out it is great to have as much help and advice as you can get and I know we can rely on this from the etyres Head Office." - Rob, etyres Chelmsford
"I can honestly say I have been flat out busy since day one and business is still going strong." – Ben, etyres Cambridge
"I was looking to invest in a business that was tried-and-tested and would allow me to expand quickly. etyres was a natural choice and I was pleased with the success from the start." – Mark, etyres Kingston