Founded in 1988, Stagecoach is the UK's leading network of part-time performing arts schools for 4 - 18 year olds; over 1 million students globally have already been inspired by Stagecoach.
We are incredibly proud of our continued success in providing an inspirational and fun environment for creative learning as children and young people develop skills for life and are looking for like-minded individuals to join us.
To find out more, why not request our FREE and non-obligatory franchise prospectus - click here.
The Stagecoach franchise model
We've continually refined our franchise model over the course of almost 30 years. It's one of many reasons why some 40,000 students flock to Stagecoach each week and why we have a network of over 250 franchisees.
Our fun and engaging classes give students both the structure and freedom to explore and develop. Our classes are:
For 4-18 year olds
Run for 36 weeks of the academic year
Taught by teachers, not franchisees
Held in a secure and safe environment for which Principals are responsible
We're proud that our model helps kids find their way on the stage of life; allowing them to grow in confidence and self-esteem, developing key skills that stay with them for life.
The role of the franchisee
You will be the school's Principal, responsible for the safety, care and creative learning of your students. Stagecoach Principals are not permitted to teach, you will employ professionals to teach acting, singing and dance at weekends throughout the academic year.
As the Principal you will need to attend every Stagecoach session and will be responsible for the overall standards and creative content within your schools alongside the management of your teachers.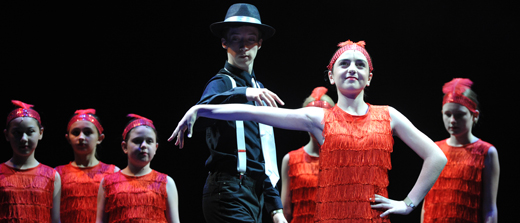 How much does a Stagecoach franchise cost?
Our 'Greenfield' areas are available at £14,995 + VAT* but a number of existing franchise businesses are also available for resale. Please let us know your desired area and we will be happy to discuss any available businesses with you.
*We have established relationships with the major banks and are able to support you through the funding process. We are proud to say that every single franchisee, once they have agreed their business plan with Stagecoach, has received the relevant bank funding when required. Typically the banks will provide lending for 70% of the total investment. and so you will require a minimum of 30% initial funding.
How we train and support you
We want to see our franchisees succeed and, as such, we offer top quality training and support throughout your entire franchise career.
Initial training
When you first join as a new franchisee, we provide:
A comprehensive induction and training course at our Head Office in Walton-on-Thames
Work shadowing of an existing franchisee
Initial 28 day sales and marketing course
A bespoke training plan developed by your Regional Franchise Manager
Custom-made marketing toolkit containing social media guidance, PR, advert templates, telemarketing and a microsite with unparalleled internet presence
Ongoing support
We provide all franchisees in our network with:
Your own dedicated Regional Franchise Manager to support you across all areas of your business including recruitment, venues, launches, territory maximisation marketing and day-to-day operations
Support and monitoring from the Marketing Team
Regular, regional programs to manage challenging student behaviour from the Stagecoach Education team
Child Protection and First Aid training
Annual conference and franchisee awards
Access to a team of experts across all departments at Head Office across areas such as copyright, employment law and VAT