Are you looking for an exciting new career opportunity with a feel-good factor? ChariSnack is a business that works, even when you don't! 24 hours a day, 7 days a week. Our point of sales self-vending snack boxes, make money for you around the clock even working when you're not, acting like a silent Salesperson. As a ChariSnack franchisee, you have the potential of earning…
*£50,000+ gross income by working just 4 days a week!
Running a professional business, providing security and a consistent cashflow. Backed by a BRC (British Retail Consortium) AA Standard accredited business, with our in-house technical department and professional food safety management systems, you have peace of mind that you have the best support to help you start a new business that you can be proud of.
The 2 packages we offer are highly competitive within the industry, starting from as little as £3,750+VAT can be tailored to suit your needs.
*The figures set forth in this illustration represent actual performance by a franchisee based on servicing the average of 25 boxes a day. There is no guarantee that you will achieve these figures and nor is it intended that you should rely on them as a warrant or guarantee. (Terms apply: Franchise Launch fee, paid prior to launch and 30 days credit terms for repeat orders).
So, what are the benefits of being a ChariSnack franchisee?
A low investment and low overhead business with an immediate cash income.
No management, renewal, or royalty fees to pay… and you keep 100% of your income.
Flexibility to be your own boss and work the hours that suit you.
A fully supported business launch in just 10 days.
A business model backed by 30 years of experience in the snacks and confectionery industry.
A huge range of products available at the best prices in the industry!
Helping support our charity partner Bliss for babies born premature or sick.
The ChariSnack franchise is a simple but effective business model, and part of Delicious Ideas Food Group, a multi-million-pound, family-run business in Peterborough with 30 years of experience in the supply sector, bringing a delicious world of snacks to retailers and independent outlets throughout the UK.
With its own packaging plant and AA certification from the BRC (British Retail Consortium, the main body regulating the food sector), meaning security, peace of mind and unrivalled buying power.

What does this mean for you?
By joining ChariSnack you will become part of a strong and growing network of franchisees, delivering snacks and confectionery to businesses within your exclusive territory. Ultimately, we can set you up with a proven successful business model, to achieve a long-term repeat income for a low initial investment. As with any franchise, the time and effort you commit is directly linked to the success of your business.
We offer quality and the best prices, for a wide range of branded products and promote exclusive offers to our franchise network. We recognise that providing the best support for our franchisees is paramount, from initial training, we offer a fully supported 10-day launch, our team are on hand to work with you in placing your boxes in local business locations such as offices, shops, staff rooms etc. From this starting point, if you chose to expand and grow your business, then you have the opportunity to do so, and we are here to help!
ChariSnack has also been through stringent checks by the BFA (British Franchise Association) and received full approval to exhibit at their trade shows and exhibitions. We have no 'middleman' giving you the best buying price, unrivalled support, and peace of mind that your investment is safe.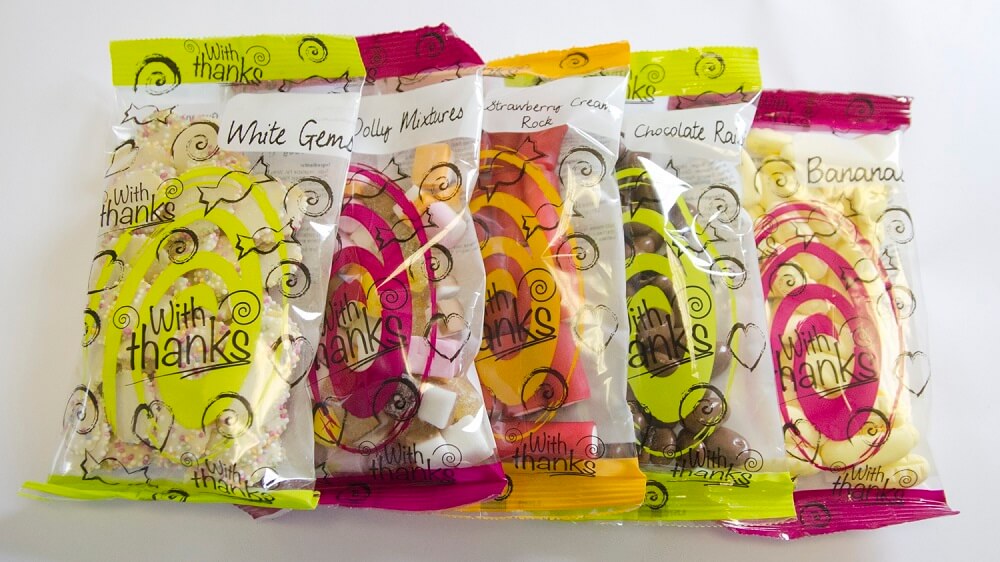 Your role as a ChariSnack franchisee?
Life is simple as a franchisee, you sell an attractive range of branded sweets, snacks, and other products, from eye catching self-service display boxes, located prominently in workplaces, staff rooms, shops, waiting rooms, leisure centres and many other locations.
You visit your sites monthly, service your boxes by topping up with fresh stock, tailoring the products to each individual site and at the same time, collecting your cash!
ChariSnack has a great range of products including confectionery, snacks, cake bars, biscuits, flapjacks, and healthier snack options such as popcorn and rice cakes, so you can meet everyone's tastes and tailor make the boxes to your individual sites, ensuring that every box has the right kind of products for your customers, resulting in more sales and more money for you!
We are currently leading the industry with a cashless payment system, this gives the option for customers, another way of making purchases, without the need to pay in cash. With a QR Code sticker placed on your boxes, your customers can use their mobile phone and connected methods to make payments. This simple and secure process is quick and streamlined and is truly a revolutionary step in this business sector.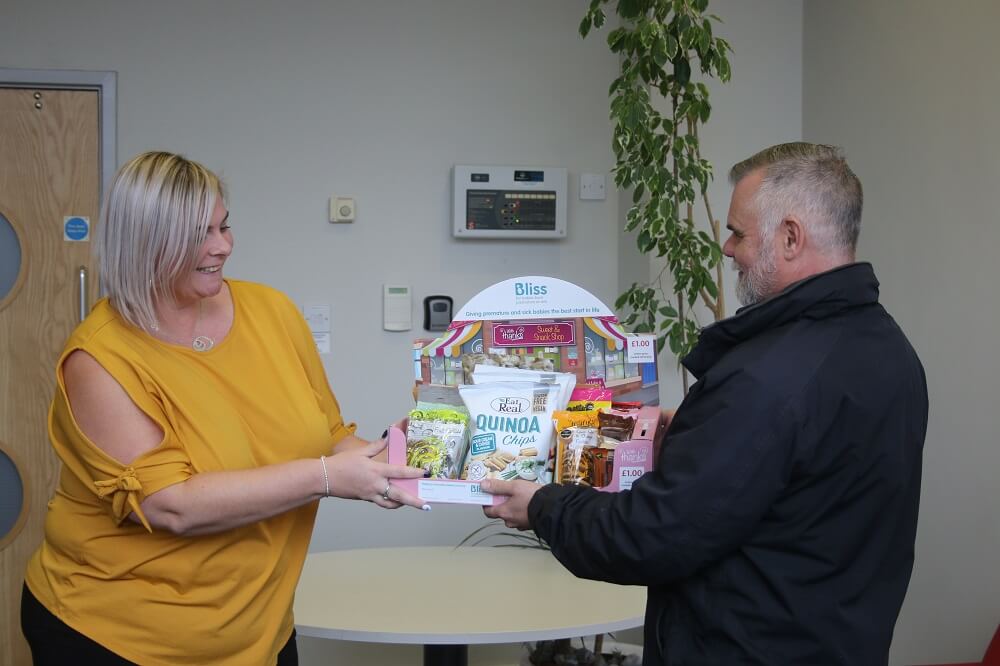 What makes a ChariSnack franchise different?
A business model backed by 30 years of experience in the snacks and confectionery industry.
An immediate cash income, with a quick return on investment.
Exclusive territory and the opportunity to grow your business.
Initial investment for launch, more than covered by the value of your launch stock.
Regular product promotions exclusively for our franchise network.
Fully supported launch, with follow up training and siting support days.
No management, renewal, or royalty fees to pay… ever, and you keep 100% of your profits.
We pay our charity partner Bliss, not you, all the money in the box is yours!
Dedicated and experienced Management and Siting Team.
Lowest cost products starting as little as 29p per unit (Inc. VAT) with an RRP of £1-£1.50, making this franchise the most profitable.
30 days credit to pay for your orders, which helps with your cash flow.
A wide range of healthy snacks and treats available including vegan, vegetarian, and gluten free options.
Multi size charity display boxes available.
Payments to our charity partner made directly by us, no deductions are made from your income.
No hard sell and customers are always pleased to see you.
You are in control of your own business and have the flexibility to work the hours that suit your personal situation.
The good feeling you get that you are helping to raise money for charity.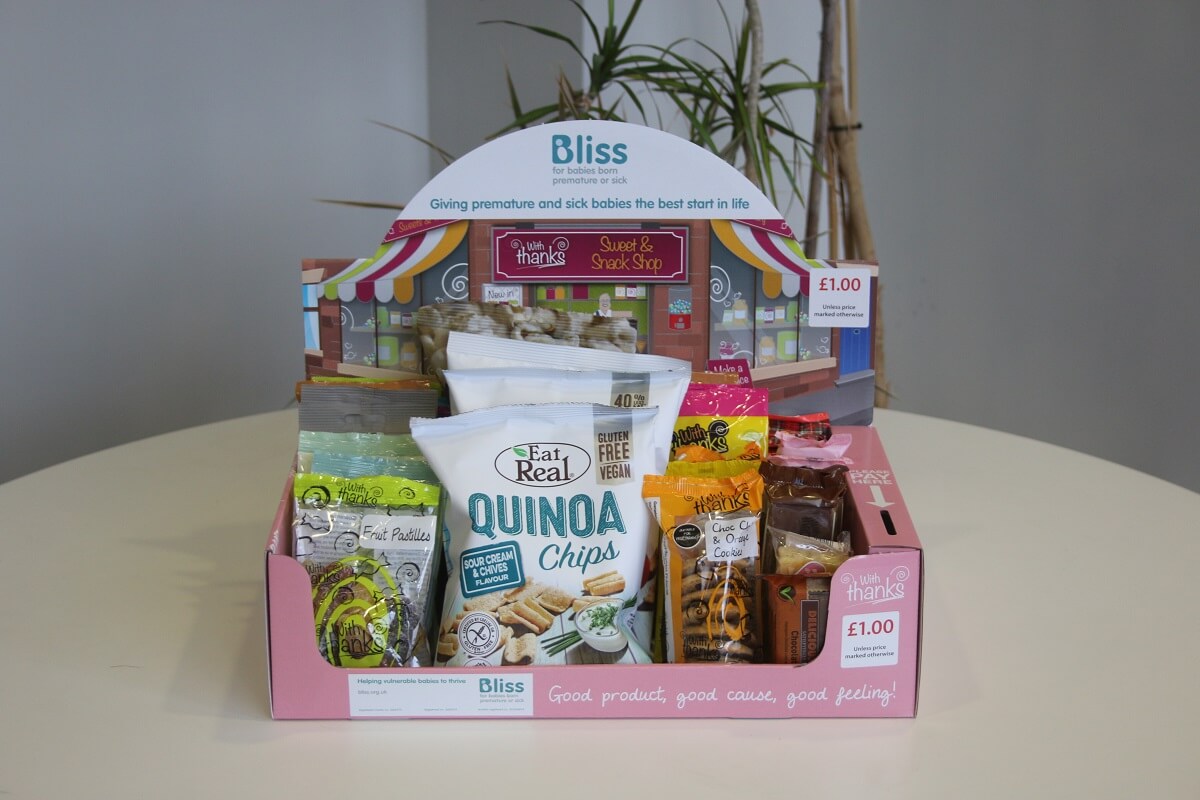 Our Franchise Packages
We offer 2 packages, to suit your individual needs:
Standard Package – £3,750 + VAT. Franchisee sites the boxes
Premium Package – £4,999 + VAT. Fully supported launch
What the package includes?
300 display boxes plus 50 spare boxes, 7,500 units of stock which is enough to place 25 bags of snacks and sweets in each box.
Comprehensive Head Office training, on-going field support and 1 days Service Training (for the Premium Package only - 10 days dedicated field support, following the initial launch and a further 4 days support throughout the first year, with our experienced team)
Branded clothing and ID badge, giving your customers confidence.
Electronic coin counter and sorter to make life easier for you when counting your cash!
Territory mapping system, highlighting the boundaries for your exclusive territory.
Personalised business cards to share with your customers.
Operations Manual for support with your franchise.
Dedicated Account Manager and head office support.

Our charity work
We are proud to be partnered with Bliss, a charity that supports babies born premature or sick, needing specialist hospital care. Bliss is the leading charity who champion the right for every baby born premature or sick to receive the best care, by helping the parents, supporting neonatal professionals and research that can tangibly improve outcomes for babies born premature or sick, placing the babies' voices at the heart of decision-making to ensure that their best interests are always put first.
Since launching the franchise in 2009, over £350,000 has been donated to various charities, including:
Bliss
Kidney research
Shelter
Shine
Crumlin Road Children's Hospital
ISPCC
Sweet Appeal Wallace and Grommet
Air ambulance
What's next?
If you are interested in becoming a ChariSnack franchisee, the next step is to arrange a quick telephone call with our Franchise Team; please fill in the form with your details.
Following this, we would be delighted to meet with you at our Head Office so we can introduce you to the team at Delicious Ideas and provide you with as much information as possible regarding the franchise opportunity.
This is a great opportunity to meet with our Franchise team and learn more about the franchise business, ask questions and decide if you think this is for you, all without any obligation or commitment.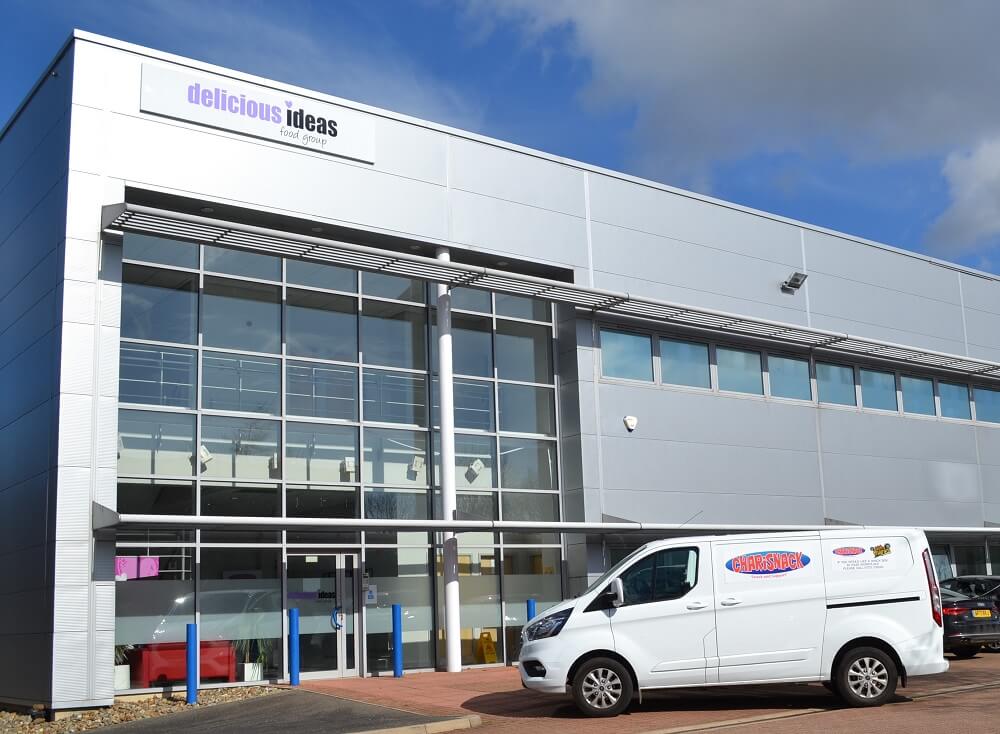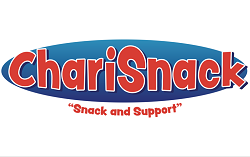 Interested in Charisnack?
Contact Mark Winter-Goodwin
National Franchise Manager
---
Click on the link below to receive further information on our franchise opportunity. You can also connect directly with us to ask any questions.
Request more info > or connect with Mark:



This is FREE and non-obligatory; we never share or sell your personal information.