Join one of the UK's most established, largest and recognisable franchise brands…Snap-on Tools
Snap-on Tools is the world's number one professional tool brand, we're the industry specialists of choice for the modern mechanic – a badge we've worn proudly for over 100 years! As well as designing and manufacturing great tools, we are also a great franchise business opportunity.
Snap-on franchisees sell our world-famous branded tools via their high-tech mobile tool showroom. They bring a complete retail shopping environment to customers at their workplace. And a major benefit of being mobile is not having the high overheads such as rent, rates, utilities, that most other retail businesses will have.
"Snap-on is the perfect retail model. You take the best products and sell them to the people who need them."
Scott Walters, Conwy franchisee
Today, we have over 430 franchisees operating territories in the UK and Ireland. Globally, our franchise network is made up of more than 4,300 franchises.
There's no limit to what you can achieve as a Snap-on franchisee. Whether you want to be a "one-man van" operation or you want to develop a multi-van, multi-territory operation, we're here to give you all the support and guidance you need to achieve your goals.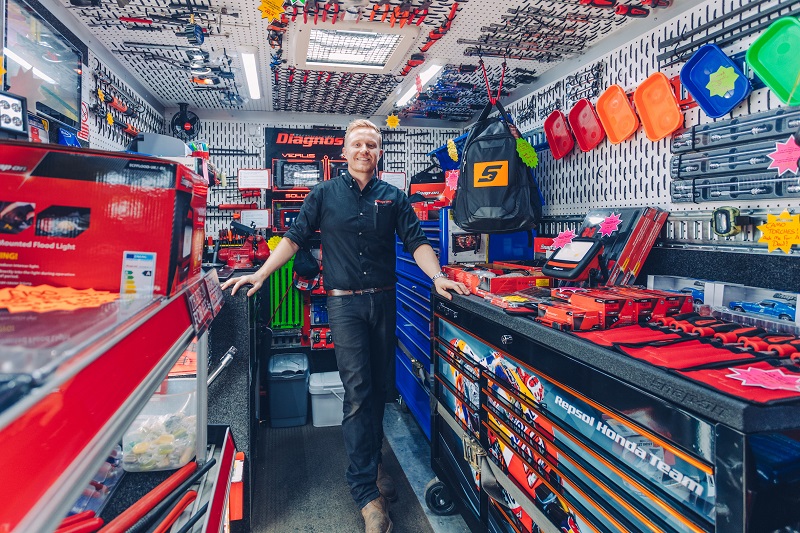 Why choose a Snap-on franchise
"The Snap-on franchise has changed my life. I feel like I'm in charge of my own destiny now. Rather than working for somebody doing the same thing Monday to Friday 9–5, I'm now driving my own business forward, being able to create my own goals, and achieve my own dreams."
Nick Allen, Shrewsbury franchisee
Here are just a few reasons why, when you choose Snap-on, you choose one of the UK's number one franchises:
We find your customers, you build the relationship
You keep 100% of your profits - unlike many other franchisors, with Snap-on, there are no percentage-based royalties to pay
165+ UK-based head office support staff dedicated to your success
Six-month onboarding programme designed to get you up-to-speed, fast!
Average franchisee sales of over £6k per week
Multi-territory and multi-store options encouraged and supported
Family business – spouses and family often involved
Snap-on help to buy scheme available
Exceptional training and comprehensive ongoing support
Proven franchise model, refined for over 100 years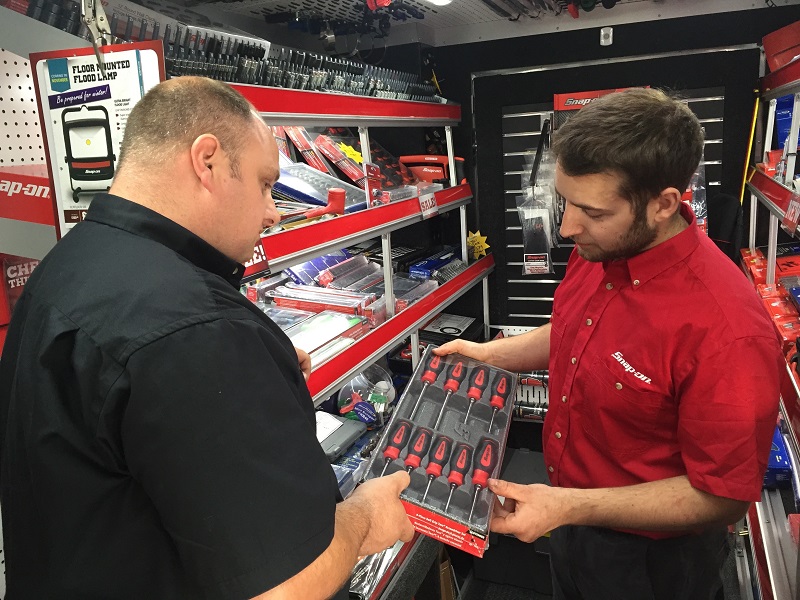 How we support you
Once you are up and running, Snap-on franchisees are matched to one of our Franchise Performance Teams who support you in all areas of your business – that means always knowing who's going to be on the other end of the phone or visiting you in person. Other support benefits include:
Dedicated Franchise Developer for your first four weeks
An additional 31 days of on-van support
51 support days within your first six months
Dedicated Sales Developer for life
Head office telephone support line through to all departments
Monthly franchisee forums for training, new product launches and sharing ideas
Annual conference and Tool Show – training, networking and entertainment for you and your family
National marketing strategy and promotional materials delivered fortnightly
National Franchisee Advisory Council – have your say on important topics
"Snap-on is the best company I've ever worked with. I don't feel like I'm on my own even though I'm out running the business on my own day-to-day. I enjoy working with Snap-on and they're a great team of people,"
Adam Callis, Snap-on Cornwall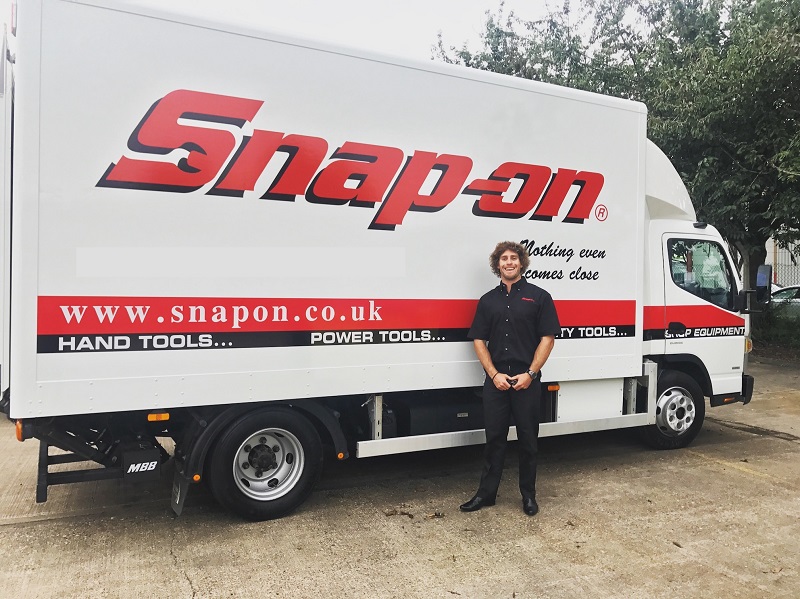 Our training
Training starts with ten days of classroom-style training where you will learn how to run a successful Snap-on franchise:
Product knowledge and application: getting comfortable with our most popular tools
Marketing and merchandising: how to build great deals and showcase your stock
Salesmanship: we work on a proven 'features and benefits' approach to sales
Credit selling: helping your customer structure their purchases for long term benefits
Customer service and management: how to create and keep happy customers
Business administration: behind the scenes work that keeps the wheels turning!
Basic accounts: cash collection and banking processes that are as easy as 1, 2, 3
Computer training: getting you up to speed on your sales and stock systems
Then, it's over to our UK head office in Kettering where you'll meet the staff who will support you daily and where you collect your very own custom-built mobile store.
"I've been a franchisee since 1997 but I still get training! We get updates and meetings to attend but mostly you are constantly gaining experience in selling and how to deal with customers on a day to day basis."
Elio Auletta, Sutton franchisee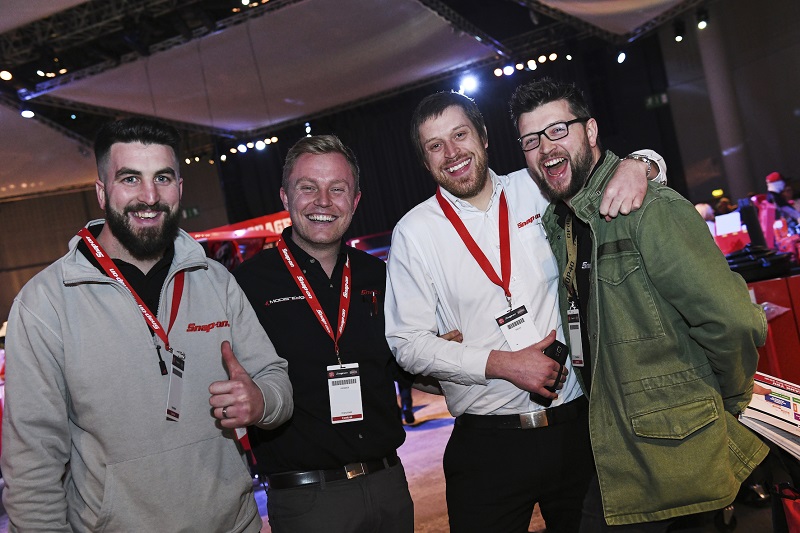 How much does a Snap-on Tools franchise cost?
With our exclusive Jump Start package, you only need £11,588 and Snap-on will fund the remaining investment on a ten-year interest-bearing loan (subject to personal status).
Fixed, regular payments mean you can manage your cash flow and always know exactly where you are with your finances.
"I took out a loan from Snap-on to help fund the purchase of my franchise. I paid that off, in full, 10 months into my franchise. I have £60,000 worth of tools in my van and they're all mine. I can't tell you what that feels like, it's just brilliant.
"I looked into a couple of other franchises but Snap-on are really transparent and up-front about the business, what it entails, costs etc. and the best thing is, compared to some other franchises they don't constantly dip into your business for fees!"
William Hurt, East Dereham franchisee
"I'm expanding in to a second territory and have funded that through Snap-on Finance again. I feel the commitment to repay a loan is a great driver and it helps me to focus and accelerate the business launch and grow sales more rapidly. My target is to repay the new loan in 2 years or less!"
Richard Swayne, Dartford franchisee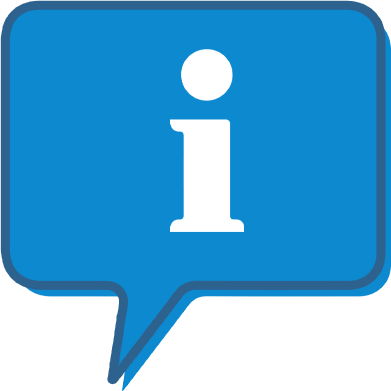 Interested and want to know more?
By clicking the link below, we can send you further information on this franchise opportunity and allow you to contact them direct with any questions.
This is FREE and non-obligatory; we never share or sell your personal information.