Request Free Info
ServiceMaster Clean Franchise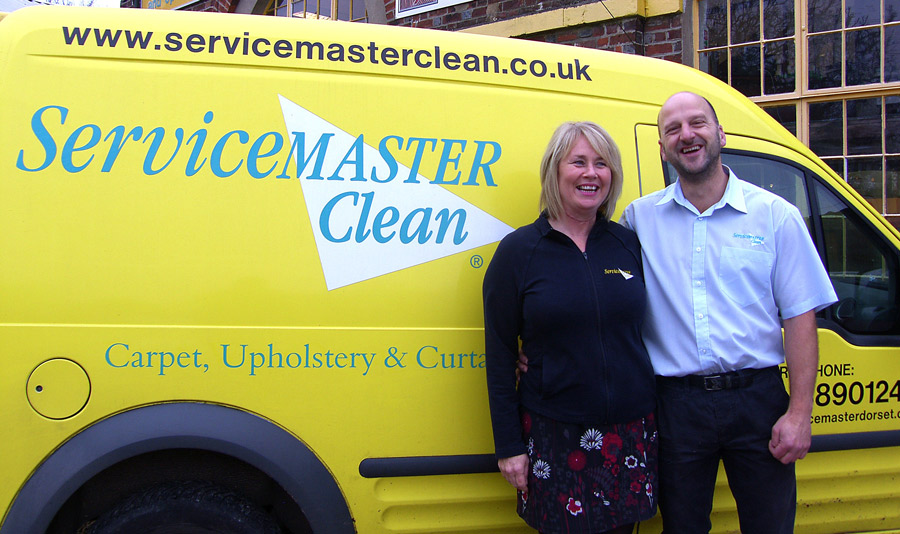 ServiceMaster Clean® is the leading franchise opportunity in the commercial cleaning, residential and restoration industries.
ServiceMaster Clean® is proud to be a member of the ServiceMaster Family of Brands which was founded in Chicago in 1929 and first launched in Britain in 1959; with over 60 years' experience of franchising in the UK, you can be sure to be investing in an established franchise which a globally recognisable brand.
Our FOUR money-making opportunities
We have four established franchise models operating under our ServiceMaster Clean brand. They all have the potential (if not already), to become a successful management franchise in a growing market place – the cleaning and restoration sector.

Contract Services (B2B): Daily office cleaning for commercial customers
If you are looking to work 'on' your business and not 'in' it from day 1, our Contract Services commercial cleaning franchise will give you the opportunity to be your own boss and manage a team of cleaners who will deliver your specialist cleaning services whilst you build lasting relationships with your clients.
As the owner of your business, you will build relationships with clients in many sectors including, motor, education, health, care and retail to grow your business by providing regular cleaning services to their offices, showrooms, surgeries, classrooms and outlets through your professional team of cleaning staff.
With a solid strategy and the help from a qualified team of franchise professionals at ServiceMaster, we have examples of businesses in our network that have grown in excess of £1,000,000 in less than 5 years.
We're currently on the look-out for passionate and driven individuals who are keen to make their commitment to ServiceMaster. You'll need access to £38,000 for your franchise investment and working capital and you'll have a gritty determination to succeed in this lucrative, controlled and systemised business where the rewards can be seriously significant for those with ambition.
If you'd like the opportunity to become a multi-million-pound ServiceMaster Clean Contract Services business, please make an enquiry and specify opportunity 1.

Residential Services (B2C): Residential carpet and upholstery cleaning
One of our longest standing franchise opportunities, our Residential Services model allows for the building of a profitable B2C business through delivering carpet and upholstery cleaning services to the growing market of residential properties looking for professional services, within your unique ServiceMaster Clean territory.
Carpet, hard floor and carpet cleaning services will always be required as long as we have something to walk or sit on!
This flexible franchise opportunity would be suited to an individual with a passion for providing excellent customer service to the general public and the drive and ambition to build a scalable carpet and upholstery cleaning business with the help of a world-renowned brand name established for almost 60 years.
Be amongst the first to take advantage of the pioneering new ecommerce facility giving customers the flexibility to book and pay for their carpet and upholstery cleaning services online at any time of the day or night!
If your passion is consumer customer service and you have the drive and ambition to grow your residential business through adding further technicians and additional vans out on the road to service your territory, then please make an enquiry and specify opportunity 2.

Commercial services (B2B): Commercial carpet and upholstery cleaning
For those ambitious people that are comfortable in a B2B environment, our Commercial Services model is built around the delivery of carpet, upholstery and hard floor cleaning / maintenance programmes – aimed at businesses and organisations. Franchisees seek out commercial contracts for regular maintenance cleans in addition to one off work.
Typically, the average job commands a higher ticket price, and the work would be carried out at times that minimise disruption on that site.
Ongoing maintenance programmes provide regular income from those clients that value the appearance of the premises, creating a welcoming environment for their customers and a great workspace for their employees.
Your enthusiasm and positive communications skills are the starting pointing for growing a multi-van Commercial Services franchise.
If you're able to build strong and lasting relationships with your commercial clients as well as providing a professional service, then you'll be able to grow a strong Commercial Services franchise with a view to employ further technicians to support you. Does this sound like something of interest? Make an enquiry and specify opportunity 3.

Restoration Services (B2B/B2C): Also known as Disaster Restoration
Not for the faint-hearted! As the name suggests our Disaster Restoration franchise model provides services in unusual, unexpected and sometimes unpleasant situations such as, removing the hazard and health risks to employees from sewage leaks and needles, or responding to acts of anti-social behaviour, graffiti, accumulation of waste and malicious damage.
Franchisees also help with the smaller unexpected disasters which might occur in the home, when there's been spills and stains, for ServiceMaster Clean disaster restoration franchisees there is no job which is too big or small.
Helping both homeowners and commercial customers clean up after emergencies and disasters can be exceedingly rewarding, but the nature of the work can raise a few eyebrows too!
Disaster Restoration is often called the fourth emergency service – you will be prepared to respond to emergency and reactive calls 365-24-7. Whilst meeting the demands of Insurance companies, you will also understand the needs of the policyholder who may be devastated following the effects of flood, fire, smoke or water damage to their home.
The rewards are there for the investors that are up for a challenge. If you'd like to reap them, please make an enquiry and specify opportunity 4.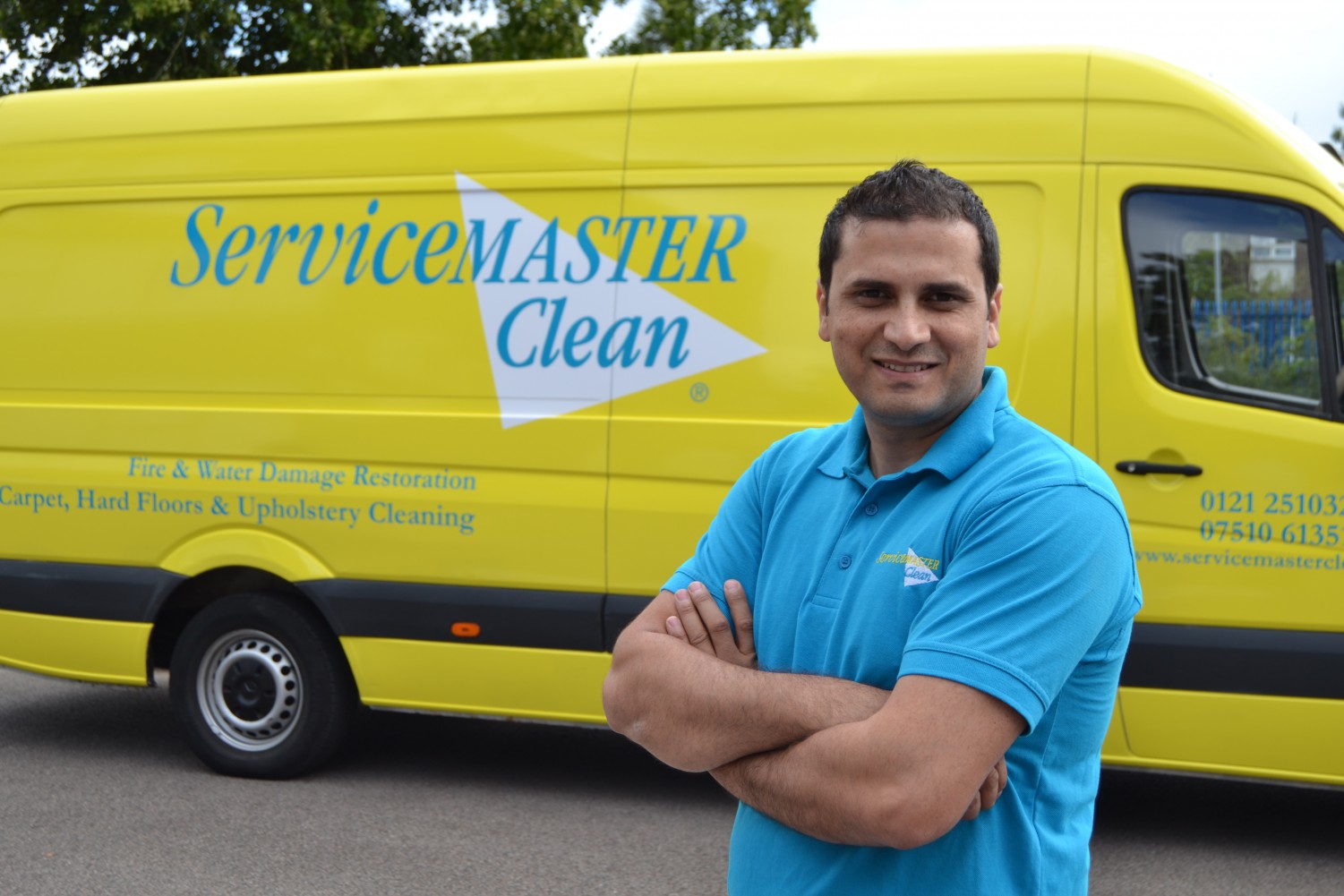 Why choose a ServiceMaster Clean Franchise?
Besides the fact that we have been established for almost 60 years, it's important to consider a few of the other reasons you should choose a ServiceMaster Clean franchise opportunity for your franchise partnership.
Proven model and unique ServiceMaster Clean territory
Exclusive ServiceMaster products & specialist equipment
No experience necessary! Technical training provided
Unlimited field support from Qualified Franchise Professionals
Business Management Software
Website and marketing launch
Transactional and recurring income
Central Support at Franchise Support Centre
E-commerce (Residential platform only at this time)
How much does a ServiceMaster Clean franchise cost?
The minimum personal investment for this franchise opportunity is £5,999 + VAT which is 30% of the total franchise fee for our lowest investment franchise opportunity (2. Residential Services).
Up to 70% of the total franchise fee can be financed through most major banks and franchise finance providers, subject to status.
For our full franchise cost, fees,recommended start-up costs and conditions, please request further information through the form below. Please also state in additional comments which ServiceMaster opportunity you are interested in.