Papa John's is one of the largest pizza delivery franchise companies in the world; we now have well over 400 sites open and trading in the UK, and over 5,000 in more than 40 international markets and territories.
Papa John's tried and tested formula and an established British management team with many years' experience in franchising and the pizza industry means a solid foundation for a very promising future.
Papa John's now have over 400 stores open and trading in the UK; working towards the goal of 600+ units. Annual worldwide sales exceed $3 billion and now Great Britain is spearheading the international expansion of the brand.
Since the first UK stores opened in summer 2000, customer feedback has been excellent so much so that Papa John's (GB) Ltd has been named UK Pizza Delivery Operator for 6 times by the Pizza, Pasta and Italian Food Association.

UK prospects
Prospects for the right people are outstanding; particularly bearing in mind that home delivery is the fastest growing sector of the market.
Pizza is universally popular and unaffected by seasons or fashions. Independent research shows that in the UK, pizza consumption is expanding to similar levels as those in the United States where people eat three times as much pizza.
If you should like to find out more about being part of our thriving franchise network, click here to request our FREE & non-obligatory prospectus.

Training and support
You will receive six weeks initial training held at our international training centre in Milton Keynes. This training incorporates classroom and practical work at a store local to your location.
Further training courses are offered to franchisees and their team members on an ongoing basis, both classroom and internet based.
Extensive and continuous support from a dedicated Franchise Business Manager and our UK and European Campus staff in Milton Keynes will assist you with recruiting and training new staff, marketing, product control, pricing and other operational areas.
Who's ideal for us?
We are looking for individuals, couples or business partnerships with exceptional interpersonal and people skills. These are essential as you'll be dealing with customers and leading your team on a daily basis.
Our franchisees are organisers with a can-do attitude – they are people who get things done. You will need to be dedicated and passionate as well as being able to adapt to a proven way of working. We need people who are not afraid to "roll their sleeves up and get stuck in", which means everything from making pizza through to administration.
People with the right combination of drive, enthusiasm and business experience are ideal Papa John's candidates. Being a Papa John's franchisee is a challenge which calls for initiative and determination, and no small amount of dedication.
Previous Fast-food or food experience is not a pre-requisite; some of our franchisees did not have previous catering or retailing experience. The most successful franchisees are entrepreneurial, owner/operators who have excellent people skills.

Why not request our FREE & non-obligatory franchise prospectus to receive more information and find out if this opportunity is right for you.
Financial information
This may vary and depends on several factors such as site chosen and building costs but typically an investment of between £170,000 and £225,000 (excluding freehold & VAT) of which £100,000 should be in liquid funds.
The initial agreement is for 10 years. Subject to lease and other considerations, the franchise agreement is renewable by the franchisee, currently, at no additional charge
The franchise fee is £18,500+ VAT for each franchise unit.
You will also be responsible for the rent, rates and utility costs of the store for the term of the franchise agreement.
The franchise package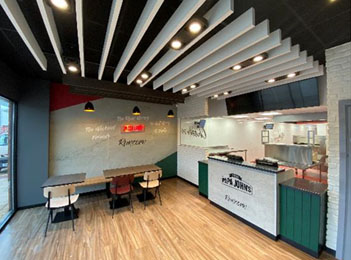 At the start of the franchise agreement there is an initial fee payable and that gives you the following:
The right to use the Papa John's trademarks.
The Papa John's system for preparing, marketing and selling food products.
The right to our information, specifications, know-how, and other confidential and proprietary information.
Included in the indicative total investment cost, there is also an allowance for management and staff training plus initial marketing support prior to opening your store.
Most of the start-up costs are comprised of the building, fit-out and equipment costs which will vary depending on your site. The package also includes all fixtures and fittings, signage and internal marketing collateral, ovens, EPOS system and small wares as well as all agents' fees, franchise fee, marketing, project management and pre-opening expenses.
We have opportunities for potential franchisees throughout the UK.
Request FREE info