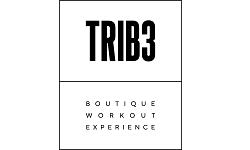 TRIB3 Franchisee Case Study Feed
Last updated: 07-December-2021
---
Meet Nikki and Niamh:TRIB3 Ireland Area Development Partners -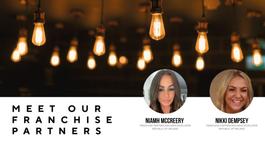 Nikki Dempsey and Niamh McCreery, our new multi-unit franchise partners, have exclusive territory rights to Ireland with an eight-site development deal. They joined the TRIB3 family earlier this year, supported by their partners who have a wealth of experience in the fitness market. We are thrilled to partner with them to bring the TRIB3 experience to Ireland, with their first store opening in Q4 2021.
We spoke with Nikki and Niamh to learn more about what lead them to joining the TRIB3 family and their journey so far in franchising.
What did you do before franchising and what prompted you to make the change?
Niamh: I'm actually a yoga instructor and before teaching private classes, I was a personal trainer for eight years, working at a gym. My partner and I have always been into fitness, playing sports, going to the gym, traveling to cities to try new workout classes. I've always wanted to own my own business and franchising has been a concept that I had been following for the last two or three years so I felt I could pair my passion with a proven business model.
Nikki: I'm new to the industry, having been an insurance broker for over ten years now. I've seen close family and friends become really successful running franchises so that sparked my interest in wanting to invest in a franchise myself. Since finding this opportunity, I'm really excited about getting more involved in the fitness industry and hope to teach TRIB3 classes as well as operating several of the stores too.
What drew you to TRIB3?
Niamh: The concept is so unique, especially with the three zones in the studio, which we hadn't experienced in any other classes we've done anywhere before. We knew immediately it would be a great concept to bring to Ireland as it was completely different and we saw a lot of opportunity to grow and scale this concept across a new territory.
Nikki: It was definitely the people we met while getting involved in the process. The brand and the concept are brilliant but the actual people that you're working with, makes all the difference. Everyone we've met on the team and at TRIB3 have been so supportive and I can see myself working with them, which is the most important thing to me.
Why did you want to bring TRIB3 to Ireland?
Niamh: We saw a huge gap in the market for it, so for us it was a no brainer. The combination of the workout, the music and the energy that you feel coming out of a TRIB3 workout was incredible. We're hoping that there will be a big demand for it and we'll be able to keep opening up more and more stores.
Nikki: Like Niamh, we wanted to bring something to Ireland that's not been done here before. There's a big trend for people wanting to train together so group exercise is starting to become quite popular here but there still isn'ta concept quite like TRIB3 available yet.
What qualities does someone need to be a successful multi-unit franchisee?
Niamh: You have to be willing to be patient, follow the journey and trust the process. Take in as much information as you can, as you have a team around you with so much support and guidance to give.
Nikki: The three things that are most important when it comes to franchising are people, process and product. You have to trust the process and work with the right people. Especially with being a multi-unit franchisee owner, you have to not be afraid of failing – learn from your mistakes and have the courage to keep moving forward.
Would you recommend franchising and this franchise opportunity to others?
Niamh: Definitely. I've seen people become very successful in franchising but you have to be passionate about what you're doing. Also having the support of a franchisor, you're backed by their knowledge and expertise, which you normally wouldn't have running your own business. After my initial conversations with the TRIB3 team, you can just tell there's so much experience within the network so it'll be great to pull from their experience while being able to put our own touch on it too.
Nikki: 100% because franchising is being given a bag of tools to run your business. The processes are there so especially for people that have little experience in business, franchising is a great way to do it. During hard times and economic downturns, people tend to turn to franchises because the processes are there. I definitely recommend TRIB3 because the processes are there, the brand is developed and there's a good team of people.
---
Opening a franchise during a pandemic and finding success -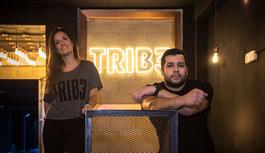 When you think of an ideal time to open a new fitness franchise, you probably wouldn't want to start your new venture during a global pandemic right?
TRIB3 Goya, our first franchised store in Madrid, opened two months ago in August, with store owners and business partners Lorena Gimenez and Mario Minuesa showing massive determination and agility, against the backdrop of COVID-19 .
Creating relationships with new franchise partners and giving them the tools and support to launch their own business while growing our global community has always been one of the most inspiring parts of what we do, but Lorena and Mario opening a store in the midst of COVID-19 truly shows their tenacity and belief in the power of our business model.
Just as their store was entering the fit out stage, having worked with our property team to secure a great location in the neighborhood of Salamanca, COVID-19 lockdowns were put in place in Madrid, delaying some of the works. Lorena and Mario, with their team, pushed on, carefully navigating the evolving regulations during the summer and were able to open their doors for a soft launch in August, building up to a bigger promotion in September as the city emerged from what is typically a quieter summer period.
The store was set up with all the appropriate distancing and safety measures in place and through word of mouth from excited new TRIB3Rs and a targeted pre-sell campaign focused on the highly residential areas around Goya, it quickly saw traction with a strong community vibe almost instantaneously.
Both Lorena and Mario are also coaches, teaching multiple classes every day alongside the day-to-day operations of the store. Franchise partners can choose whether or not to manage their store themselves or bring in a capable Store Manager, with the support of our People team. Either way, Store Managers will be trained to coach classes too, immersing them fully in the product, helping them build critical relationships with TRIB3Rs and ultimately supporting them to keep staffing costs at a really efficient level which facilitates a fast breakeven.
With the COVID-19 situation still evolving, many countries and cities, like Madrid, continue to face further restrictions and shorter-term lockdowns; however, Goya has continued to operate strongly and safely. TRIB3Rs have to wear masks when navigating the store and in the Resistance area, but with the help of protective screens in the Treadmill and Intensity zones, the team is able to protect the TRIB3Rs but also the TRIB3 workout experience they know and love. This focus and drive means Goya is on track for cash breakeven in October; a mere two months since the store was opened.
We asked Lorena to share the secret of TRIB3 Goya´s success as her energy, motivation, and passion for the brand is contagious and inspirational.
What brought you to TRIB3 and made you want to open your own TRIB3?
Both my partner and I come from the fitness industry and we wanted to open a business within this sector. We wanted something different, special and unique. We were immediately drawn to TRIB3 after we experienced our first workout as clients at one of the existing locations. The experience was so incredibly unique we knew in that moment that this is what we had been looking for. The uniqueness, the brand, the experience and the top-notch workout is what sold us. There are a lot of studios in Madrid, but TRIB3 is really something different. It's a next-level workout experience.
How have you been able to build your community during the middle of a pandemic with distancing measuring in place?
It has been more difficult but attitude is everything when things are not going the way that you had imagined. People are more inclined to continue living more normal lives if they feel that the environment is safe. This is how we´ve been able to grow the community; respecting and implementing the safety measures while still maintaining TRIB3´s unique concept. We keep having fun working together as a team and sharing the experience with a positive attitude each day.
What has been your experience the first two months of opening your first franchise?
It has been really positive, much more than what we had expected given the circumstances. Opening a new business in August and in the middle of a global pandemic was not what we had planned. It has been tough with a lot of uncertainty and confusion but paired with a lot of passion and hard-work along the way, we´ve been able to see really great results. Our clients are wonderful, enthusiastic and respectful of the COVID-19 restrictions, still fully enjoying the fun experience. Our first two months have been full of hard-work, a lot of passion and positive vibes.
If you could give one piece of advice to new franchisee owners opening stores during this time, what would you say?
Despite the circumstances, never stop believing in your business. It may sound obvious, but now is the time to adapt, to be creative, to bring alternative ways of working to the table and to keep moving forward among the increasing restrictions… The support from the TRIB3 franchise team has also been fundamental. They have so much experience and assistance to offer so you will not be alone when opening a new franchise. We are definitely one TRIB3.
What is your favourite part of being a TRIB3 franchise owner and coach?
Being able to run a business like TRIB3 is amazing as there are always things to do. You are constantly innovating and improving the experience. Building relationships with the different types of people who frequent the store is always wonderful. You never stop learning and it is so satisfying to see a first-timer´s reaction to the work out experience. We value the collaboration with the rest of the franchise team and the other teams as we´re able to exchange experiences and learn from each other along the way.
Lorena and Mario's story of opening a fitness franchise in the middle of a pandemic is truly inspiring for us as a business. We are fortunate to have such amazing franchise partners within our family and we can't wait to see the continued success of Goya.
---