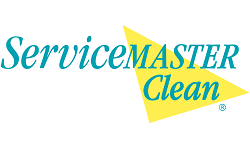 ServiceMaster Clean Franchisee Case Study Feed
Last updated: 25-May-2022
---
-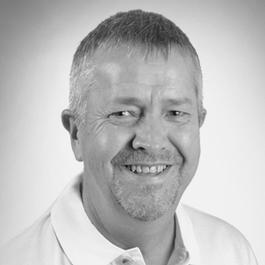 In order to maintain brand integrity, we carefully select the franchise partners who are to join our brand by inviting prospective business owners to an interview with our ServiceMaster Clean Contract Services Brand Leader, Guy Strang.
We asked Guy, 5 questions to help prospective business owners qualify themselves to join:
Q. Describe the characteristics of the most successful franchisees in your network.
A. Self-motivated, strategic thinker to decompose a problem and reveal opportunities for growth. Figuring out creative solutions and identifying the low-hanging fruits. Comfortable networking creating new business opportunities and willing to take a few risks to succeed. Finally, they are passionate about the brand and their business that keeps them motivated to persevere through challenges which fuels success.
Q. What skills/attributes do you look for in a franchise partner?
A. Planning, defining milestones, with project management and time allocation methodology that gets the work done. They need to be dedicated to their plan and focused to keep moving forward.
Financial Management: Understand how money works so that they know where they stand, and so that they run their business on sound principles.
Q. What personality do you look for in a franchise partner?
A. The ability to connect with people, to recognise opportunities and has determination and eagerness to fight the same dragon every morning with a smile. Self-confident and believe they can achieve their goals.
Q. What experience is required?
A. None, but must be a 'people person'.
Q. What is a 'red flag' for joining your brand?
A. Under financed. Poor social skills. Lack of understanding what we offer and how it fits with them.
---
Red carpet treatment for award-winning Servicemaster franchisee Siva -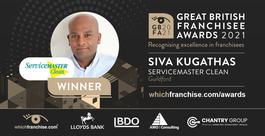 Is there anyone on the planet who didn't think Siva Kugathas would win the Great British Franchisee Award?
The owner of ServiceMaster in Guildford has transformed lives, raised standards, pushed envelopes, inspired others, and indulged in some serious philanthropy - as well as taking the annual turnover from £100,000 to more than £2 million in just four years.
Siva has also expanded his workforce from just 17 to 274 and shown such leadership and support to other franchisees in the network that some have joined ServiceMaster as a direct result.
Not only that, but Siva has gone on a franchise-buying spree, expanding his empire to include the Thames Valley, Bracknell, Luton, Watford, East Kent, Ipswich, and Colchester, taking his total so far to eight.
"I'm really, really happy that we won the Great British Franchisee Award," he says. "The chips were down due to Covid, so this award came at the right time to motivate and re-energise myself and my team.
"We believe the customer is always right. So we ensure our team use our Customer-Mania mantra to exceed our customers' expectations at every possible opportunity.
"I strongly believe in leading from the front and going above and beyond for my team where possible.
"I have happy staff producing happy customers, and that's the ideal recipe for success."
Siva's franchise was the first approved user of EShield technology in the UK and was able to provide Covid-19 sanitisation within 24 hours of a call, allowing clients to reopen their premises and resume their services as soon as possible.
Employees weren't confident about doing the first Covid clean, so Siva completed the first one himself and only let his staff clean when they felt comfortable and happy with the safety of their environment.
Siva believes in giving people chances in life and has helped a recovering alcoholic re-establish a stable life, as well as giving one employee with no experience the opportunity to learn skills that mean she's now in charge of the accounts and payroll for 274 people.
Siva won the newly-created award from whichfranchise for being an outstanding franchisee in all aspects of his business.
The Great British Franchisee Awards recognise franchisees' exceptional performance and business experience, ability to drive business growth, staff retention, customer satisfaction, community involvement, inspired leadership, and franchise involvement.
The awards are run by whichfranchise, supported by Lloyds Bank, BDO, AMO Consulting and Chantry Group.
---
Hear from one of the most successful ServiceMaster businesses -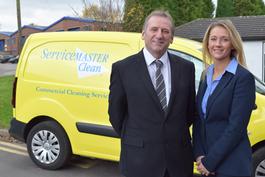 Established in 1996, ServiceMaster Clean Contract Services Stoke (CS Stoke) is one of the most successful Contract Services businesses in the ServiceMaster network.
Key to the success of the company is operations manager, Gemma Quinn. After a successful career in recruitment, Gemma started working for CS Stoke in 2009 and was able to transfer skills from her previous role to help build the business to where it is today.
"I enjoy being involved with all areas of the business, although sales and operations is where I excel. I'm proud of the business' success and Tony values the effort I put into my role as operations manager," said Gemma.
"Gemma's contribution to the business has been enormous. She has helped build our client portfolio and does a lot of work within operations to ensure the business is running smoothly," added Tony, Owner of ServiceMaster Clean Contract Services Stoke.
Having successfully mastered the realms of franchising and winning the ServiceMaster Marion E. Wade Award in 2015, the best advice Tony and Gemma have to give to anyone looking to invest in a franchise is: "Make use of the network you have, build relationships and communicate with them for help and advice.
That's the advantage of having a franchise network, so make use of it."
---
A family affair with ServiceMaster Clean Residential and Commercial Services -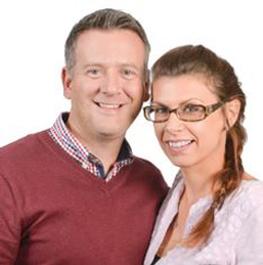 Franchisees: Anna and Kevin Riley
Franchise: ServiceMaster Clean Residential and Commercial Services Portsmouth

Anna and Kevin initially had an agreement with Anna's farther, who originally owned ServiceMaster Clean Portsmouth, to help the business during busy periods. They enjoyed the work so much that Anna and Kevin decided to stay with the company; Anna works in the office carrying out administrative duties whilst Kevin is a technician.

After six years, the couple took ownership of the company when Anna's father decided to retire. They have now been running ServiceMaster Clean Portsmouth and Southampton for over 10 years.

Although we bicker, as we both want to do things our own way! I have a good head for the finance and operational side of the business, and Kevin is great when it comes to customer service.
They both hold strengths in different areas and are able to support each other in all situations they come across.

Due to the busy schedule of running their own business, Kevin and Anna had to make sacrifices when first starting a family. Anna only had three weeks maternity leave with both children but is now able to drop off and pick up her children every day from school. The couple usually work on Saturdays however they make the effort to ensure every Sunday they spend together as a family.
---
The best route into business with ServiceMaster Clean Contract -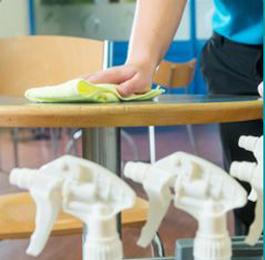 Franchisee: Tom Frame
Franchise business: ServiceMaster Clean Contract Services East Strathclyde and Glasgow
Before I bought the franchise I worked in the Electronics Industry for 20 years in the Central Belt of Scotland. With the demise of the once booming electronic industry I found myself redundant along with a large proportion of the industry sector in this area.
I decided as age was not exactly on my side, nor opportunities in this sector, it was time for a new direction and perhaps even to strike out on my own.
After a lot of research on the web and by talking to Business Gateway I concluded that franchising was the safest route when starting up on your own. Statistics tell us that 90% of small business start-ups fail in the first 12 months, whilst 90% of franchisees are successful in the same period.
After deciding on the cleaning sector, as it was pretty much recession proof and safe from advancing technologies, I looked at several companies who had opportunities in my area.
ServiceMaster Clean were able to meet my criteria, whist the start up costs were within my range.
The criteria I set out were:
A business that was recession proof
A business that was technology proof
A business that did not need premises, at least at the start
A business that could grow organically year on year
A business that would continue to run whilst I was on holiday
A business that one day, hopefully, will run without me.
As well as start-up costs being a major consideration, the comparatively modest royalty fees that ServiceMaster Clean charge on a monthly basis attracted me.
This franchise has done what it set out to do regarding the criteria I set out at the beginning. It has not been easy, but there again no one said it would be. It is quite satisfying to see the business grown significantly over the last 4 years. Year 4 saw a 40% increase in turnover from year 3, not many businesses' could boast this.
Being your own boss is quite satisfying, but as they say, the buck stops here, however the credit for building a successful business is also attributed to yourself.
---
The benefits of a franchise network with ServiceMaster Clean Contract Services -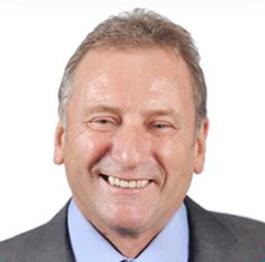 Franchisee: Tony Quinn
Franchise: ServiceMaster Clean Contract Services Stoke

I bought my ServiceMaster Clean Contract Services franchise in January 1997 and after some training, advice and network support I started trading in February 1997. By following the systems that I had been advised and trained to follow by ServiceMaster, I gained and started my first cleaning contracts in April. (After 10 years I still service these contracts). I now employ almost 200 staff and have a turnover in excess of £1,000,000.

I bought the franchise after researching other franchised operations in a variety of service industries. The ServiceMaster Clean Contract Services franchise appealed to me because of the relatively low cost of purchase and the opportunity to gain and maintain a regular customer base. Although, as in all businesses, it can be hard work, the rewards can compensate for this in seeing my business grow and develop and the opportunities it has created for the employment of others in assisting me to run the business effectively.

I have found the network of fellow franchisees of like-minded people with similar issues and businesses to run are of great help, particularly if you are new to the industry and need support and advice. By following some basic principles and planning I can vouch for a successful ServiceMaster Clean business.
---