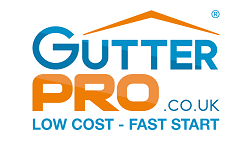 GutterPRO Franchisee Case Study Feed
Last updated: 13-October-2017
---
Why this GutterPRO franchisee is now building his own future - 13-October-2017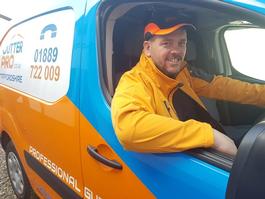 "You're in the Gutter?" was the lighthearted taunt from his family and friends when Jon announced that he'd been granted a GutterPRO Franchise.
44-year-old Jon from Walsall, knew it was time to start his own business. A seasoned retail professional, Jon was 6 months into his latest challenge but something wasn't right. Why was he again 'doing it' for other people and not for himself?
Having worked for many big brands, a franchise seemed the natural way forward. Jon also wanted a business that was future proof and liked the idea of getting out and about a bit more and being active.
This pointed towards a van based franchise. Ironically Jon found his perfect franchise in queuing traffic; "There it was . . . GutterPRO . . . just about the brightest branded van . . . in blue and orange . . . I'd ever seen".
Back home Jon started researching GutterPRO. Relieved to find it was both a Franchise and importantly a BFA member. Indeed, GutterPRO was founded by an ex-BFA Director.
GutterPRO seemed to tick the boxes. An investment of around £10,000, with options to lease or buy a van coupled with earnings potential of over £50,000.
What stood out for Jon was the GutterPRO Fast Start Guarantee. This meant that the Franchisor guaranteed £5000 of revenue (about 50 jobs), during the first 3 months. And this wasn't some wishy-washy commitment but a formal pledge in the Franchise Agreement.
Having a young family, safety was also important factor with GuterPRO's "safe and sound we do it from the ground", finding appeal.
A stroll around his housing estate, revealed the potential market. With Jon highlighting, "every third or fourth house seemed to have something growing in the gutters – that needed clearing".
Jon liked the idea of a service Franchise, with high margins that, "wouldn't get displaced by the internet". But also the use of savvy technology like the GutterPRO's 'APP', that sends client's reminders, invoices and enables credit card payments.
So roll on the GutterPRO awareness day and a chance to, "kick the tyres", with a few like-minded people. In fact, two of the people Jon met on the awareness day have also gone on to start a GutterPRO.
Exploring the 'numbers' – Jon found out that a GutterPRO Franchisee can routinely do 2 or 3 jobs per day with each job 'done on the day' and 'paid for on the day'- benefiting cash-flow.
Next for Jon, it was contacting existing GutterPRO Franchisees and asking a few probing questions about the Fast Start Guarantee. GutterPRO claim that every Franchisee to date has exceeded the £5000 Fast Start target. Jon's enquiry confirmed this was the case.
Jon signed up. Followed on by a week's intensive training at GutterPRO HQ covering operations and marketing. At the end of the week, he picked up his gleaming GutterPRO van.
For the first 3 months, the marketing is paid for and driven centrally by GutterPRO central team– so Jon had bookings lined up for his very first week. With the GutterPRO team also providing on site support.
Fast forward two months and Jon has already broken his £5000 Fast Start target and appears on track to generate over £7000 of revenue in his first 3 months, "that's 40% above the published figures".
With the, "busy Autumn period" soon upon him, Jon's quite confident he can go on and beat GutterPRO's first year budget, "with room to spare".
So, as Oscar Wilde might have put, 'Jon may be in the Gutter 'but he's certainly 'looking upwards to become a Star GutterPRO Franchisee'.
---