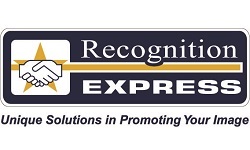 Recognition Express Franchisee Case Study Feed
Last updated: 04-July-2022
---
Multi-brand franchisee Stewart Green owns Kall Kwik and Recognition franchise in Suffolk -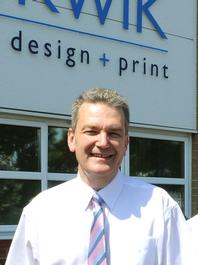 The Bardon Group offers market-leading opportunities and support for its franchisees. With comprehensive expertise and knowledge gained over 40 years in the business, the Group understands what it takes to help franchisees be successful.
The Group supports its frachisees with a unique package of benefits, including branding, business systems, marketing toolkits and professional development and training which, when combined with the franchise owner's skills, create a powerful recipe for business success.
One franchisee who has reaped these benefits is Stewart Green who has both a Recognition Express and Kall Kwik franchise in Bury St Edmunds, Suffolk.
Stewart bought his first franchise, Kall Kwik, 16 years ago.
In 2003 Stewart found himself at a crossroad in his professional life. Having enjoyed a hugely successful career working for other people, Stewart had long held a desire to run his own business. He explored franchising in his twenties but struggled to raise the finance needed at the time so put the idea on the back burner.
As his career took off, thoughts of his own venture were never far from his mind and in 2003 he took the plunge. Stewart commented: "I always knew that I didn't want to reach retirement age and think to myself, 'I really wish I'd set up my own business'. By that stage I was in a much better position financially to explore the options more seriously. The Kall Kwik franchise in Bury St Edmunds offered the perfect way to build a my own business with the support of a renowned expert."
As an already established business, Kall Kwik Bury St Edmunds gave Stewart the business opportunity he craved and he set about growing the franchise by extending its product portfolio to include wed design and email marketing services, large format printing and a marketing support proposition for companies needing help in this area.
Five years ago Stewart was approached by the Bardon Group to see if he would be interested in developing the Recognition Express brand for Suffolk. Stewart explained: "It was a natural fit. Many of our existing print customers had expressed an interest in promotional products so we knew that we already had a keen potential audience and could see the scope to build both brands by offering a combination of both to existing and new customers."
Stewart and his team of 11 staff now operate both franchises from premises at Brunel Business Court near to the centre of Bury St Edmunds.
Harnessing the power of both the Kall Kiwk and Recognition Express brands, Stewart has developed a one-stop-shop for corporate customers looking to build their own brand and improve their market position. He noted: "Among the many benefits of having two franchises with the Bardon Group is the ability to offer customers a full brand service experience. Not only can we help design their website and deliver on their printed collateral, we can also advise on promotional items and clothing which enables them to really maximise the opportunities to promote their business."
Having two franchises has also helped future-proof Stewart's enterprise. Over the last 16 years both his businesses have seen year on year growth, despite a recession and the current economic uncertainty. Stewart puts this down to the flexibility he is able to offer his clients – for example where a business may look to cut back on spend in one area such as promotional goods, its need for print or design will be maintained, and vice versa.
Managing director of the Bardon Group, Nigel Toplis, commented: "Stewart's story is an excellent example of how personal drive and determination, when combined with the training and support package that we offer, can deliver ongoing business growth. Stewart's businesses are shining examples of the franchising model that we strive for."
---
Growth is on track for Recognition Express franchisee Hugh O'Neill -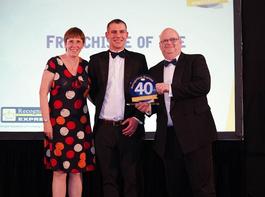 Facing redundancy after 20 years in a senior role for a contract caterer, Hugh O'Neill decided it was time to invest in his own future. He put his redundancy payment towards the purchase of a Recognition Express franchise in 2010, and he's set to reach his target ultimate turnover by 2022. When the time is right, he plans to put the business up for sale and enjoy the fruits of his labour during his retirement.
Setting up any kind of business in 2010 was challenging. The recession was in full swing, and demand for many of the promotional product lines supplied by Recognition Express was in decline. However, Hugh saw the long-term potential of the business and at the outset he focused on selling branded clothing. His catering experience told him that workwear would always be needed by small and large firms alike, even if they were cutting back spend elsewhere.
This strategy served him well for several years, and the business grew at a steady pace. But over the past two to three years, Hugh has also secured work with a couple of international conference organisers. With the upturn in the economy, the conference sector is one area that is booming, leading to regular large-batch orders for items such as lanyards, name badges and promotional goods. His forecast for year ending March 2019 is a turnover of £240,000, representing 37% growth.
From day one, Hugh knew that he wanted a 'manageable' business that he could comfortably run in partnership with his wife Mary. Some Recognition Express franchisees handle their own production, taking on industrial units and bigger teams of staff. This approach delivers better margins, but Hugh opted to outsource the production element of the business. Instead, he focuses on building and managing client relationships, channelling his energy into delivering exceptional service, which helps generate repeat custom. Mary looks after new business activity and the accounts.
It's the inherent flexibility, scalability and durability that sets Recognition Express apart from other franchised businesses, according to Hugh.
"The breadth of the product offering, coupled with the option to outsource production or handle it in-house, makes it a very versatile franchise option," he explains. "While there's one core model, there's a lot of scope for a franchisee to develop it in a way that suits their own ambitions, needs and areas of interest. For me, taking on the business in my late 40s, retirement was very much on the horizon and I've been working with that in mind. Other people have different goals and the franchisor can accommodate franchisees at both ends of the spectrum."
When he took on the franchise, Hugh had a full week of in-depth training at the Recognition Express headquarters, followed by three days of one-to-one support at his own premises. Since then, he's benefited from annual events for the entire franchise network, 'drivers meetings' for smaller groups of franchisees to explore business growth strategies, and ongoing site visits and mentoring from franchise owner Nigel Toplis.
"In the early days, I really appreciated the level of support from head office – I was working for myself for the first time in an entirely new industry," Hugh continues. "Today, the support is just as valuable, but the emphasis has changed. I know the ropes, and I have learnt so much about how to nurture clients. But it's always good to discuss business challenges and opportunities with likeminded people who have your best interests at heart."
Hugh believes franchising is a solid and lucrative option for people who are prepared to do the work and follow the franchisor's proven model. But he cautions that not all franchisors are equal:
"Do your homework, and don't rush into a decision. You need to be absolutely sure that the franchise you're investing in is credible, that the model is robust, and that you'll have long-term support and guidance. If you have any doubts, keep looking. There are lots of franchise opportunities out there, so make sure you invest in the one that is best for you."
---
Recognition Express is a true family business -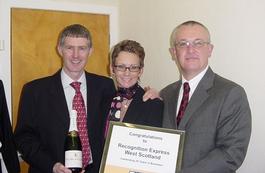 Name: Ciorsdan Price
Location: Ayr, West Scotland
Franchise: Recognition Express South West Scotland
Year you started with the franchise: 2003
Why did you go down the franchise route? And why did you choose a Recogntion Express franchise?
My husband and I bought the franchise from my parents who had been running it from 1981. I had been working for them part-time so was already familiar with everything whereas it was completely new territory for Stephen. Stephen was happy to come on board however as he recognised Recognition Express as a well-established brand which offered great back-up and included a strong initial training programme.
Working for my parents I could see the potential in the business, the growth in company and corporate branding. It seemed like a good idea and Stephen was disillusioned with his job, so when my parents decided to sell, we made them an offer to buy the business.
What did you do before taking up your Recognition Express franchise? I worked part-time already for Recognition Express West Scotland whilst Stephen worked in the financial services industry and latterly the golf holiday market.
How did you raise the finance? Borrowed the money.
What training and support did you receive initially and ongoing? I was already au fait with the business having managed the accounts, the admin and the day to day running of the company but as Stephen was completely new to the territory we both undertook 1 week of training with head office which actually proved quite insightful for both of us. The training was substantial and enough to make Stephen feel confident about starting his new career.
What is a typical day for you as a franchisee? No day is ever the same. Stephen and I have clearly defined roles and we're each responsible for different aspects of the business. I look after artwork, finance and invoices, admin and office duties and Stephen focuses on sales, and growing turnover and profitability.
What challenges have you faced? There is not enough time in the day! There is so much to be done and I often find I've ran out of time. This doesn't particularly faze me though as I'm extremely methodical and organised so I know it will get done.
Has becoming a franchisee changed your life, if so how? Everything is better now. Both Stephen and I love going to work and working together. It is extremely demanding and requires a lot of juggling but the result of this is an amazing quality of life.
What marketing/promotional tools do you use to grow your franchise? Although we do use email campaigns and post literature out, a lot of our business is acquired through word of mouth and from building good strong relationships with our customers.
What differentiates your franchise from the competition? The most important lesion we've learnt is the importance of client enquiries being followed up quickly and efficiently. Speed and professionalism are paramount to our success.
How does the franchisor support you? We rarely need to speak to the franchisor but it's great to know that if we need him, he's always there for us. He's extremely fair and supportive of all the franchisees and is someone we know we could go to for help – should we need it.
What does your brand mean to you? We've worked extremely hard to build our brand together in the past thirteen years. When our customers hear Recognition Express West Scotland, they also hear Ciorsdan and Stephen so it's our personal reputation on the line as well as the business, which is why we go above and beyond to run it successfully and deliver a quality, professional service.
What do you think your brand means to your customers? We receive positive testimonials from our customers each week which is great as they all commend our business for its great service, efficiency, professionalism and the friendly people that work there!
How has your business developed – what makes your customers keep coming back? When we initially took over the business from my parents, they had only just touched on offering promotional products. This is something that Stephen and I developed over the years and as a result our turnover has almost tripled.
In your opinion, what makes a successful franchisee? You need to always put your customer first. If you're a husband and wife team it's crucial that your responsibilities do not overlap. There's no point in having two great office administrators and nobody on the sales desk! Complimenting each other is the key to succeeding.
What advice would you give to someone thinking of buying their first franchise? Be prepared to work hard. People might assume owning a franchise is easy, but it is not. You are the boss, so you have to put in the hours. Stephen and I only allow ourselves 1 week off for the whole year, except for closing down for Christmas. We must be disciplined with this ensure we can run our business successfully. But we love our job so if that's the case this won't be an issue. Hard work will pay off you just have to be patient.
What are your plans for the future? To keep being successful and to keep enjoying it.
---
Interview with Stuart Fisher, Recognition Express, Harrow - 21-April-2015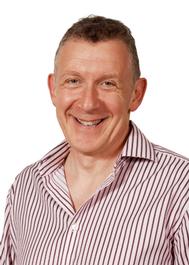 Franchisee: Stuart Fisher
Territory: Harrow
Franchise: Recognition Express
Why did you go down the franchise route? And why did you choose the Recognition Express franchise?
I had wanted to run my own business and, after some research, found Recognition Express. I really liked the business model and the industry. Additionally, there was a large spread of products and I knew there was a large marketplace to capitalise in.
After speaking to the franchisor it sounded like a well organised business and that the franchise team went the extra mile to help the franchisees.
What did you do before taking up a franchise?
Before I became a Recognition Express franchisee, I was an Accountant
How did you raise the finance?
In order to invest in the franchise business I applied for a bank loan which paid for 65% and the 35% came from my own savings.
What training and support did you receive initially and ongoing?
The initial training took place over 2 weeks; it covered production, marketing, and purchasing.
The on-going training included regional meetings/development meetings/annual conferences. Additionally, I meet up with other franchisees, seeing what new initiatives there are from our franchisor. There are, also, quarterly meetings with the franchisor to discuss strategy for business
What is a typical day for you as a Recognition Express franchisee?
My day to day duties and responsibilities include: going out to meeting with clients, marketing the business, networking, preparing /following up quotes, and dealing with suppliers.
What challenges have you faced?
The challenges that I have faced so far would be building the business from a zero base of no clients. However, now that I have done that, I now have to focus on how to balance my time marketing for new clients, as well as keeping my key accounts on side.
Has becoming a Recognition Express franchisee changed your life, if so how?
Yes, it has changed my life. I am working a lot harder, but more highly motivated as it's my own business.
What marketing/promotional tools do you use to grow your franchise?
In order to market the business there is an 'Annual Brochure' and a whole library of marketing literature on offer from the Franchisor. There are also promotional products, telemarketing services, and regular networking.
What differentiates your franchise from the competition?
What separates Recognition Express from the competition is the personal service; it's about adding additional value for my clients in order to develop long term business relationships so the clients come back to me regularly.
In your opinion, what makes a successful franchisee?
A successful franchisee works hard with a 'can do' attitude. Also, they have an enthusiasm for the business, are honest, and communicate regularly with clients.
What advice would you give to someone thinking of buying their first franchise?
If you are looking into franchising, you need to be committed, focused, and disciplined on a daily basis to building the business.
What are your plans for the future?
My own plans for the future involve carrying on building my business and having a good spread of good quality clients.
Would you do it again?
Yes! Absolutely!
---