Chemex Franchisee Case Study Feed
Last updated: 01-July-2022
---
Buying a Chemex resale was a "no brainer" -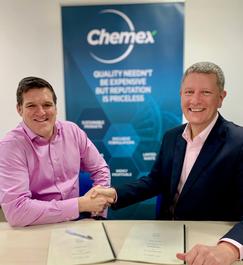 Having worked for many years in ancillary sales Matt Proud realised that the time had come to run his own business.
Initial research led to him finding a resale opportunity with Chemex International covering South Nottinghamshire, including Nottingham city centre, Southwell, Grantham, Long Eaton, Bingham and Radcliffe-on-Trent
It quickly became obvious to him that Chemex as a leading supplier of cleaning and hygiene products blended perfectly with his original business ideas and at the same time expanded the opportunity that he could see in the region.
"I have worked hard all my life really but the fact was I was never really fulfilled by the work I did. It started to get to me that I seemed to be working harder than the owners who were making all the profit from my endeavours. I needed a new challenge and was delighted when the opportunity to build a business with Chemex came along."
Franchising appealed to Matt because he had dealt with the same customer base in the hospitality sector and knew how it all worked.
"The resale process was surprisingly easy with Chemex helping throughout each stage for the vendor and myself even down to producing the sale and purchase contracts. For me it was a no brainer in that the owner had produced a decent business and whilst I needed to raise the purchase price I could see clear opportunities for growth."
Within two months Matt had purchased the business and was franchising with Chemex, not only selling a wide range of cleaning and hygiene products but also offering advice and training for the healthcare, catering and hospitality industries.
The vendor John Bennett, who was a former captain of Nottingham & Union Rowing Club and Henley Royal Regatta oarsman is now putting his back into building a family but I still have his number for any advice on his old customers which he is more than happy to help with.
"For me I wanted to take John's customer base and expand the sales opportunity within each one as well as develop new customers across the region. I now supply a wide range of businesses, including care homes, restaurants, pubs, hotels, offices, schools and colleges - hygiene is major issue in all these businesses.
I joined Chemex one week before the first lockdown and the turnover is healthier than it's ever been!"
---
Starting a business in a pandemic -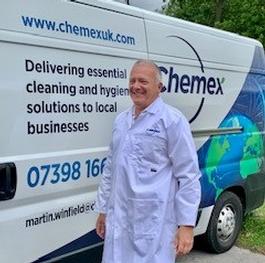 Franchisee Name: Martin Winfield
Territory: Hereford and Gloucester
Why did you decide to look into a franchise?
It was rapidly becoming obvious that if I didn't do it now then I would never do it. Little did we all know what was about to unfurl with the Pandemic but I was ready for a new challenge a new start. I live in Herefordshire and commutes to work were long at the best of times so I really wanted to work from home and control that aspects of my life
What challenges did the pandemic bring?
I had just enjoyed two weeks of training with Chemex and their team and was starting the process of introducing myself to the existing customers in my region. It was great finally meeting the businesses that used and liked the Chemex service and I was settling in well with them. The talk of Coronavirus was helping with sanitiser and hand soap sales but then just as I was making headway towards building new customers the first lockdown occurred. It's a fact that the UK literally shutdown overnight and that severely curtails the opportunity of building a pipeline I can tell you! Then there is the question of your own health which you cannot take lightly so all in all it really did seem like a brick wall.
What notable achievements have you made?
Chemex always emphasised that resilience is a key personality trait for any new business owner so surviving a Pandemic must be a great demonstration of my abilities in that direction and a notable achievement!
What are your plans for the future?
Resetting my business goals and working on recovering lost ground through the opening of new business is now paying dividends with new opportunities opened in the ambulance sector, hospitality and more.
It's a steady build programme across my region in Herefordshire and further development in Gloucestershire building on the openings I have and the good things my customers are saying about the service I provide.
---
Chemex franchisee passes three decades with latest renewal! -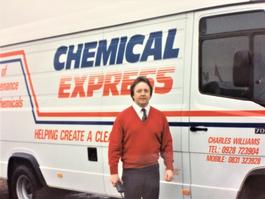 Name: Charles Williams,
Franchise: Chemex Cheshire
Established: 1989
With the average span of time spent in a franchise across the industry being 8.5 years, Chemex International will be celebrating one franchisee's journey of a lifetime through three decades from the late Eighties to his contract renewal this month.
It's 1989 and tumultuous world events are unfolding with Britain in the Thatcher era, the Tiananmen Square uprising and the fall of the Berlin Wall. With the world changing a young dairy herdsman reading the Daily Mail also spots a piece on franchising with Chemical Express (Chemex). Charles Williams is looking to control his own future after starting his working life on a farm milking and rearing the young livestock in a 92 strong dairy herd. With farming changing, he no longer sees a future in the industry where he worked long days on a small income. Being prepared for the hard work of building his own business, franchise contracts were signed on 17th May 1989.
Training was far from the all-inclusive pattern for today's franchise partners, and just consisted of three days product initiation, a short review and then being sent out into the field to meet potential customers. With absolutely no sales experience but a strong work ethic, Charles achieved numerous targets. The first and as he says, the most difficult, was breaking even whilst learning a new business. However, this was quickly overcome, and he built his turnover to the point where employing staff became the logical next step. Marrying his partner Donna – who helps in the operation – and employing his brother gave Charles the security of running a family business which generated the financial returns he needed.
A finalist in the bfa Franchisee of the Year awards in 1997 was fine recognition for his business, and as the winner of the Chemex "Dreams Come True" competition based on sales growth, he realised a childhood dream of a holiday to New Zealand.
Michael Graham Managing Director of Chemex:
"Charles is now a well-respected elder statesman in the Chemex network. He is the first of a fistful of franchisees reaching their 20 to 30-year anniversaries and epitomises what franchising within a solid system can bring to the lives of determined and enthusiastic franchise partners. Thirty years of self-determination, a lifestyle that has raised a family and an asset he continues to build. He can reliably advise any of our new starters that hard work and perseverance really do pay off."
In Charles own words:
"I can honestly say that taking the franchise with Chemex has been the best thing I have done in my life."
To start your own journey into franchising with Chemex, learn more here!
---
Exclusive Interview with Chemex Franchisees Margaret and Stephen Crinks -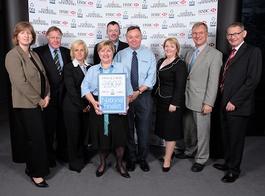 Name: Stephen and Margaret Crinks
Location: West Berkshire and North Wiltshire
Franchise: Chemex Franchise
Date launched the franchise: September 1992
Can you tell us a bit about yourself and what you were doing prior to buying a franchise business?
Stephen and Margaret Crinks were convinced that the only way they could build a better life for themselves was by running their own business.
They both gave up the security of their jobs, Stephen as a hotel manager and Margaret previously a PA, was considering returning to work having just given birth to their daughter.
Can you also tell us about the franchise you have bought?
For more than three decades, Chemex has provided innovation, expertise and market leading products for every type of industry throughout the UK and beyond. In addition to high-quality products, the consultancy, specialist advice and training Chemex offer their customers is second-to-none.
Chemex provides a local service through a national network, enabling customers to take what they need when they need it, regularly or as the need arises. Customers no longer need to wait weeks for deliveries, abide by inconvenient minimum order quantities or store cupboards full of stock.
Whether its control of hospital-acquired infections, entire hygiene systems for food preparation or large-scale laundry or dish wash systems, Chemex have the products and expertise to give our customers the peace of mind that their reputation is safe in our hands.
Why did you go down the franchise route? What made you choose your industry? And why did you choose your franchise?
The couple were determined to make a new life for themselves and Chemex provided the ideal opportunity. The Crinks also visited Chemex at several franchise exhibitions and spoke to many franchisees before signing up.
"The birth of our daughter, Laura, was the catalyst for wanting to do something for ourselves. We looked at a variety of businesses, franchised and non-franchised but we kept coming back to Chemex," said Margaret. "We liked the idea that it was a 'people' business where we could develop relationships with customers and that we could both work in it as a team while raising our daughter." (Margaret Crinks)
Stephen had always wanted to do run his own business; Stephen's family background was hard-working businessmen. Following in his father's footsteps, Stephen had a strong work ethic from a very young age. Stephen was always keen to work and work hard at what he did.
Stephen always wanted to do something for himself, and simply looked at Chemex as he was managing a hotel based in Wolverhampton at the time. There was a local business group that met monthly and one month there was a current Chemex franchisee that presented his business and this raised an interest and this is where Chemex formerly Chemical Express sparked for Stephen and Margaret. Especially having come from the Hotel Industry, the opportunity was a rather attractive one.
Stephen and Margaret looked at several opportunities at the time and came across Chemex and something just felt right. It was hard to specify exactly but they knew this was the right opportunity for them.
In summary, the couple wanted a career change, they liked the idea of buying into a tried & tested business model, and the support network was a key aspect.
How did you raise the finance?
A combination of savings and re-mortgaged for a small sum.
What training and support did you receive initially and ongoing?
The key differences between how Stephen operates his business now and when he initially started is that there's now a lot more bespoke systems that are provided by head office. Hygiene control programmes, audits, delivery tracking and more. The various apps and support tools are now a great help to support Stephen's business.
Stephen's days are now shorter due to now employing two employees who share the aspects of the customer servicing and account management. However, Stephen still goes out and services customers, to cover the three territories and to ensure business growth continues.
How would you describe your role as a franchisee?
A team totalling four including Margaret and Stephen. Stephen, Andy and Josh are all out in the field, customer facing and Margaret is always office based, managing all the behind the scenes activity.
Having started as a husband and wife business - they keep the roles defined so that there is no cross-over in activity and there's consistency in the processes.
Since start, Stephen has since employed 2 staff who are always out on the road servicing and delivering to customers.
What challenges have you faced?
Cash-flow. As a growing business, you always have to manage money carefully. However, by using appropriate accounts software and implementing appropriate management solutions there are always ways to be as efficient as possible.
Add that to the continued support of the franchisor and the challenges are minimal. To avoid challenges, it is always wise to plan ahead and foresee challenges before they cause problems.
Due to previous experience, learning to use Sage software, the products, gaining confidence, being a sales person, growing the business fast enough, dealing with customers, route planning, stock-handling and so on were not an issue.
Has becoming a franchisee changed your life, if so how?
"Franchising has been good to us and we would recommend it to anybody. We could not have achieved what we have as an independent business and a nice bonus is that many of our customers are now good friends too." (Stephen Crinks)
What is the most invaluable piece of advice you could give someone looking to buy their first franchise?
• Ensure you are well financed.
• Research the opportunity well, and ensure you are comfortable with all aspects and are self-business minded.
Try to get as much finance upfront for the franchise opportunity that you can get. As banks and institutions will advance you money at the earlier stages based on your business projections. Should anything happen at a later date i.e. you don't meet your projections there's not a chance in hell of you getting it. So, by getting the finance upfront means you can potentially avoid cash-flow problems at a later date.
• Speak to existing Franchisees to give you a good picture of the business.
In your opinion, what makes a successful franchisee?
A strong passion to work and be successful and loving every minute of it. Stephen is very passionate about his busy work life and proud of the hard-work that has gone into his successes. He thoroughly enjoys servicing his customers and meeting different people day-to-day.
"The key to our success is building strong relationships with our customers." (Stephen Crinks)
What are your plans for the future?
Of course, continue to grow!
No exit strategy now - but Stephen is aware that over the next few years he will need to work towards this.
Over the next few years, Margaret will become part-time and reduce her hours. As the business continues to grow this needs to be considered more. As long as Stephen has good health and is able to do so, he intends to continue for as long as he can. He thoroughly enjoys what he does and would like to stay busy.
---
New Year and new start for Chemex franchisee - 03-February-2011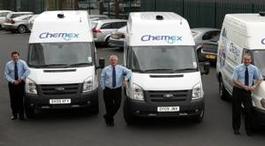 A Portsmouth man's New Year's resolution is to make a new start, launching a cleaning and hygiene supplies business in the Chichester area. Former regional manager Mario Erispé has signed up as the latest franchisee for Europe's leading cleaning and hygiene supplier company
Chemex
. Mario made the decision to become his own boss when he opted for redundancy after 18 years in his previous role.
"I was at a career crossroads following a restructure where my role was made redundant, I took this option as I wanted to run my own business" he said.
"I'd had experience in retail sales at the start of my career and have had extensive customer service and management training in my previous role, so I wanted to utilise these skills while being in control of my own destiny".
"Running a franchise seemed to be the perfect solution as it offered the freedom of running my own business with support and training on hand when I needed it".
"Chemex came highly recommended, with a great package, induction and ongoing support, as well as a strong range of products."
Mario is now targeting businesses in Chichester and the surrounding areas and will be initially focusing on hospitality and healthcare companies amongst others.
He's confident the business will grow rapidly over the coming months as Chemex offers a managed service solution not just product sales.
"One of the key strengths of the Chemex solution is that we offer a full free site survey and also advice and training to our clients," he said.
"It's more than just selling, we provide a service, keep clients informed of changing legislation, new products, ensure their cleaning regime is up to date and meet their business requirements."
---
New limits with Chemex franchising - 07-August-2009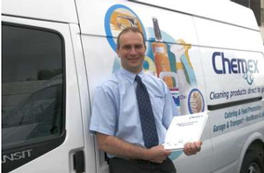 After a successful career in farm management, John Bennett has just made a complete, mid-life switch.

John, 41, has invested in a franchise with Chemex International covering South Nottinghamshire, including Nottingham city centre, Southwell, Grantham, Long Eaton, Bingham and Radcliffe-on-Trent.
Chemex is Europe's leading supplier of cleaning and hygiene products and provides businesses with cleaning products and free advice and training on health & safety and hygiene matters.

"I graduated from Nottingham University with a degree in agriculture and worked for 16 years in agricultural farm management. I ended up managing a large, intensive arable, vegetable and root crop farm in North Nottinghamshire," said John who lives at Oxton.
"But I needed a new challenge and was delighted when the opportunity to build a business with Chemex came along."

Franchising appealed to John because he had dealt with franchised businesses in the organic produce industry and knew how it worked.

Now he is franchising for Chemex, not only selling a wide range of cleaning and hygiene products but also offering advice and training for the healthcare, catering and hospitality industries.

John, who is a former captain of Nottingham & Union Rowing Club and Henley Royal Regatta oarsman is now putting his back into building a successful business supplying cleaning and hygiene products.

As a competitive rower, who trained daily, rowing on the River Trent and reached the quarter-finals at Henley, John said: "With my competitive nature and business experience a Chemex franchise provides an opportunity to build a substantial business".

"We supply a wide range of businesses, including care homes, restaurants, pubs, hotels, offices, schools and colleges - hygiene is major issue in all these businesses.

"Where we differ, though, is we also offer training and advice on use of our cleaning products, as well as safety and hygiene control programmes."
---
Franchise results almost immediate with a Chemex franchise - 19-November-2008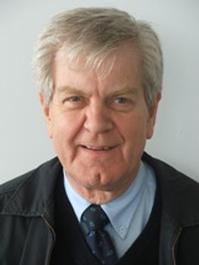 Malcolm Dixon:
West Surrey and North East Hampshire; including Guildford, Cranleigh, Haslemere, Hindhead, Liphook, Perersfield, Alton, Farnham, Aldershot, Farnborough, and Frimley.
What did you do before you brought a Chemex franchise?
Before working with Chemex Malcolm sold computer hardware and software to major institutions including banks and govt departments in the UK and Europe.
Why did you decide to look into a franchise?
Malcolm fell seriously ill with appendicitis a few years ago and was admitted into in intensive care for 3 weeks. His old job role required 7am flights to Frankfurt 3 times a week. Malcolm was offered a redundancy package and decided to come back to the UK permanently and take after his brother-in-law who had brought a franchise. Age was also a factor in Malcolm's decision to buy a franchise.
What challenges have you faced?
Malcolm had been used to working in a team and with others, working for himself was a challenge especially when he realised that the buck stopped with him. Malcolm still likes to have contact with many people and the other challenge that he has faced is to keep his operations running as consistently as possible. Malcolm's selling cycle has been reduced, to almost instantly - 6 months, the results are more immediate.
What notable achievements have you made?
In major accounts, job satisfaction from when customers give a positive decision, which were about 4 customers a year. In Chemex, you work at gaining customers at a faster rate. The business is more scalable than ever before and Malcolm has improved the costs of increasing operations more efficiently. Malcolm has moved away from commodity products and concentrated on more specialised sales.
What are your plans for the future?
Increase the specialised contracts and then maybe retire in 4 years time. Plans for the next 3 years are to make this business autonomous to make it better to sell.
---
Flying Start for New Chemex Franchisee - 06-March-2008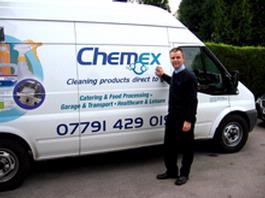 Chemex would like to congratulate Chris Lunn, their newest franchisee from Stafford. In his first month he signed up 25 new customers and kick-started his business into a flying start from day one!
Chris chose Chemex because he saw the diverse range of quality products as giving him a greater opportunity to break into the business to business sector - with every business being a potential customer. It may come as no surprise to learn that Chris Lunn comes from a sales background within the business to business environment in engineering. He is confident that his previous experience has helped him a great deal in starting so well with Chemex.
Chris looked at franchising as a half way house between running his own business and working with a recognised brand and the associated support that a franchised operation can provide. It was an important factor in his decision making process. He also wanted something that was not seasonal. Like most franchisees Chris has worked long hours and spends quite a lot of time calling on companies to generate new business. It is hard work but his perseverance has paid off.
Chris comments, " No two days are the same, the role is very varied and I meet people from all walks of life. Chemex have provided me with excellent training and the support has been fantastic. The company have a professional, organised and ethical approach to franchising" I knew this would be hard work from the start but it has been much better than I expected. So far so good I am glad I made the right decision in joining Chemex" He adds, " You definately get out of the business what you put in.
The process by which Chemex recruits franchisees is refreshingly open and informative. Potential candidates are invited to talk to franchisees, visit the company head office for further information and spend a complete day with a franchisee in the field prior to making any decision to join. The company turns down over a third of all applicants and is specifically looking for people with good communication skills and a dynamic confident personality – in essence, people who want to build a business rather than just buy a job.
---
Long lasting relationship with Chemex - 26-November-2007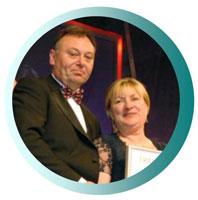 For many people the idea of forming long-lasting relationships focused on delivering great support may seem like too much effort. Luckily, Stephen and Margaret Crinks are not like many people. They have always understood the benefits of hard work and delivering great customer service and this is one of the reasons why they have reached the 2007 finals of the bfa's prestigious Franchisee of the Year awards.
Stephen and Margaret bought their Chemex franchise nearly 15 years ago. Stephen, a former hotel manager and Margaret, a former PA have been rewarded by unwavering customer loyalty ever since. Margaret highlights this by stating "We pride ourselves in never having lost a customer in those fifteen years".
"We operate in an industry that requires our products year-round and we aim to get regular repeat business. The cleaning chemical industry is very competitive and there are many companies offering high-quality products so we needed an approach that would really set us apart."
The Crinks do a lot more than merely meet their customers' expectations; they exceed them and exceed them consistently. Examples of this include helping them understand new legislation and keeping up-to-date with what is important to the customer. They are so committed to providing great service that this year they invested money in independent market research. According to Margaret "the results were reassuring…customers really did appreciate the personal touch. We plan to repeat this exercise each year to keep us on our toes."
On owning a Chemex franchise, Stephen comments that "One of the main attractions of franchising for us was the ability to share knowledge. Fifteen years on we still take up others' ideas and we work closely with new franchisees and prospects as we still remember what it was like in the early days."
"Delivering first-class customer service is everything - our success is built upon it. We build long-term relationships so our customers can't imagine going anywhere else".
The Crinks's story illustrates how individuals with great work ethic and tenacity can really succeed within the Chemex business model.
---
Signing Up for Another 5 years with Chemex - 26-November-2007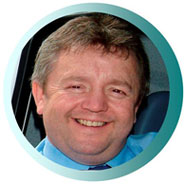 Charles Williams' previous career was in farming " I realised the future of farming was going to be tough, and I was keen to establish a new career elsewhere."
Now Charles is one of Chemex's longest serving franchisees, having committed to his fourth five year term with the company.
"There's no limit to your earning potential as a Chemex franchisee with opportunities everywhere you look. There isn't a single business or industry in the UK not using products which Chemex can provide"
With a profit margin of around 50 per cent, a vast range of high quality marking-leading products and a high proportion of repeat orders, a Chemex franchisee offers enormous scope, as Charles Williams is only too aware. "I like the fact I'm selling essential items rather than luxuries. Everybody needs something from Chemex."
---
The Bright Future with Chemex - 03-October-2007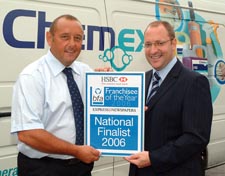 John Heslop started his career as a mining engineering apprentice in the early 70s and worked his way up to senior position with British Coal by the 1980s. Hard work and study had given him a bright future in an industry that by then was going nowhere. He took redundancy and started considering a second career.
"My wife has a successful printing business and like a lot of people I knew I didn't want to work for someone else anymore. Self-employment was the only way to do that, but I didn't have a trade or a bright idea that was going to make my fortune so I started looking at franchising. I didn't particularly want to retrain in a completely new industry so I started looking at some of the hydraulics and engineering franchises. What put me off those was they involved 24 hour callout. I had had enough of all that over the years and wanted something different."
"I started talking to Chemex in early 2000 and spent as much time as I could talking to existing franchisees. I was surprised at how open everyone was: they all believed in the product and the system, and they were always welcomed by their customers."
"I finally took the plunge in late 2000, working a virgin area with products I knew little about in an industry in which I was clueless, doing the one thing I had never done before. Selling. So much for sticking to an industry that I was familiar with. One thing I have always been good at is motivating myself and grafting. I set myself targets – fairly simple ones at first like 'you're not going home until you've sold something', so I worked some long hours. You need to do that or you will fail."
"I really enjoy spending time with new franchisees. It reminds me of the learning curve I went through in the early days and I think it helps them to be with someone who's been through the same pain. There is light at the end of the tunnel, though. I've worked hard and built a successful business that is still growing."
"I learnt the hard way that it is all about, planning, persistence and knocking doors. Lorraine was incredibly supportive. Now when I get potential or new franchisees spending a day with me, I ask them if they can spend six months working sixteen hours a day. When they say yes, I ask if they can then spend a further six months doing the same all over again, because if they can't, they won't make it. Although I know that the business works and they'll get out what they put in, I think anyone getting in to franchising needs to know it isn't an easy ride."
---